It's summer and we all know what that means – school's out! In the San Luis Obispo coastal wine region, each family-friendly winery invites you and your children to a wine tasting day where you can explore the cool climate, handcrafted wines of the SLO Coast, and the kids can have some fun!
Note: More SLO family-friendly activities: beach, hike, farm animals, etc.
Bocce at Baileyana, True Myth, Tangent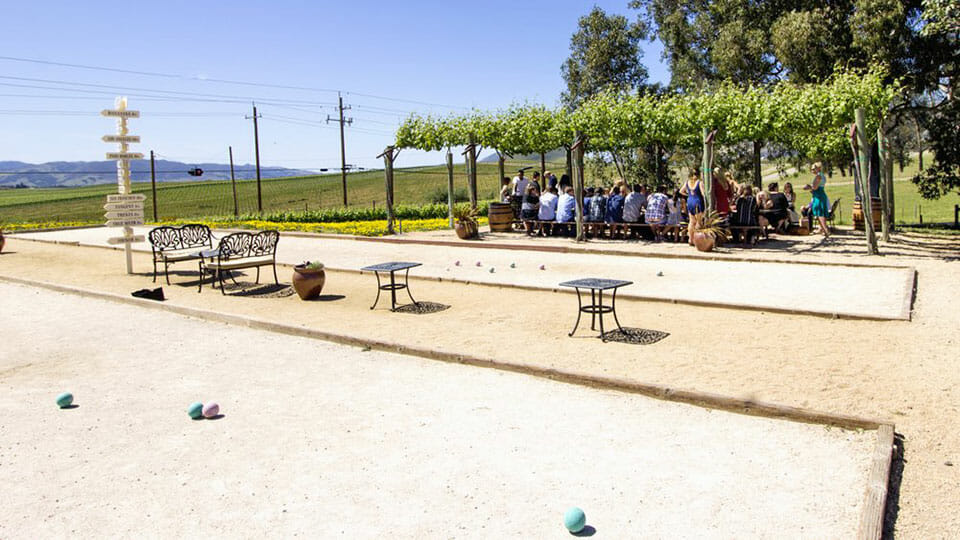 Wine: The Baileyana family of wines grows eleven different grape varieties, and makes an extreme range of wines in a wide array of carefully focused styles. This showcases the diversity of the cool-climate and SIP-certified sustainable vineyard located in California's Edna Valley, the historic Paragon Vineyard. No other wine company, whether corporately held or family-owned, grows grapes and makes such a broad spectrum of wines from a single cool-climate estate. Rather than group all of these efforts under one wine brand, the Nivens have strategically positioned them as four separate projects for you to enjoy: Baileyana, Tangent, True Myth and Zocker.
Kids: There is a large lawn area, which is fenced off from the road. Bring blankets, toys and small yard games for your group. There are also two Bocce courts available on a first come-first served basis, where your group can taste and play Bocce.
Cornhole at Claiborne & Churchill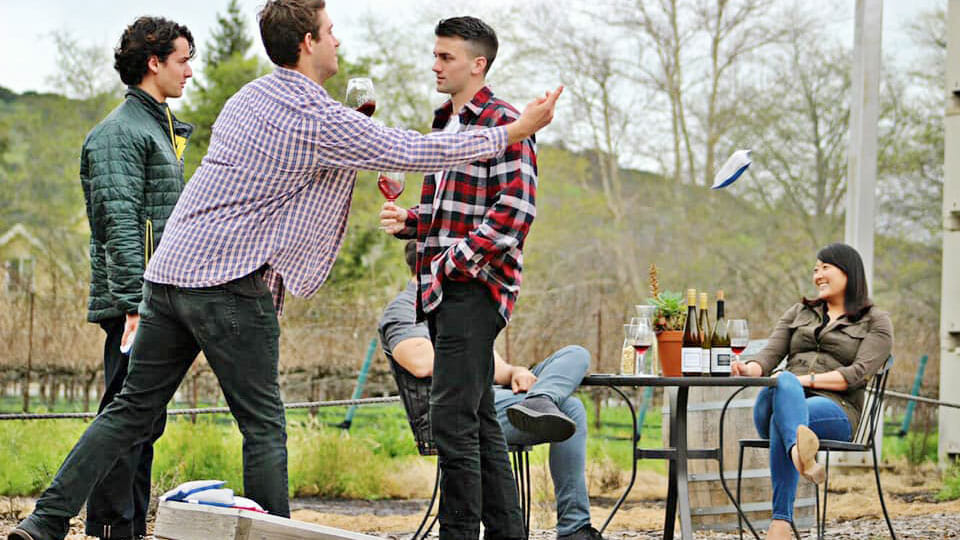 Wine: With its first crush, Claiborne & Churchill announced its special focus, producing 565 cases of Dry Riesling and Dry Gewurztraminer, inspired by the fruity but dry dinner wines of the French province of Alsace. Today Claiborne & Churchill produces about 8,000 cases of wine each year, sourcing grapes from vineyards in the cool maritime valleys of California's Central Coast and its own small estate vineyards.
Kids: There is a large outdoor courtyard space, where Cornhole is available for kids and adults, plus a few rows of grapevines that show the seasons of a vineyard…and are ripe for some great photos.
In addition, you can bring your own blankets and games at these SLO Coast Wineries that have large lawns & picnic areas: