Grenache is another versatile wine grape from the Rhône wine region in Southern France, along with Syrah, where it is grown along the long Rhône river valley. Although the French are known for this grape, it's originally from Spain. You'll taste flavors or red berries, tobacoo and spice, or in warmer climates like California, floral and herbal notes.
Here on the San Luis Obispo Coast, Grenache is often used in blends–it's one of the grapes in the classic GSM (Grenache Syrah Mourvedre). And we've got 12 wineries making a single-variety Grenache–read below for the details listed from north to south. And celebrate International Grenache Day September 16!
Points North Trail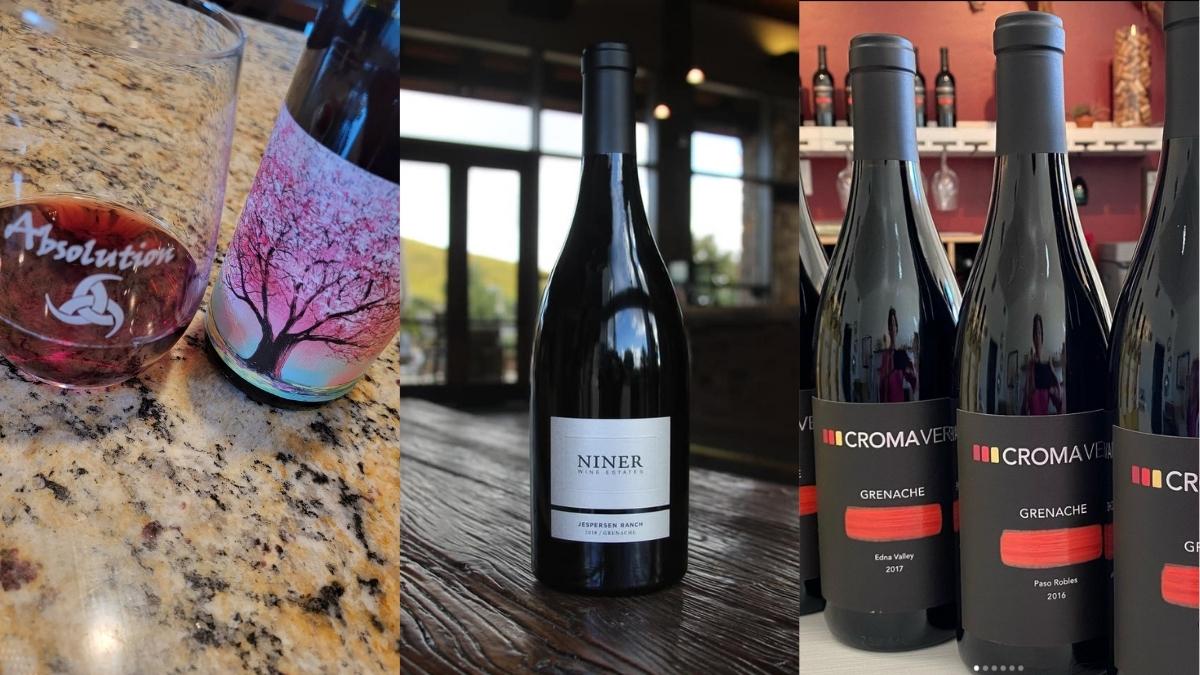 Absolution Cellars 2021 Grenache – Colburn Vineyard. The newest vintage of this 100% Grenache from the Colburn Vineyard located in the Adelaida District of Paso Robles. As always, a beautiful hue of transparent fiery garnet, with cranberry sauce, strawberry, and thyme on the nose, leading to flavors of a cherry tart, with spice notes and a creamy marshmallow texture that ends with lingering soft tannins. Refreshing, easy-drinking, yet still complex – it's the perfect wine for any occasion or no occasion at all – the perfect Spring and Summer red that can even be served slightly chilled.
Niner 2019 Reserve Grenache, Jespersen Ranch. The extreme coastal environment of Edna Valley produces a remarkable Grenache. It's one of the least common grape varieties planted in the cool, narrow valley but we farm nine acres at Jespersen Ranch. To bolster concentration and color, we farm our Grenache at very low quantities by taking the vines down to one cluster per shoot. In 2019 we experimented with carbonic fermentation, foot stomping and concrete to craft this gorgeous wine and the result was spectacular.
Niner 2020 Grenache, Jespersen Ranch. We farm nine acres of Grenache at Jespersen Ranch, where the coastal influence produces a beautiful expression of the varietal. In 2020, we hand-harvested our Grenache and fermented them in nine different stainless-steel tanks. This small lot approach gave us the ability to use a variety of winemaking techniques to create layers that complement the characteristics of Grenache. We kept the percentage of new French oak barrels low (21%) to focus on bright fruit flavors and preserve freshness. The result is a lively and vibrant wine with hints of strawberry, white pepper and black tea. Drink now through 2028.
Urban Trail San Luis Obispo
Croma Vera 2018 Grenache Morro View Vineyard, SIP Certified Sustainable, 93 points, Wine Enthusiast; 92 points, Vinous. Tight, densely packed aromas, the kind you want to bury your nose in. We're talking: dark cherries, hibiscus, mints and marjoram. Once the glass has moved from the nose to the lips, it's cherries, cherries and more cherries. And, perhaps, if you're wildly receptive, notes of black raspberry and white-pepper spice. Drink it alone. Drink it with someone. Or, drink it with Pad Thai, Green Curry, Drunken Noodles; anything Asian, anything spicy.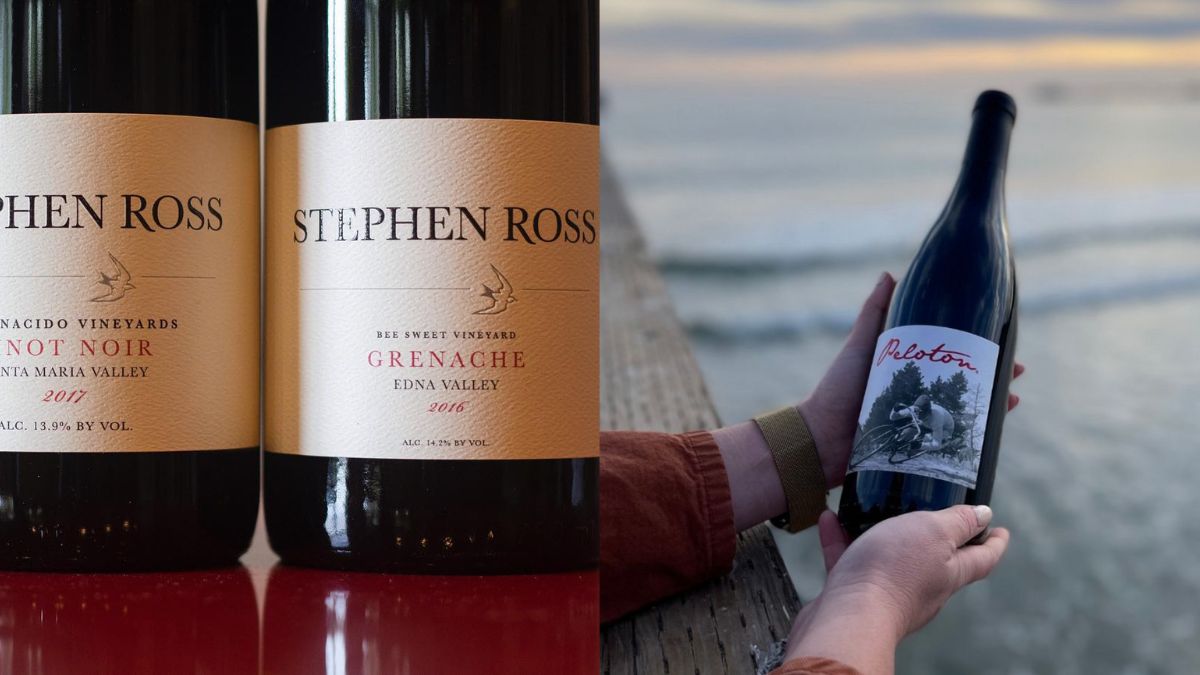 Filipponi 2021 Grenache. Aromas of violet and wild lavender pop from the glass. On the palate, flavors of blueberry, plum, and candied fruit meld with hints of tobacco and vanilla. This Grenache has balanced tannins, medium acidity, and plush berries, making it a crowd pleaser.
Stephen Ross 2021 Grenache, Jespersen Vineyard. This is a pretty, cool climate Grenache from Jespersen Vineyard located on the western edge of the Edna Valley. It has a deep ruby "black" color with aromas reminiscent of Montmorency cherries, rhubarb, and nutmeg from the French oak. The palate is medium to full body, showing enticing grippy tannins, with flavors of cherry, and cocoa on the finish. A powerful wine with backbone, balance, and aging potential.
Avila Beach
Peloton 2020 Grenache. This vineyard designate from the Adelaida District in West Paso Robles is comprised of 100% Grenache. Always a fan favorite in our tasting room it's the perfect red wine for summer bbq's, wood fire pizzas, cheese charcuterie boards boasting of cured meats, med bodied cheese and chutney or just simply sitting around the outdoor fire pit on the beautiful summer night.
Peloton 2019 Reserve Grenache. This is 75% Grenache, and 25% Mourvedre, and is hand farmed and hand harvest from designated rows.
Edna Valley Core of the Coast
Claiborne & Churchill 2020 Grenache, Spanish Springs Vineyard. Our Grenache is always the last of our Rhone-style wines to be released, and with good reason. Our grape source is Spanish Springs Vineyard, located just a stone's throw from the Pacific Ocean, and an especially cool microclimate. There the Grenache grapes take their time developing ripe flavors during the growing season. When vinified, they produce a youthful wine that we age at least 20 months in barrel and an additional year in bottle. The result is a wine that offers layered aromas of pomegranate, coffee, and briary red fruit, with hints of tamarind and Herbes de Provence on the palate. With nice acidity, firm tannins, and a rich and complex mouthfeel, this Grenache would partner well with smoked short-ribs, barbecued tri-tip, or a hearty Mediterranean daube.
Tolosa 1772 Grenache 2020. With a late bud break and a dry, mild summer, the 2020 growing season looked a lot like 2019 and on par as a cooler vintage. Grenache has always been one of our late-ripening varieties; fortunately, flavors developed faster than in 2019, which allowed us to pick earlier and capitalize on the excellent sugar and acid balance in the grapes.
Edna Valley Back Roads
Kynsi 2020 GRENACHE Jespersen Vineyard Edna Valley. Planted a mere two miles from the ocean, the vineyard is fog-laden and ocean kissed. It offers scents of wild strawberries, pink peppercorn and blackberry tea with complex notes of cumin and bramble fruit preserves that saturate the palate with a rich, silky finish.
Southern Charm Arroyo Grande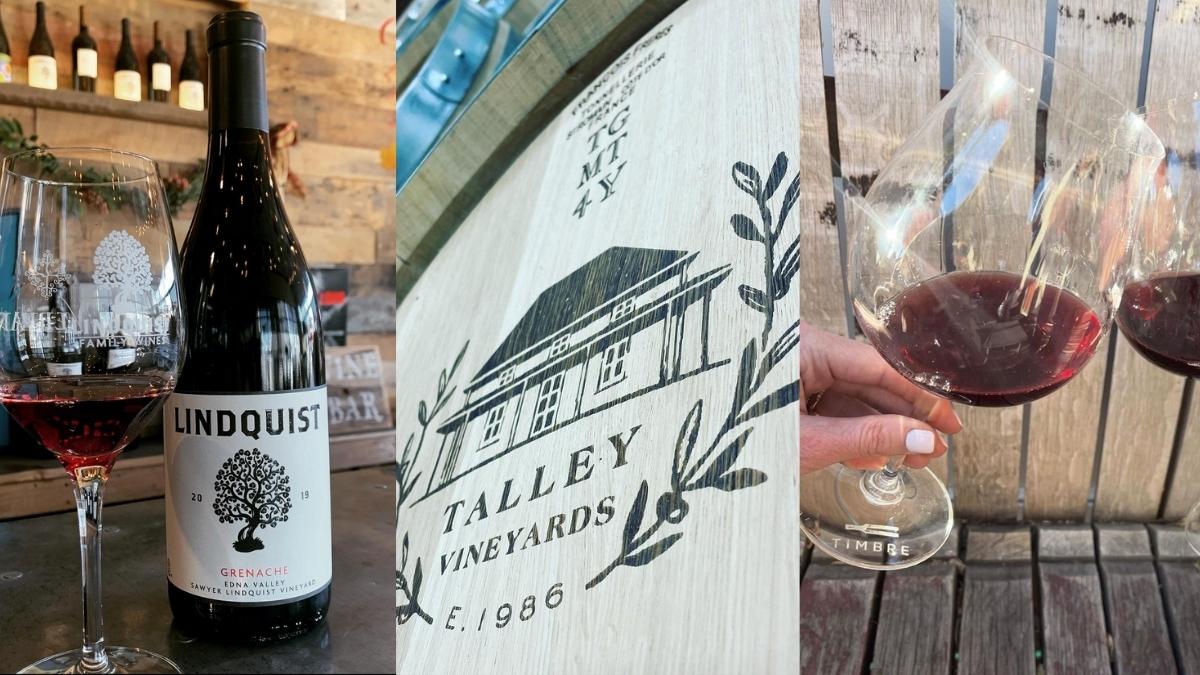 Lindquist Family 2020 Grenache. This is classic cool climate Grenache, with that beautiful cherry red color and wild cherry aromas as well. It also has nice, cool climate spice notes. It is deliciously ready to drink now, but will certainly benefit from 2-3 years in the bottle.
Talley 2020 Grenache. As you drive up to the Talley Vineyards Tasting Room, the rolling hills of our Rincon Vineyard lined with vines of cool-climate Grenache welcome you home. The 2021 vintage is luscious yet focused finish with hints of dried hibiscus and white tea.
Timbre The Jam Grenache. The next vintage is coming soon!