Grenache is another versatile wine grape from the Rhône wine region in Southern France, along with Syrah, where it is grown along the long Rhône river valley. Although the French are known for this grape, it's originally from Spain. You'll taste flavors or red berries, tobacoo and spice, or in warmer climates like California, floral and herbal notes.
Here on the San Luis Obispo Coast, Grenache is often used in blends–it's one of the grapes in the classic GSM (Grenache Syrah Mourvedre). And we've got 12 wineries making a single-variety Grenache–read below for the details listed from north to south. And celebrate International Grenache Day September 16!
Points North Trail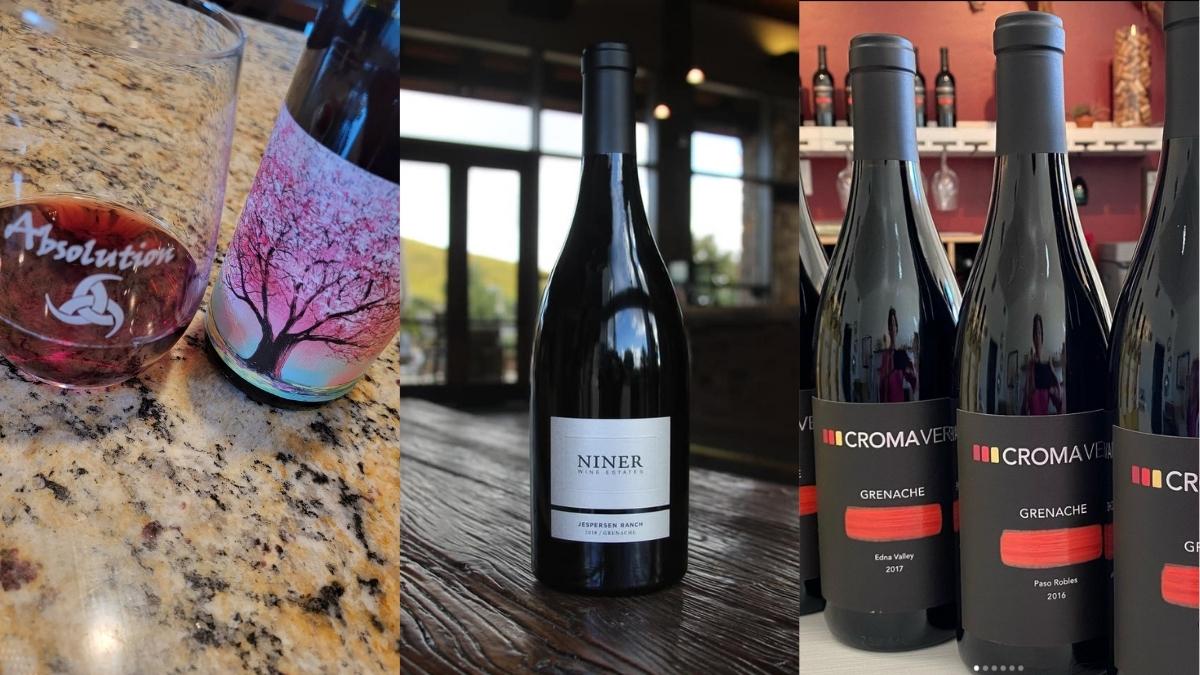 Absolution Cellars 2020 Grenache – Colburn Vineyard. 100% Grenache from the Colburn Vineyard located in the Adelaida District of Paso Robles. A beautiful hue of transparent garnet, with warm roasted cherry on the nose, candied juicy fruit balanced with nice acidity and minerality in the mouth, ending in a rich lingering finish. Refreshing, easy drinking, yet still complex. The perfect Spring and Summer red that can even be served slightly chilled, but also worthy of your Thanksgiving Feast.
Niner 2018 Reserve Grenache, Jespersen Ranch. Farming Grenache in the cool climate of Edna Valley can be a gamble. Late season frosts and unfavorable weather can harm the clusters by the time they are ready to harvest in late October. But in more temperate years like 2018, we are rewarded with a fantastic expression of cool-climate Grenache. Aged 18 months in a large wooden cask, this wine has Jespersen Ranch's signature white pepper flavor, wide drying tannins and naturally high acidity.
Niner 2019 Grenache, Enda Valley. We farm nine acres of Grenache at Jespersen Ranch where the extreme coastal environment produces a remarkable expression of the varietal. In 2019, a cool spring and summer gave us perfect conditions for a long, slow growing season. We hand-harvested our Grenache in late October and fermented the grapes in open-top stainless steel tanks. The wine was basket pressed for light extraction and transferred to French Oak barrels. We kept the percentage of new oak barrels low to focus on the fresh, bright fruit flavors. The result is a lively and elegant expression of Grenache. Raspberry, strawberry and white pepper flavors are followed by juicy acidity and fine, cocoa powder laced tannins.
Urban Trail San Luis Obispo
Croma Vera 2017 Grenache Morro View Vineyard, SIP Certified Sustainable, 91 points, Wine Enthusiast. Tight, densely packed aromas, the kind you want to bury your nose in. We're talking: dark cherries, hibiscus, mints and marjoram. Once the glass has moved from the nose to the lips, it's cherries, cherries and more cherries. And, perhaps, if you're wildly receptive, notes of black raspberry and white-pepper spice. Drink it alone. Drink it with someone. Or, drink it with Pad Thai, Green Curry, Drunken Noodles; anything Asian, anything spicy.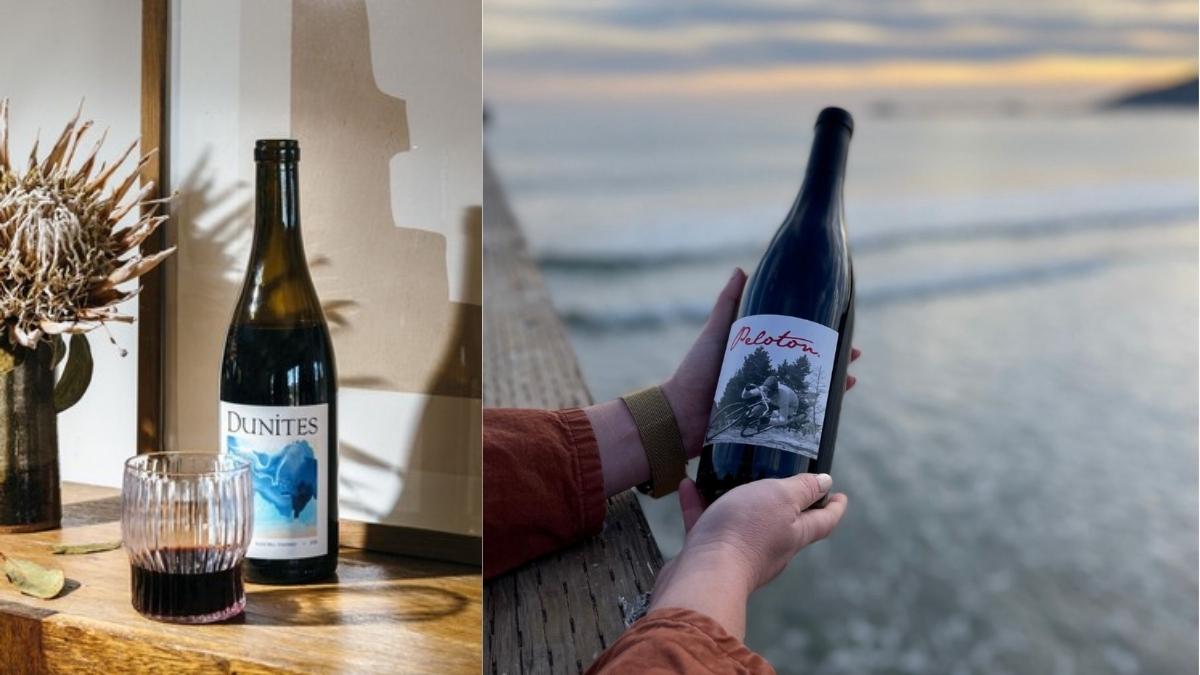 Dunites 2020 Islay Hill Grenache. A cooler-climate example of this variety, which is often described as "heat loving." Grenache thrives in the shallow soils that are abundant in granite rocks at this hillside site. The cooling influence from the nearby Pacific Ocean contributes to an extended hang time where the grapes ripen slowly while developing complex flavors without producing wines of excessive alcohol. Partial whole cluster vinification, native yeasts, and aging in 500-liter neutral French oak puncheon were all employed to ensure purity and balance. The finished wine is juicy with ripe berry and plum flavors and brightened by lively acidity and a saline finish with subtle, firm tannins.
Filipponi 2018 Grenache. Our 2018 Grenache from Paso Robles produces a wine with high concentrations of fruit, tannin, and acids. Aromas are of black pepper, dried herbs and plum blossom with flavors of currant, dark cherry, and wild strawberries. The finish is powerful with tight tannins that will soften with time.
Avila Beach
Peloton 2018 Grenache. A vineyard designate from the Lunacy Ranch in West Paso Robles. This wine is always a staff and club favorite. Full bodied, fruit forward and age-able. Dark baked cherry, plum, currant and hints of spice. Mid palette is developed with more fruit notes and spice. The acidity lingers on the tongue while more Fall spice notes continue through the long finish.
Edna Valley Core of the Coast
Claiborne & Churchill 2019 Grenache, Spanish Springs Vineyard. Our Grenache is always the last of our Rhone-style wines to be released, and with good reason. Our grape source is Spanish Springs Vineyard, located just a stone's throw from the Pacific Ocean, and an especially cool microclimate. There the Grenache grapes take their time developing ripe flavors during the growing season. When vinified, they produce a youthful wine that we age at least 20 months in barrel and an additional year in bottle. The result is a wine that offers layered aromas of pomegranate, coffee, and briary red fruit, with hints of tamarind and Herbes de Provence on the palate. With nice acidity, firm tannins, and a rich and complex mouthfeel, this Grenache would partner well with smoked short-ribs, barbecued tri-tip, or a hearty Mediterranean daube.
Tolosa 1772 Grenache 2019. This lush wine has a classic Grenache tannin structure that shows nicely in the mid-palate. The Grenache grapes coming from the Poletti section offer a juicy textural component. It receives ample afternoon sun before the coastal breeze and evening fog roll into the valley. The block planted on the Salaal section contributes the velvety tannin structure. These vines are planted on the valley floor, which offers a rich clay soil.
Edna Valley Back Roads
Kynsi 2019 GRENACHE Jespersen Vineyard Edna Valley. Planted a mere two miles from the ocean, the vineyard is fog-laden and ocean kissed. It offers scents of wild strawberries, pink peppercorn and blackberry tea with complex notes of cumin and bramble fruit preserves that saturate the palate with a rich, silky finish.
Southern Charm Arroyo Grande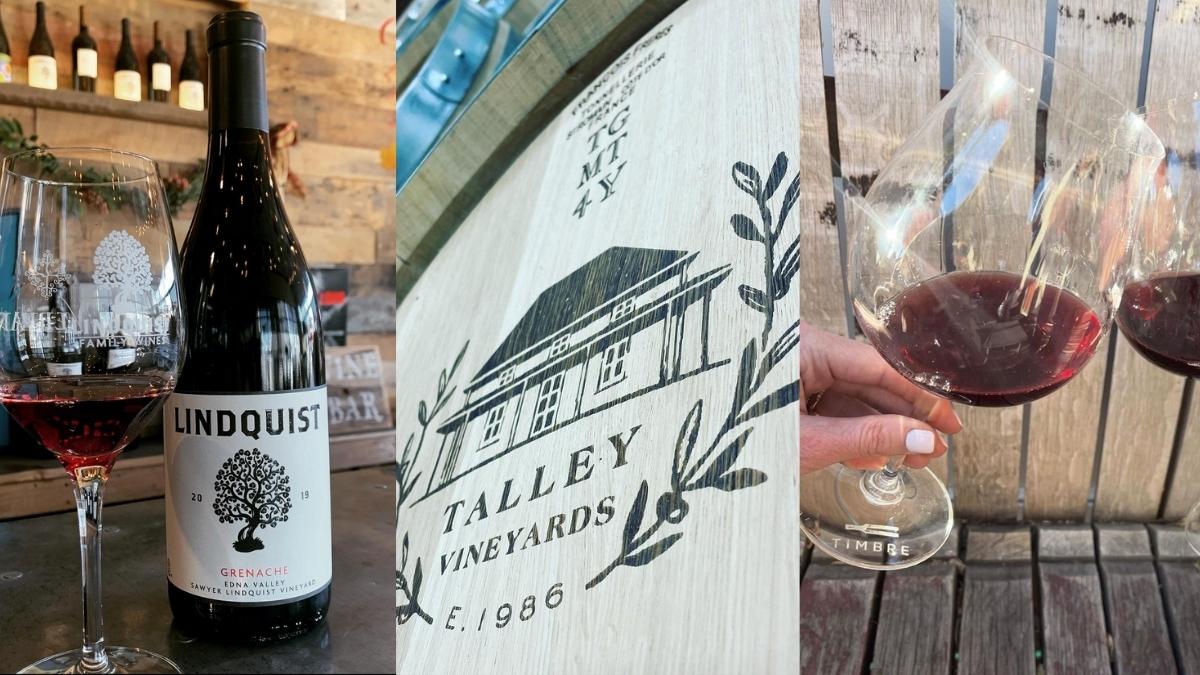 Lindquist Family 2020 Grenache. This is classic cool climate Grenache, with that beautiful cherry red color and wild cherry aromas as well. It also has nice, cool climate spice notes. It is deliciously ready to drink now, but will certainly benefit from 2-3 years in the bottle.
Talley 2020 Grenache. As you drive up to the Talley Vineyards Tasting Room, the rolling hills of our Rincon Vineyard lined with vines of cool-climate Grenache welcome you home. The 2020 vintage is luscious yet focused finish with hints of blackberry and dried herbs.
Timbre 2018 The Jam Grenache. It's that tune you are seriously into. It's also that Grenache that makes your taste buds tickle, raises your stoke to eleven, and makes you want to get out of your seat and move!