August 2021 – see websites for availability of wine
Pinot Noir is a popular red wine grape for a reason: it's elegant, nuanced, smoky, earthy, fruity and pairs well with a wide variety of dishes. In our cool-climate, coastal wine region of San Luis Obispo, you'll find a large range of Pinot Noirs from these fifteen wineries that specialize in the esoteric variety.
1. Aequorea
Latin for "Of The Sea," Aequorea began in 2011 as a search for vineyards that ventured deep into the coastal no man's land where we were raised. Here, on this foggy, windswept coast west of the Santa Lucia Mountains, they work with a group of dedicated growers who possess a shared passion for farming closer to the ocean than most anywhere else in California. From these special sites, they focus on single-vineyard Pinot Noirs and aromatic white wines that are transparent of their terroir and the extremity of where they lie.
All of the vineyards are no more than 6 miles from the ocean, blanketed by a thick marine layer in the summer which recedes each afternoon as cool breezes arrive off the Pacific.
2020 Pinot Noir seafarer – While our focus is mainly on single vineyard Pinot Noir, each year we create Seafarer as a blend of fruit from all our coastal vineyards – four in total, to create a truly harmonious wine that showcases why we make wine here on the coast.
2020 Pinot Noir greengate ranch – Greengate Ranch lies toward the southern end of Edna Valley, directly exposed to cool winds blowing off the Pacific a few miles away. Its shallow calcareous clay soils, unique to this area, give it a dark, generous profile.
2020 Pinot Noir spanish springs vineyard – Lying just 2 miles from the Pacific Ocean in Pismo Beach, Spanish Springs is the last vineyard we pick each year and always produces our most feminine and aromatic Pinot Noir, loaded with personality and freshness.
2019 Pinot Noir lost lands – A multi-vineyard Pinot Noir blended from our most structured barrels each vintage, Lost Lands represents our efforts at showcasing the intensity of what our coastal terrior can bring.
2. Baileyana Winery
Baileyana, Tangent & True Myth is a family wine company in the truest sense. Our patriarch, Jack Niven, pioneered wine grape planting in the Edna Valley in the early 1970s, and today, his children and grandchildren are carrying on his legacy. We believe in sustainability, quality, community, innovation, tradition (when warranted), and educating consumers in the ever-changing world of wine.
Baileyana was created over 30 years ago by our matriarch, Catharine Niven, and is now in the expert hands of the second and third generations of her family. An expression of classic cool climate varietals, each wine is sourced from select blocks from our estate Paragon Vineyard—planted in 1973 by Catharine's husband, Jack. Baileyana's range of Chardonnays, Pinot Noirs, Syrahs and sparkling wines are all crafted by our dynamic winemaking team. Refined, rich, and perfectly balanced, Baileyana wines emulate the spirited woman who brought them to life. Discover your favorite Pinot Noir from our array of six different offerings—all estate-grown and hand-crafted by our veteran cool-climate winemaking team.
Baileyana "Firepeak" Pinot Noir – Created from the top Firepeak blocks from our Estate vineyard at the base of Islay Hill, this cool-climate wine ripens in a leisurely fashion leading to a balanced harmony of fruit and acid.
Baileyana "El Pico" Pinot Noir – Produced exclusively from Burgundy clone "943" this wine is barrel-aged for nine months in French oak barrels; versatile enough to pair with salmon, chicken or mushroom risotto!  You won't find this limited production wine in stores.
Baileyana "Halcon Rojo" Pinot Noir – Produced from the Burgundy 667 and "Swan" clones, this wine is barrel-aged for eight months in new French oak. A light and elegant Pinot!  You won't find this limited production wine in stores.
Baileyana "La Entrada" Pinot Noir – Produced from Burgundy clones "777" and "943" this wine is 100% barrel-aged for 9 months in new French oak barrels. Earthy and seductive, the aroma will keep you coming back for more!  You won't find this limited production wine in stores.
Baileyana "The Architects" Pinot Noir  – Named after 'The Architects' of these wines – our dynamic winemaking team –
Baileyana "S-BAR" Pinot Noir  – Vine- and barrel-select, very limited production, this is arguably the best Pinot we make! Aged for 9 months in 30% new French oak, this bottling represents around 1% of our total Pinot Noir production – you won't find this wine in stores.
3. Center of Effort
The powerful forces of skillful cultivation, artistic winemaking and a passion for unparalleled excellence are blended together to capture what COE refers to as the "magic" in the bottle, focusing solely on estate-grown Chardonnay and Pinot Noir. The Center of Effort estate is blessed with a remarkable growing environment for classic Burgundian varietals.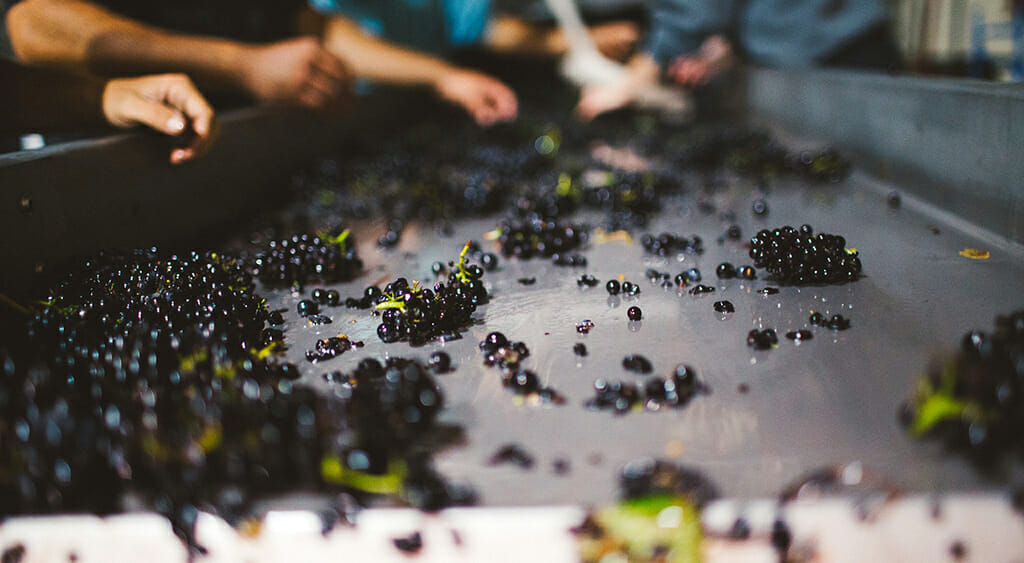 There is nothing expedient in the winemaking approach. They embrace the detailed, labor-intensive methods that are required to produce the finest wines. Even then, only a handful of elite lots from each vintage are ultimately deemed worthy for designation under the 'Center of Effort' label.
2016 Pinot Noir, Center of Effort – The terroir of the Edna Valley truly comes to life in this bottling, offering a beautiful bouquet of spicy red and black fruits, bay leaf, ground herbs, and candied violets. Elegant, medium-bodied, and lively textured, it has loads of fruit and is a charming effort to drink over the coming 4-6 years.
2015 Pinot Noir, Center of Effort – This is very much a product of our land, of our climate here on the edge of the cool Pacific, and of the people whose shared efforts have come together to bring these wines into being. This vintage shows a classic Pinot Noir nose of orange peel and Montmorency cherries. The palate is mid-weight with ripe plum, cocoa dust, and a balancing freshness Earthy notes of new leather and faint campfire lead into a long finish. To enjoy the fullest aromatic expression, decant up to an hour ahead of service.
2019 Pinot Noir, Rosso Corsa – Native yeast and whole cluster fermentation provides an aromatic wine with savory and herbal notes with balanced fruit flavors. Aged in neutral French oak barrels allows the inherent complexity of the wine to shine through. Rosso Corsa is not produced every vintage, but only when the conditions are right and only one or two barrels at a time.
Library Pinot Noir available in various years:
2009 Rossa Corsa
2010
2011
2014
2015
4. Chamisal
Chamisal is devoted to understanding this magical piece of ground and applying the knowledge and experience of several decades to produce quintessential Central Coast Chardonnays and Pinot Noirs using sustainable practices. The vineyard is located in a tranquil setting just 10 minutes from downtown San Luis Obispo in the beautiful Edna Valley.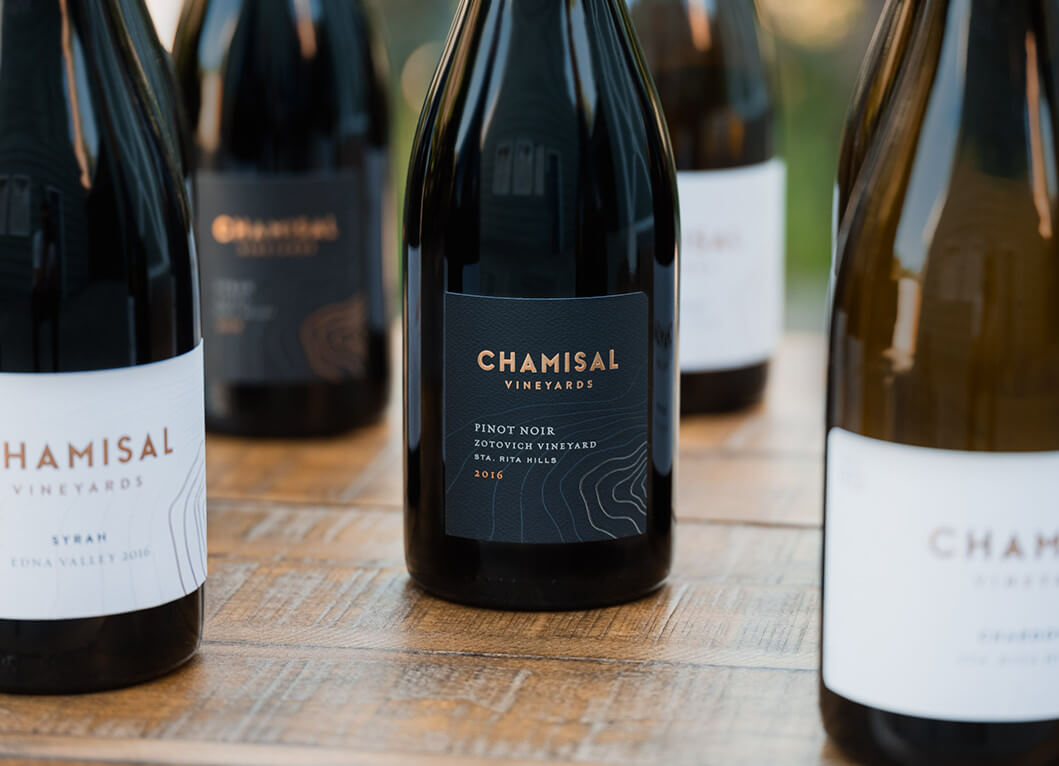 Chamisal specializes in sustainably produced Chardonnay and Pinot Noir from Central Coast vineyards located between Monterey and Santa Barbara. The wines are known for their intense flavor, mouthwatering texture, and impeccable balance.
2018 Morrito Pinot Noir Edna Valley – Expressive on the nose with notes of black currant, cherry, anise, and a touch of cedar. Fine concentration of fruit and a supple texture that feels plush on the palate. Retaining freshness through to the finish with lively acidity.
2019 Soberanes Pinot Noir Santa Lucia Highland – Notes of morello cherry, hazelnut, and dark chocolate shavings are layered and inviting on the nose of our Soberanes Vineyard Pinot Noir. Bright, intense, and persistent on the palate, the wine features notes of luscious red fruit and wild dried herbs. Silky, supple, and complex, this is a stunning expression of one of the most sought-after sites for pinot noir on the Central Coast.
2018 Califa Pinot Noir Edna Valley – Bright cherry, strawberry, and violets. Notes of dried strawberries mingle with cedar and some of our signature "Chamisal spice." Fine-grained tannins, juicy acidity.
2017 Radian Pinot Noir Radian Vineyard – Cherries, dried strawberries, and baking spices. Savory notes of cedar, spice and thyme. Polished, smooth and persistent.
2019 Edna Valley Pinot Noir – Exuberant aromas of sun-warmed blackberry and raspberry coulis on the nose. Vibrant and fresh on the palate, the wine shows some of our signature Chamisal spice with notes of cinnamon and star anise, pie crust, and rich concentrated fruit that carries through from the bouquet. The wine's supple texture is framed by polished tannins that contribute to a long and lingering finish.
5. Claiborne & Churchill
Claiborne & Churchill is a small, family owned and operated winery, founded in 1983 and located in the heart of the Edna Valley, just outside San Luis Obispo, California. Inspired by the wines of Alsace, they specialize in premium dry wines made from Riesling, Gewürztraminer, and Pinot Gris grapes, as well as handcrafted Pinot Noirs and Syrahs from several vineyards here in the Edna Valley.
They also produce small lots of other wines, including a Pinot Blanc, Chardonnay, Dry Rosé, and a Port-style wine.
2018 Pinot Noir, Greengate – One of the many benefits of producing Pinot Noir here in the Edna Valley is the wide variety of superior fruit from respected growers. One of our favorites is Greengate Ranch & Vineyard, just across the road from our winery, whose quality Pinot is highly regarded for its distinctive and complex profile. The 2018 growing season produced plentiful yields of excellent quality fruit, allowing us to select the very best barrels for this release. When opening your first bottle, allow the wine to breathe and enjoy the seductive aromas of violets, lavender, and orange zest. The palate exhibits pronounced flavors of red cherries covered in dark chocolate, supported by gripping tannins and a soft, silky finish. As our winemaker quipped, "this is a wine of easy virtue."
2018 Pinot Noir, Runestone – Among the many challenges facing a winemaker every year, one of the most important is tasting through every barrel in our cellar to decide which ones might work best together to deliver each of the distinctive blends we produce. (This process also just happens to be our winemaking team's favorite part of the job.) The Pinot Noir we call "Runestone" represents a selection of the very best barrels in our cellar, regardless of vineyard designation. This 2018 vintage showcases concentrated notes of crushed raspberry, fresh herbs, and well-integrated oak, together with a firm texture, a rich mouthfeel, and an elegant finish. This is a Pinot you can safely cellarfor a good ten years, and let us assure you that it will be worth the effort!
2019 Classic Pinot Noir – new
2019 Pinot Noir, Twin Creeks – new
6. Cutruzzola Vineyards
Nestled among towering pines and breathtaking views of the Pacific Ocean is the quaint village of Cambria, California. There, Cutruzzola Vineyards specializes in Pinot Noir and Riesling, both grown right in Cambria near Santa Rosa Creek Road. We produce just 500-600 cases a year so quality over quantity as we can monitor closely every stage of the process!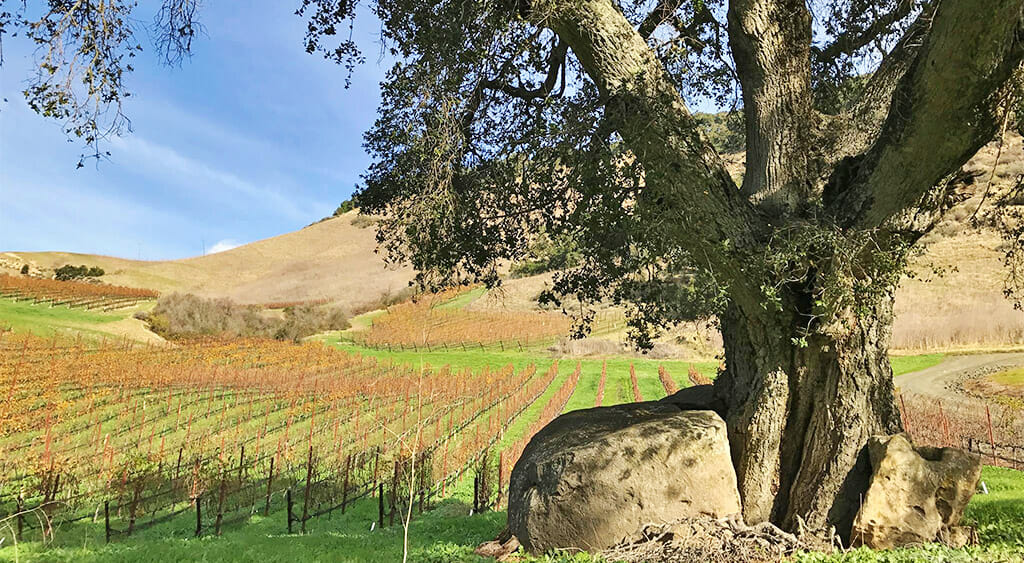 Our estate vineyard is in a coastal valley just outside the town center only a few miles from the water's edge, just over the coastal mountains and rolling hills of the Westside Paso Robles wine region. It's a picturesque sprinkling of small, family-owned farms and artist studios that unfold along scenic Highway 1. On most days you'll be warmed by sunlight and cooled by ocean breezes as you stand in the vineyard, where we grow Riesling and Pinot Noir on steep hillsides in a cool climate that is ideal for these varietals. At the moment, we offer three Pinot Noirs.
2015 Pinot Noir, Gloria Estate – A deep nose with notes of spicebox, purple flowers, cherry and plum. The mid-palate reveals silky tannins and a bold texture before graduating to a complex and persistent finish. This wine is crafted to be dense and serious yet elegant. 92 Points, Wine Enthusiast
2017 Pinot Noir, Gloria Estate – New Release! A bright nose loaded with red fruit, predominately red cherry. Cedar, spicebox and silky tannins round out the mid-palate and the wine graduates to a gorgeous finish.
2016 Pinot Noir, Giacomino Reserve – The nose brims with minerality and bright aromas of plum and black cherry. The oak integrates beautifully with the abundant mineral and fresh fruit. The balance on this wine is impeccable. Massive fruit is perfectly balanced by acid and tannins. We expect this wine to age for decades. 92 Points, Vinous Media
7. El Lugar (online only)
Family owned and operated, El Lugar means the place, and makes small-lot, vineyard-designate Pinot Noir, defined by its place of origin.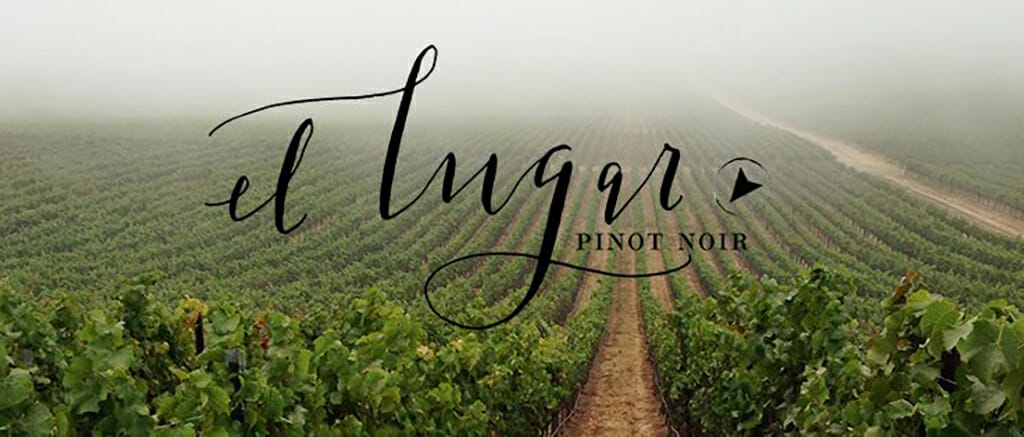 Coby Parker-Garcia has been making wines for 12 years and fell in love with Pinot Noir long ago and dreamed of creating high quality Pinot Noir from well-known vineyards and AVAs. In 2013, Coby and is wife took a leap of faith and made that dream come true by producing their first vintage of two vineyard designate Pinot Noirs. Currently we source fruit from four vineyards for our four Pinot Noir offerings.
2019 Pinot Noir, Spanish Springs Vineyard – Spanish Springs is one of the closest vineyards to the Pacific Ocean in California. It sits 2 miles inland from Pismo Beach. This site produces wines with great structure and ample amounts of acidity.
2019 Pinot Noir, Rincon Vineyards – Rincon Vineyards is located in Arroyo Grande, and is owned by the Talley Family. Consisting of two hillsides rising from the floor of Arroyo Grande Valley, the clay calcarious soils of the West Rincon Vineyard yield wines with distinctive mineral and iron notes.
2019 Pinot Noir, Bien Nacido Vineyards – Bien Nacido is located in the Santa Maria Valley. A very cool climate site with well drained soils. The vineyard sits only 14 miles from the Pacific Ocean. From the vineyard we selected two specific blocks based on the clonal selection.
2019 Pinot Noir, Hilliard Bruce – Hilliard Bruce Vineyard is located in the cool sandy slopes in the northwestern section of the Sta. Rita Hills. The vineyard sits 14 miles from the Pacific Ocean ideal for Pinot Noir. It's well drained soils and maritime influence result in wines with more fruit intensity and complex flavors. This vineyard is SIP certified (Sustainable in Practice).
8. Kynsi Winery
Kynsi Winery is a family run operation focused on producing distinguished wines from renowned Central Coast vineyard properties.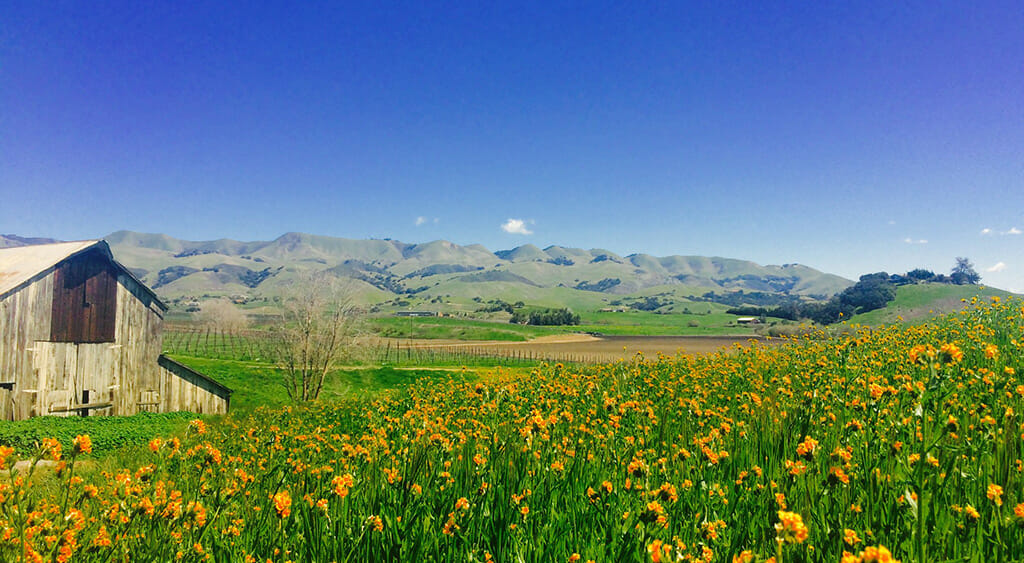 The blessed coastal climate, along with unique soil profiles and innovative farming techniques is why this region is considered to be one of the finest of the world. Our mission is to produce wines of the highest caliber while reflecting the unique terroir of nature's most expressive sites.
Kynsi Winery resides on a historic ranch in a charming and renovated old dairy in the heart of the Edna Valley. Visitors are welcome to experience their acclaimed wines in one of the most idyllic settings in the region. Depending on the vintage, we bottle eight different pinots, with four available now.
2018 Pinot Noir, Edna Valley – As an overall representation of Edna Valley Appellation characteristics, it showcases clean and focused aromas of strawberry, sassafras and purple flowers with juicy flavors of red raspberry and hibiscus tea.
2018 Pinot Noir, Stone Corral Vineyard – Estate grown and planted on an uplifted seabed, it offers a pretty bouquet of black cherry and dried wildflowers with a silky palate of fresh raspberries, blood orange and vanilla custard.
2018 Pinot Noir, Precious Stone – This gem is a blend of a few precious barrels that unanimously stood out during blind tasting trials. A deep and complex nose of dark bramble fruit, slate, and marzipan filled pastries before flavors of root beer, sage and tree ripened cherry prevail on the lengthy finish.
2018 Pinot Noir, Bien Nacido Vineyard – We have produced a Bien Nacido Pinot Noir for nearly 20 years and had the privilege of working with three different blocks of the original plantings of this famed vineyard. Amazingly, they were planted on their own roots and finally reached the end of their life in 2018 after four decades. The last vintage beautifully captures the essence of those old vines showing deep mulberry, chai tea, white pepper and bay leaf with a silky texture and complex old world elements.
9. Laetitia Vineyard & Winery
At Laetitia Vineyard & Winery, we are passionate about producing premium estate wines that showcase the distinctive qualities of the Arroyo Grande Valley.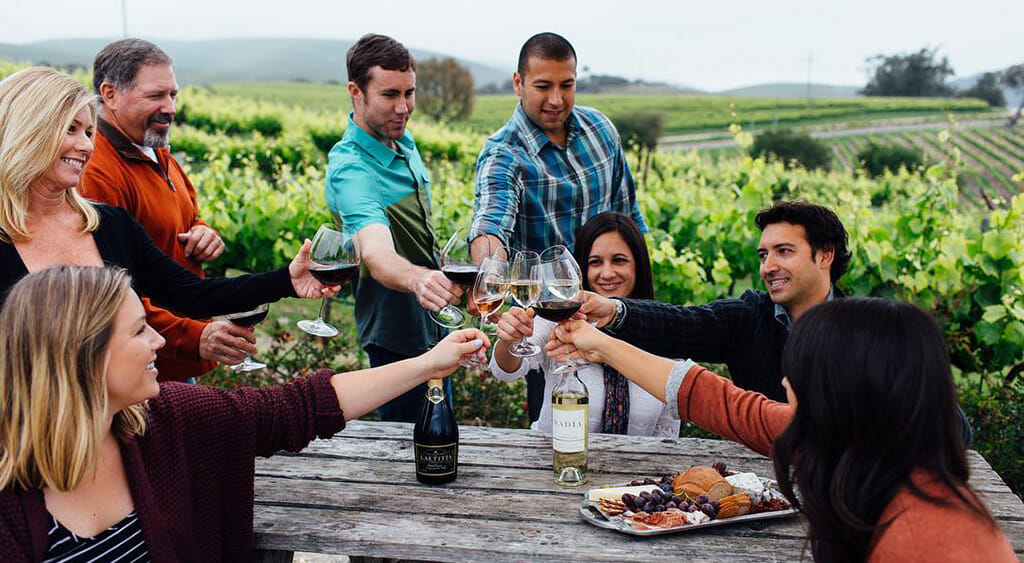 Located in Southern San Luis Obispo County, our coastal property overlooks the Pacific Ocean. Originally known for méthode champenoise sparkling wines, Laetitia continues to produce seven unique sparkling wines. Currently, we are just as well known for our handcrafted Pinot Noir, Chardonnay and more, offering eight Pinot Noirs.
2018 Laetitia Estate Pinot Noir – Initial aromas of cranberry and juicy mulberry, with secondary aromas of vanilla and freshly-grated nutmeg. Bright, crisp acidity frames youthful flavors of raspberry, red cherry and sandalwood with a hint of the classic Laetitia spice. Although very approachable now, this wine will age gracefully for years to come.
2018 Laetitia Reserve du Domaine Pinot Noir – Each vintage of the Reserve du Domaine Pinot Noir is marked by notes of red berries and earthiness. The 2018 is distinct with aromas of vine-ripened boysenberry and smoked truffle. Pairs perfectly with succulent veal or fresh ratatouille.
2019 Laetitia Whole Cluster Pinot Noir – This old-world style Pinot Noir has made a name for itself here at Laetitia due to its unique mouthfeel and well-driven structure. Subtle notes of strawberry jam and dark cherries lead into layered flavors of spice box, dried herbs, and tobacco. The wine is round and full-bodied with a silky mouthfeel and flavors of dark fruit, forest floor, and signature earth. Beautifully balanced with seamlessly integrated tannins, balancing acidity, and a lingering finish.
2017 Laetitia Single Vineyard La Colline Pinot Noir – Our original Pinot Noir planting on the vineyard, La Colline leans toward the Burgundian side with elegant spiced cherry, rose petal and potpourri notes on the nose. On the palate, cherry pie, enticing clove and fresh leather are framed by mouth-coating viscosity and lively acids, leaving a lingering finish with a great depth of flavors.
2017 Laetitia Single Vineyard La Coupelle Pinot Noir – The La Coupelle vineyard resides in a protected micro-climate of the ranch which yields warmer temperatures and in turn, a wine of deep, rich complexities. Opening with brooding aromas of wild berry, root beer spice, and rose petal, the palate is layered notes of cedar smoke, forest floor, and cherry marmalade. The structure of this wine promises an extended finish of firm, supple tannin, and bracing acidity.
2017 Laetitia Pinot Noir Limité – A seductive nose reminiscent of ripe plum and blackberry, with layered components of earth, violets and five spice. The palate reveals supple tannins and lively acids accented with pretty hints of framboise and underlying notes of dark chocolate and rye.
2018 Laetitia Clone 459 Pinot Noir – Our Clone 459 is a distinguished example of this attractive clone originating in the Dijon Region of Eastern France. This wine shows aromatics of cola, earth and anise on the nose. In the mouth, boysenberry and purple plum are wrapped in savory prosciutto flavors. With its richness and French Oak strength, this wine will continue to age beautifully for the next 6-8 years.
2019 Laetitia Pinot Noir, Arroyo Grande Valley, Block Y, Clone 115 – This wine has an alluring ruby red color and delicate aromas of spiced cherry, black pepper, and savory smoked meats. Notes of red fruit continue on the palate, where linear tannins are accompanied by a full-bodied texture expressing pencil shavings, and raspberry notes.
10. Oceano Wines
Oceano premium Chardonnay and Pinot Noir is grown at Spanish Springs Vineyard on the coast of San Luis Obispo; the closest vineyard to the Pacific in all of California. 350 cases produced.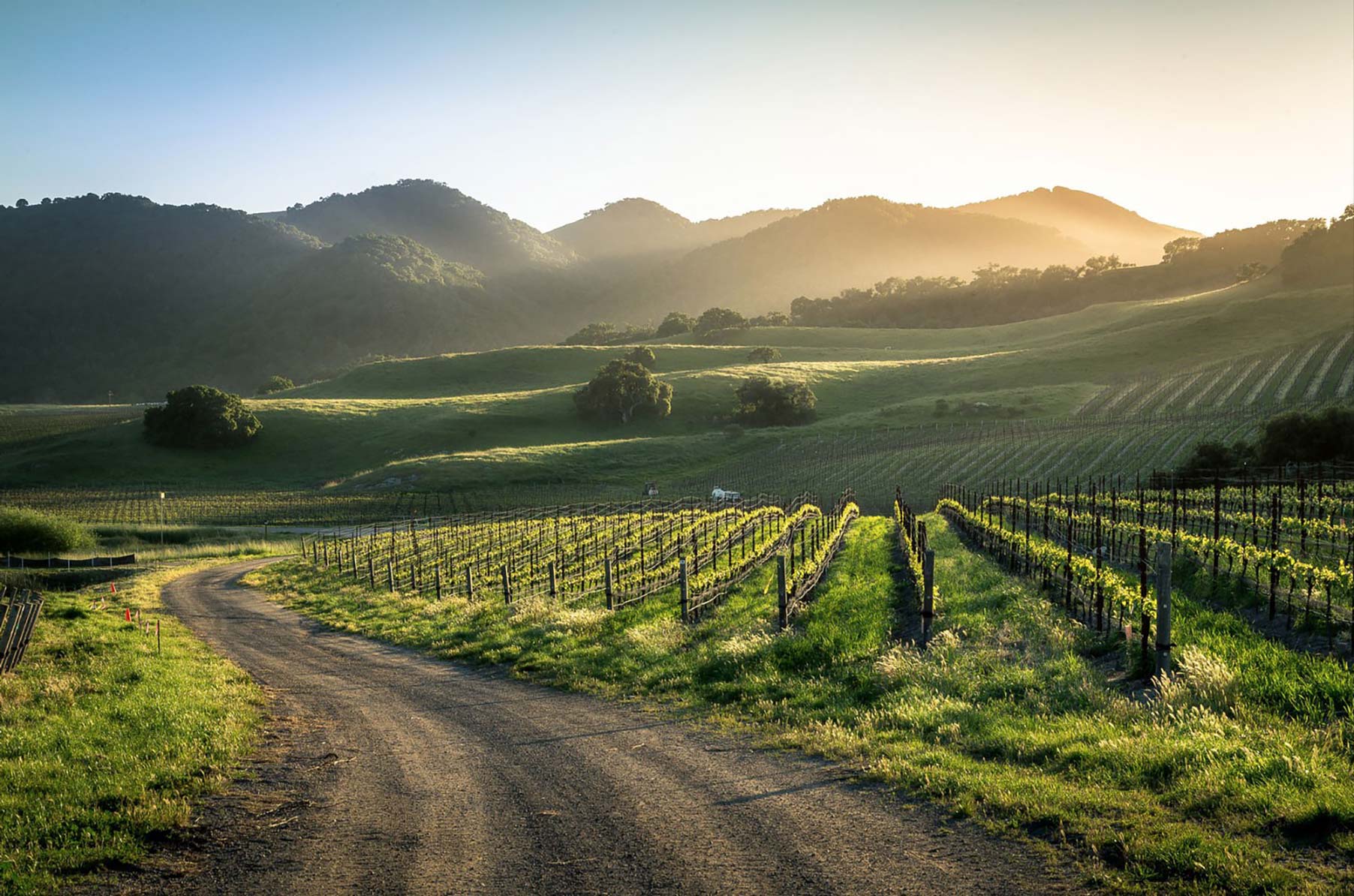 100% pinot noir hand-harvested at Spanish Springs in San Luis Obispo County. This SIP certified sustainable vineyard is nestled in the slopes of Price Canyon on the southern edge of the Edna Valley. Separated by a small mountain range it is the closest vineyard to the Pacific in California.
2019 Oceano Pinot Noir, Spanish Springs Vineyard – A perfumed nose of fresh strawberry, raspberry, cranberry, red currant, violets, vanilla, and sweet tobacco. A raspberry attack leads to a layered mouth of pomegranate, red currant, blueberry, plum, anise and hints of cocoa. Firm but elegant tannins give way to a long bing cherry finish.
11. Sinor-LaVallee Wines
Sinor-LaVallee was founded in 1997 by Mike Sinor and Cheri LaVallee-Sinor. Our wines are all from our Estate vineyard in Avila Beach with an Ocean View. There we have 8 clones of Pinot Noir along with Syrah, Chardonnay, Pinot Gris and Albariño.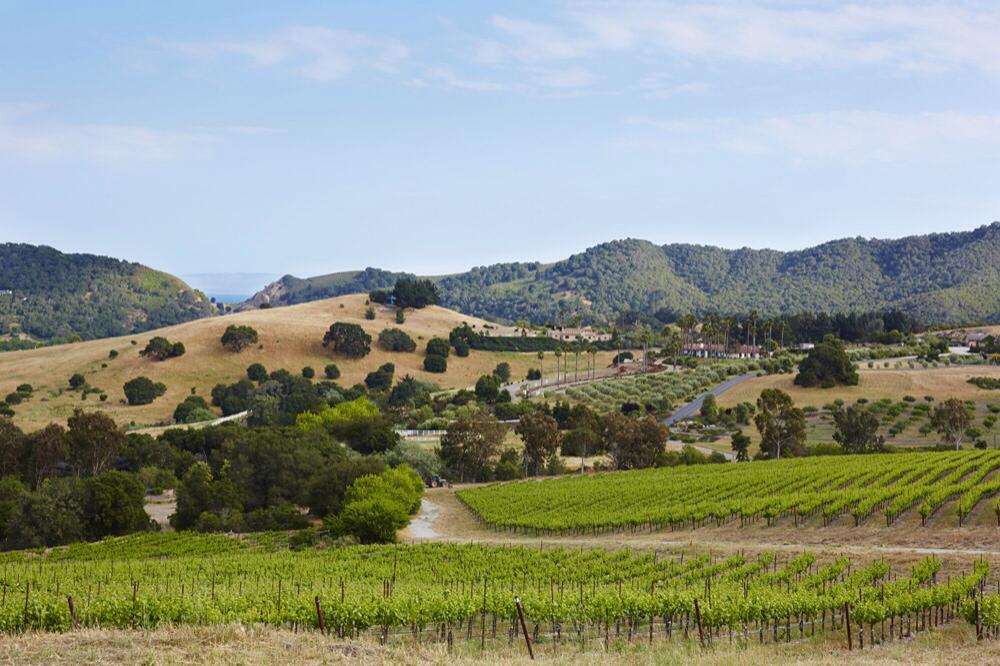 Our journey began almost 23 years ago, when we met at college in San Luis Obispo and started working at local wineries. The wine bug bit us hard, and the Pinot Noir bug bit us even harder. We worked one harvest after another, consuming the craft of winemaking, and studying the art of Pinot Noir. We got married in Burgundy. We had two beautiful children. Experience led to opportunity, and opportunity led to more experience, and both led to fanaticism. And from fanaticism our little winery was born. We currently have four Pinot Noirs, with more on the way.
The SLO Estate wines come exclusively from Bassi Vineyard. Because the vineyard falls outside of any recognized AVA, these wines are designated with a San Luis Obispo County appellation. But make no mistake—these are limited-production estate bottlings that speak vividly of a single vineyard.
2017 Pinot Noir SLO Estate
2017 Pinot Noir Whole Cluster
2016 Pinot Noir Whole Cluster
The White Label is reserved for ultra-limited wines that exhibit a leaner expression of Bassi Vineyard. We select clones, blocks, yeasts and barrels that cultivate structure, yielding wines with lower alcohol and higher acidity. These wines are all about litheness and clean site expression:
2017 Pinot Noir White Label, San Luis Obispo
12. Stephen Ross Wine Cellars
Stephen Ross Wine Cellars was founded on the principle of working with quality vineyards and hand-crafting the best wines possible from the grapes they yield. The winery started small, grew as financial resources allowed, and we stuck to our principles in winemaking and business – great, small production wines, solid business practices, and a nice, engaging place to work for our crew.
We planted our estate vineyard, Stone Corral Vineyard, entirely to pinot noir in 2001 in partnership with two other wineries in the area. In addition to our estate vineyard, we have continued to contract grapes from some of the best vineyards on the Central Coast.
Our wines reflect our commitment to consistently produce elegant, mind-blowing wines that demonstrate both terroir and Stephen's winemaking skill from ultra-high premium grapes, estate and contracted. Small production for over 20 years, Stephen Ross wines have won acclaim throughout the industry. We offer five Pinot Noirs at the moment.
2017 Pinot Noir Stone Corral Vineyard – This wine is impeccably balanced, with pretty aromatics and very fine tannins. It is densely colored, quite dark, ruby hue. Nice perfume, juicy dark fruit & spice, bittersweet chocolate, crushed green things, soft on the mouth with silky textures and fine tannins, finishing with acid tartness at the back of the palate. Notes of ripe cherry, caperberry, redwood forest floor, wet granite minerality. 94 points, Vinous. 92 points, Wine Enthusiast.
2018 Pinot Noir San Luis Obispo County – The wine is a brilliant, vivid ruby red color.  On the nose, ripe raspberry and cranberry overlay low key dark cherry, dark chocolate and interesting stoney forest floor notes and rose petal. Soft on the palate, medium bodied, a bit of salinity, gentle acidity, velvety texture with a lingering finish. 91 points, Wine Enthusiast. 91 points, Vinous.
2017 Pinot Noir Bien Nacido Vineyard – Clear and dark ruby in color, this is classic Pinot Noir Clone 667. On the nose, dried rose petal, black cherry, cardamom, forest floor, graphite and the signature black pepper of BNV. The mouth is youthful and nervy in its acidity and complexity. This is a keeper.
2018 Pinot Noir Edna Valley Estate – Beautiful deep ruby red color, transparent and dense. Bright notes of fresh rose blossom, some cedar forest and dried cherry aromas. Youthful, with a good balance of acidity and moderate alcohol, ripe blue fruit notes on the palate, lingering fine tannins on the finish. 93 points, Wine Enthusiast. 92 points, Vinous. 91 points, Wine & Spirits.
2017 Pinot Noir Santa Lucia Highlands – Brilliant ruby red transparent color. True to variety aromas of dried rose petals, cherry, and damp redwood forest notes. Elegant, refined textures, lovely balance of acidity and fine tannins. A very pleasant, well balanced, classic Santa Lucia Highlands Pinot Noir that is refreshing, lively and easy to drink.
13. Talley Vineyards
Talley Vineyards is a family owned and operated winery that specializes in estate grown chardonnay and pinot noir ideally suited for the climate and soils of the Arroyo Grande and Edna Valleys. The Talley's farming history in the area dates to 1948 when Oliver Talley began growing vegetables in the Arroyo Grande Valley.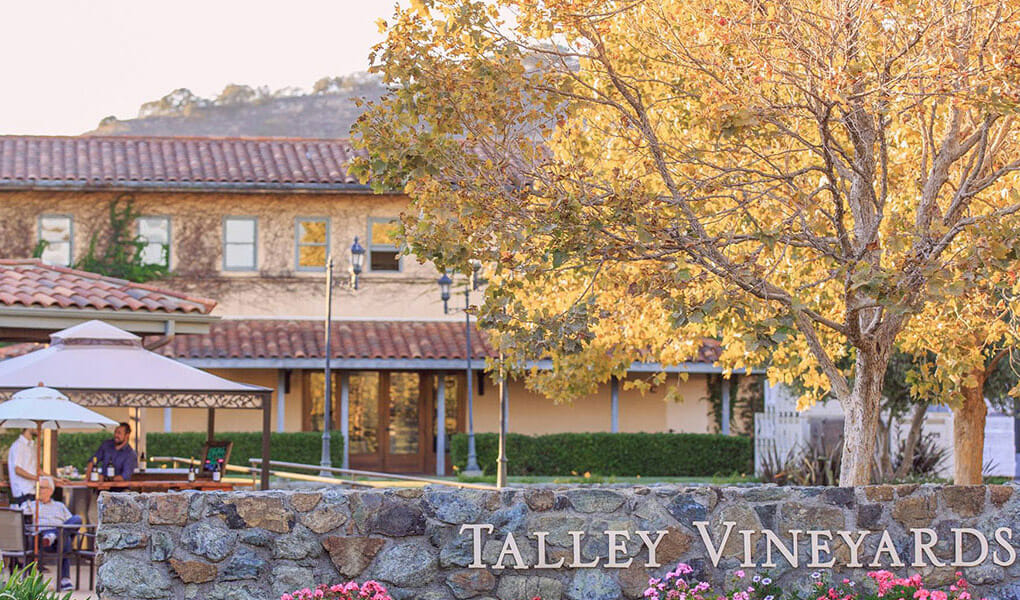 Guided by this legacy and a commitment to long term sustainability, Talley Vineyards focuses on attention to detail in all aspects of farming and winemaking operations. The goal is to produce distinctive wines of consistently high quality that best express the unique character of each of the Talley family's six vineyard sites in the two valleys. We currently offer four Pinot Noirs, with more being released soon.
2020 Bishop's Peak Pinot Noir – Produced entirely from Pinot Noir grapes grown in Coastal San Luis Obispo County, combining both purchased and estate grown fruit, this wine is bottled before the next harvest to preserve the charm and fresh red fruit flavors that distinguish the varietal.
2018 Talley Vineyards Estate Pinot Noir – The signature red wine of Talley Vineyards, the Estate Pinot Noir has been bottled since the inaugural 1986 vintage and represents a pure expression of the Arroyo Grande Valley appellation. It was the first Pinot Noir produced in Coastal San Luis Obispo County to demonstrate the potential of the area as a world class Pinot Noir winegrowing region.
2018 Rincon Vineyard Pinot Noir – The Rincon Vineyard is where Don Talley planted the first vines of Talley Vineyards in 1982.  Known as the "home vineyard" and where the iconic el Rincon Adobe and Tasting Room reside.  Consisting of two hillsides rising from the floor of the Arroyo Grande Valley, the clay calcareous soils of the West Rincon Vineyard yield wines with distinctive mineral and iron notes.
2019 Stone Corral Vineyard Pinot Noir – Translated from Corral de Piedra, the name of the land grant that underlay this vineyard and much of the Edna Valley, our Stone Corral Vineyard consistently produces a crowd-pleasing, delicious Pinot Noir. The suave and lengthy 2019 vintage offers beautiful notes of plum and cherry.
14. Timbre Winery
Timbre (pronounced TAM·ber or TIM·ber) is the "color" of music. It is what makes two voices sound different, even when singing the same song. It is why two winemakers, working with the same vineyards, make unique wine. As a terroir-driven winery, we make wines expressive of the places and times from which they came. As winemakers, we channel those sites through our experience, adding our own mark- our TIMBRE- to the resulting wines.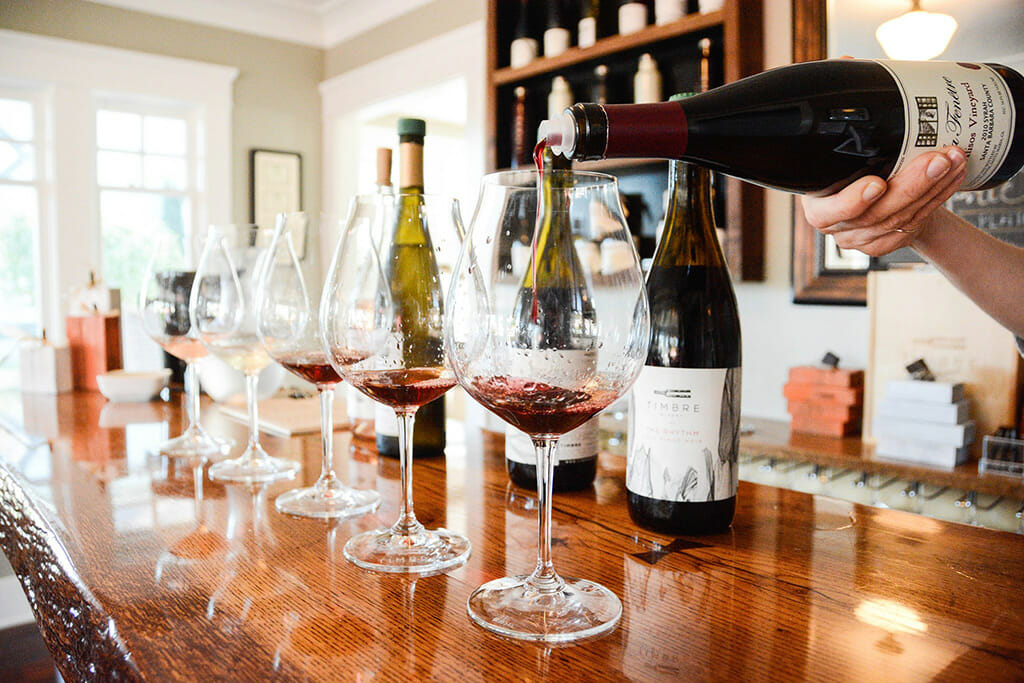 Founded by Joshua Klapper and Alex Katz, Timbre Winery is the culmination of years of hard work, and dedication to our craft. It is winemaking expressed through the universal language of musical sound." Currently, we have eight Pinot Noirs.
2015 The Headliner Pinot Noir – The Headliner – The reason that everyone shows up. Sandy soils in the vineyard and whole cluster fermentation in the winery create a beautifully aromatic stunner with a sultry edge that practically guarantees a curtain call.
2015 Supergroup Pinot Noir – This wine is blended from Bien Nacido and Presqu'ile vineyards in the Santa Maria Valley. The Bien Nacido portions are old vine G Block, which cut across the west side of the Bien Nacido bench section. The Presqu'ile comes from the block of 777 Clone facing Clark Avenue in the Solomon Hills region of southern Santa Maria. These two vineyards, when blended, absolutely rock! Pale red, the super intense nose of this wine defies its color… Bright with notes of cherry pie, rose petals, and cranberry, and just a hint of stems. The palate, highlighted by cherry cola and strawberry preserves on buttered toast, is lifted by cinnamon and savory spices through the finish. 65 cases produced.
2017 Lead Vocals Pinot Noir – Dark red, the aromas immediately pop, with chai tea, evergreen, rose petal, and baking spices. Silky tannins frame the super long finish that goes and goes.
2015 Lead Vocals Pinot Noir – Lead Vocals – Not just a great voice, but also a great performer. Bien Nacido has been the frontman for American Pinot Noir for over 40 years and the own-rooted Pommard Clone in G Block's gravel and sandy loam provide the complexity of a true icon.
2014 Lead Vocals Pinot Noir – Lead Vocals – Not just a great voice, but also a great performer. Bien Nacido has been the frontman for American Pinot Noir for over 40 years and the own-rooted pommard clone in G Block's gravel and sandy loam provide the complexity of a true icon.
2017 Guest Star Pinot Noir – 'Guest Star – It's always good to have friends drop in when you are playing a show. Squire Canyon may not be part of our regular cast, but when we got the opportunity to bring this San Luis Obispo County fruit on our 2017 vintage tour, we jumped at the chance.'
2015 Supergroup Pinot Noir – Supergroup – A band made up of members who have already garnered fame from other projects. This wine is blended from two rockstar vineyard sites (Bien Nacido and Presqu'ile), whose combined talents rival their solo works.'
2018 Supergroup Pinot Noir – Supergroup – A band made up of members who have already garnered fame from other projects.
15. Tolosa Winery
At Tolosa Winery, we are true believers in the special terroir that is Edna Valley, nestled amongst the northwest to southeast running volcanic hills of San Luis Obispo County and the frontier for the most complex cool-climate varietals in California.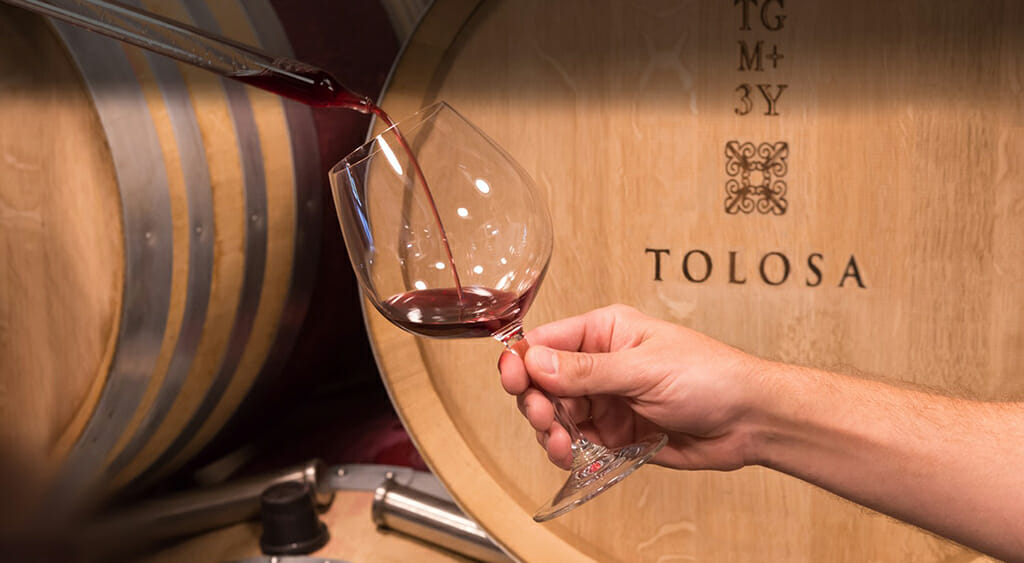 Our Pinot Noirs and Chardonnays reflect the cold northwest wind that sweeps down the coast and funnels into the valley, as well as the remarkable diversity of soil types: ingredients for nuanced and balanced wines of distinctive character. Now, we have ten current-release Pinot Noirs and ten library Pinot Noirs.
1772 Pinot Noir 2018 – This Pinot Noir is a medley of Tolosa's estate vineyard Edna Ranch. The estate vineyard is spread throughout the Edna Valley, producing six unique vineyard sections with 60 soil types and a myriad of microclimates. For the 2018 vintage, this wine will show the bright red fruit common in Edna Valley as well as the freshness that comes with the cool coastal climate.  Juicy fruit with acidity upfront exhibiting notes of blood orange, and rhubarb progressing to forest floor, blonde tobacco, black tea, crushed oyster shell and potpourri on the finish.
Stone Lion Pinot Noir 2017 – This wine is a named after the stone lion statue discovered in the Moretti section of Tolosa estate vineyard, Edna Ranch. After selecting a series of small lots, the wine is blended to take on an earthy and bold profile while showcasing finesse. The Stone Lion Pinot Noir is crafted to exhibit a bold and rich structure, while maintaining the lusciousness we love about California Pinot Noir.
Pacific Wind Pinot Noir 2018 – As a homage to the daily Pacific Wind that moderates the Edna Valley's climate, we strive for this wine to be fresh as the marine sea breeze. Most of the grapes represented in this wine come from the Hollister and Monighetti sections located on the westside of Edna Valley. These sections are the first to receive the influence from Pacific Wind and are the closest to the Pacific Ocean. The moderating influence preserves the crisp acidity in the grapes. 94 Points – Wine Enthusiast.
94 Points, Vinous.
Apex Vineyard Pinot Noir 2019 – Ray Franscioni's Apex Vineyard is in the heart of the southeast-facing terraces of the Santa Lucia Mountain range overlooking the Salinas River Valley. The vineyards, at an elevation of 1,250 feet, receive morning sun exposure before being influenced by the daily fog and ocean breezes 28 miles from Monterey Bay.
Drum Canyon Vineyard Pinot Noir 2019 – Drum Canyon vineyard is farmed by the Dierberg family and situated in the Sta. Rita Hills AVA in western Santa Barbara County. The region is adjacent to the Pacific Ocean and famous for its transverse mountain range which allows the strong maritime winds and fog to cool the vines. Drum Canyon is planted alongside Highway 246, on a steep southwest facing hillside between Lompoc and Buellton.
El Coro Vineyard Pinot Noir 2019 – El Coro vineyard is farmed by the Keller family and located within the Petaluma Gap AVA, the premier gateway to the Sonoma Coast. The "Gap" is a wind gap that allows the maritime wind and fog to roar into the region. The vineyard consists of a 20-acre block planted on the highest point of the Keller estate at 500 feet of elevation. The terroir consists of clay loam soils and gravelly volcanic subsoil.
Gunsalus Vineyard Pinot Noir 2019 – Our newest single vineyard, Gunsalus Vineyard Pinot Noir 2019, balances our collection and is a recommended cellar addition for the wine enthusiast.  This gem of a vineyard resides at an elevation of 242 feet in the Green Valley, capturing the maritime fog after it passes through the Petaluma Gap, and then lingers the longest, resulting in this AVA being the coolest, foggiest part of the Russian River Valley and a Pinot Noir haven.  Garnet in color, with aromas of strawberry and rose petal.  Bright red fruit flavors linger on the palate with gentle mouth-coating tannins.
Hollister-Edna Ranch Pinot Noir 2019 – Hollister is located in the heart of the Edna Valley and named for the iconic California family who played a prominent role in the history of our valley from their ranch on this property. The Hollister portion of our home vineyard, Edna Ranch, is the closest to the Pacific Ocean receiving a moderating influence to maintain balanced acidity in the grapes. Hollister has a series of rolling hills optimizing sun exposure to ripen concentrated grapes.
Solomon Hills Vineyard Pinot Noir 2019 – Solomon Hills Vineyard experiences a long and mild growing season perfect for the style of Pinot Noir we are seeking. Located at the westernmost end of the Santa Maria Valley AVA, the vineyard sits in the valley widely open to the Pacific Ocean only 10 miles away and gently slopes towards it, so you can actually see the dunes from the vine rows. Our blocks are located on the valley floor with sandy soils and receive an aggressive afternoon sea breeze which serves as a moderating influence.
Primera Pinot Noir 2019 – Our flagship Primera demonstrates the full potential that makes Pinot Noir one of the most coveted grapes in the world. Primera is a small-lot selection of the best of our estate vineyard, Edna Ranch, located in the coolest appellation in California, Edna Valley.  Only the finest choice of French oak barrels is used to age our highest echelon wine.  This is a statement Pinot Noir for the enophile ready for prestige.
Library Pinot Noir available in various years:
Primera Pinot Noir
Albatross Ridge Vineyard Pinot Noir
Apex Vineyard Pinot Noir
Drum Canyon Vineyard Pinot Noir
El Coro Vineyard Pinot Noir
Hollister-Edna Ranch Pinot Noir
Saltonstall Vineyard Pinot Noir
Solomon Hills Vineyard Pinot Noir
Toyon Farm Pinot Noir
1772 Pinot Noir