The wineries of the San Luis Obispo Coastal wine region boast an average distance of just five miles from the Pacific Ocean, resulting in prevailing marine conditions that are among the most pronounced of any wine region in California. This boutique wine region offers much in the way of world-class wines, award-winning dining, and winery and vineyard tours year-round. Read below to learn about five of our winery tours available now — and always call or email ahead to book.
If you don't see your favorite winery here, just contact them! Many wineries will gladly give you a tour if they can accommodate your request.
Chamisal Vineyards
The sole goal at Chamisal is bringing the vineyard to life — simply expressing the vineyard's naturally bold and complex flavors and allowing the varietals to shine.
The historic Chamisal property, the first vineyard planted in the Edna Valley, has long been producing wines of a distinctive character — bold, complex and intriguing. With the ideal climate of the region and the exceptional clonal selection planted on our vineyard, Chamisal's winemaking philosophy is to simply reflect the natural characteristics of this remarkable estate.
Private Tasting & Tour
Begin this private, personalized experience in the tasting room, where a friendly and knowledgeable hospitality associate will welcome you with a taste of Chardonnay. After a brief introduction to Chamisal, hop into the all-terrain limo golf cart for behind-the-scenes access to Chamisal's Edna Valley Vineyard, complete with sweeping views of the Santa Lucia Mountains and rolling vine-covered hills. Then return to the Estate Patio for a platter of local cheeses to pair with a flight of current-release Chamisal wines.
More info and booking here: https://chamisalvineyards.com/visit/
Claiborne & Churchill
Claiborne & Churchill is a small, premium family-owned winery in the Edna Valley, founded in 1983 by Claiborne (Clay) Thompson and Fredericka Churchill Thompson.
With its first crush Claiborne & Churchill announced its special focus, producing 565 cases of Dry Riesling and Dry Gewurztraminer, inspired by the fruity but dry dinner wines of the French province of Alsace. Today Claiborne & Churchill produces about 8,000 cases of wine each year, sourcing grapes from vineyards in the cool maritime valleys of California's Central Coast and its own small estate vineyards.
Tasting with Vineyard & Winery Tour
This casual walk about tasting allows you to not only taste our signature wines, but also learn about Claiborne & Churchill's estate vineyard practices and see where the wine is made. Enjoy this intimate and informative tasting experience seven days a week, weather permitting.
More info and booking here: http://www.claibornechurchill.com/visit/tasting-flights.php
Niner
Niner Wine Estates is a family company dedicated to the concept that truly great wine results from talented people controlling the entire winemaking process from the vineyard to the glass.
Niner Wine Estates only makes wine from grapes they grow themselves. From vineyard to glass, the entire team is working together with a singular goal in mind: to provide you with wines that combine within them a true expression of the vineyards and the creativity of Niner's people. Niner farms three separate estate vineyards: Jespersen Ranch nestled in the Edna Valley AVA, as well as Bootjack Ranch resting on the Eastern side of the Paso Robles AVA and Heart Hill Vineyard settled on the Western side of Paso Robles. Each vineyard has very different soil profiles and climates resulting in three very unique representations of terroir.
Main Winery & Vineyard Tour
Start with a trip through our SIP Certified Heart Hill Vineyard and learn how Niner farms the land with care, precision and a long-term view. Arrive at Niner's LEED and SIP Certified winery and learn all about the winemaking process by following the trip a grape takes during harvest. Start at the top floor and work your way down the stairs, through the fermentation tanks and presses, and into one of the barrel rooms. Here you will be guided through a barrel tasting and learn how aging and different oak regiments impacts wine. Return to the tasting room for a tasting flight featuring an assortment of Reserve & limited-production wines that showcase the three vineyards.
More info and booking here: https://www.ninerwine.com/Visit
Talley Vineyards
Talley's goal is to create distinctive, handcrafted wines that reflect the unique character of each vineyard where the grapes are grown.
Talley Vineyards is a family owned and operated winery that specializes in estate grown chardonnay and pinot noir ideally suited for the climate and soils of the Arroyo Grande and Edna Valleys. The Talley's farming history in the area dates to 1948 when Oliver Talley began growing vegetables in the Arroyo Grande Valley. Guided by this legacy and a commitment to long term sustainability, Talley Vineyards focuses on attention to detail in all aspects of farming and winemaking operations. The goal is to produce distinctive wines of consistently high quality that best express the unique character of each of the Talley family's six vineyard sites in the two valleys.
Winery Tour and Taste
Enjoy the scenic grounds of Talley Vineyards on this casual, informative 45min tour. These daily tours feature our El Rincon Adobe, Rincon Vineyard, winery, and barrel room. For an additional charge, please enjoy a flight of our current wines in our tasting room.
More info and booking here: https://www.talleyvineyards.com/Visit/Winery-Tours
Tolosa
Tolosa is a true believer in the special terroir that is Edna Valley, nestled amongst the northwest to southeast running volcanic hills of San Luis Obispo County and the frontier for the most complex cool-climate varietals in California. Tolosa's Pinot Noirs and Chardonnays reflect the cold northwest wind that sweeps down the coast and funnels into the valley, as well as the remarkable diversity of soil types: ingredients for nuanced and balanced wines of distinctive character.
Tour and Tasting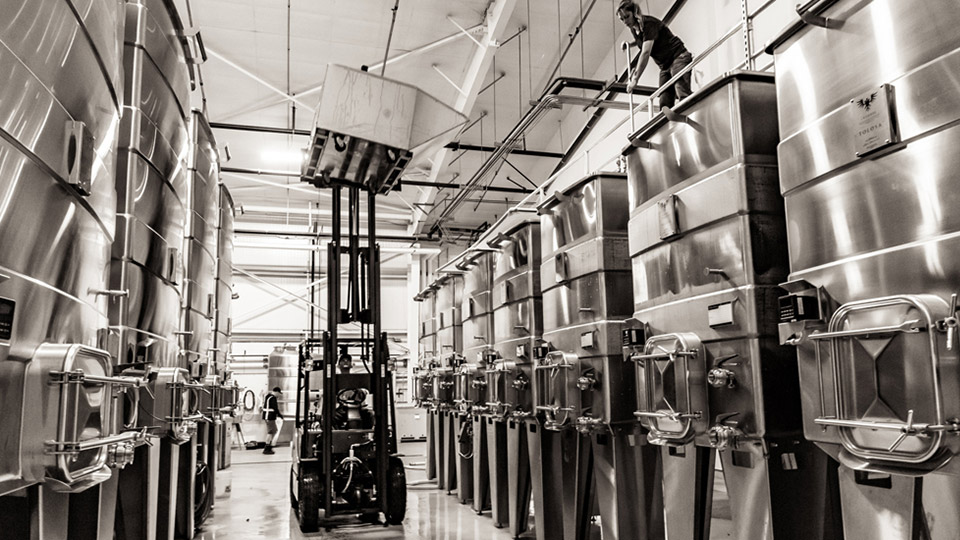 Experience the beauty of the Tolosa estate, cellar, and its wines during this 60-minute tour and tasting. You will observe first-hand what it means to have an artisanal approach to winemaking, matching the wine in your glass to traditional winemaking techniques and state of the art technology. Your tasting will conclude in the well appointed, members-only Heritage Room with expansive views of the vineyards.
More info and booking here: https://www.tolosawinery.com/Visit/Tour-and-Tasting
Private Tasting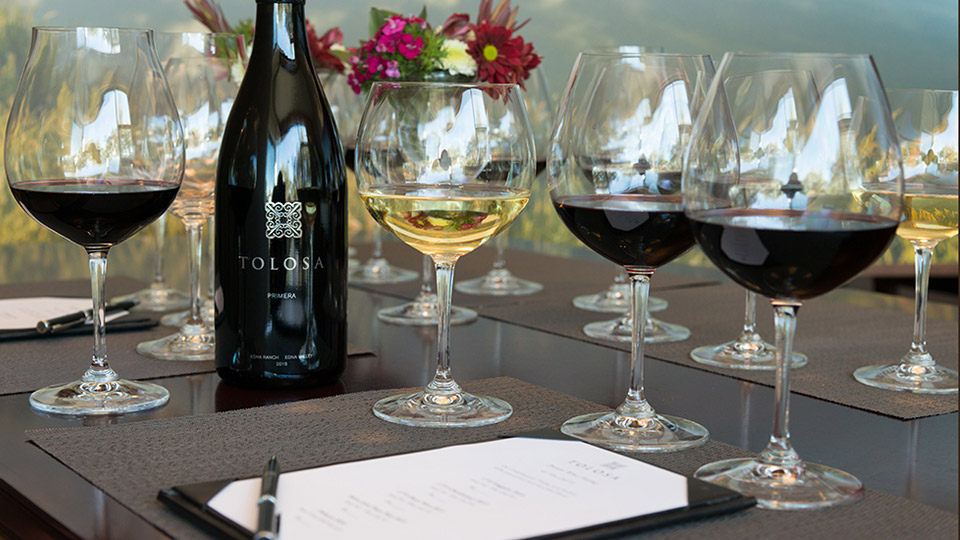 Our private tastings allow you to experience Tolosa wines in an intimate setting in an elegant room dedicated to your party.   This seated tasting will be led by an experienced wine educator.  A selection of four current release wines and our flagship Pinot Noir, Primera, will be accompanied by an assortment of cheeses for your enjoyment.
More info and booking here: https://www.tolosawinery.com/Visit/Tasting-Experiences