San Luis Obispo (SLO) Coast on California's Central Coast has emerged as a driving force on the domestic Albariño front, a testament to how the region's ultra-coastal growing conditions are perfectly suited to New World expressions of this classic grape variety.
Indeed, this small region with less than 35 wineries already accounts for approximately 20 percent of California's total acreage of the grape, generating more than 25 individual variety bottlings from SLO Coast wineries and others.
"This is the New World hub for Albariño," said John H. Niven, formerly of Baileyana & Tangent Wines. "The vineyards here are five miles from the ocean on average, which is key to growing authentic Albariño. The similarities between our wines and those from O Rosal in Rías Baixas are striking. I think it makes Edna Valley worthy of being called the New World of albariño. I firmly believe the Edna Valley deserves to be in the conversation as one of the great white wine grape regions in the world," Niven added.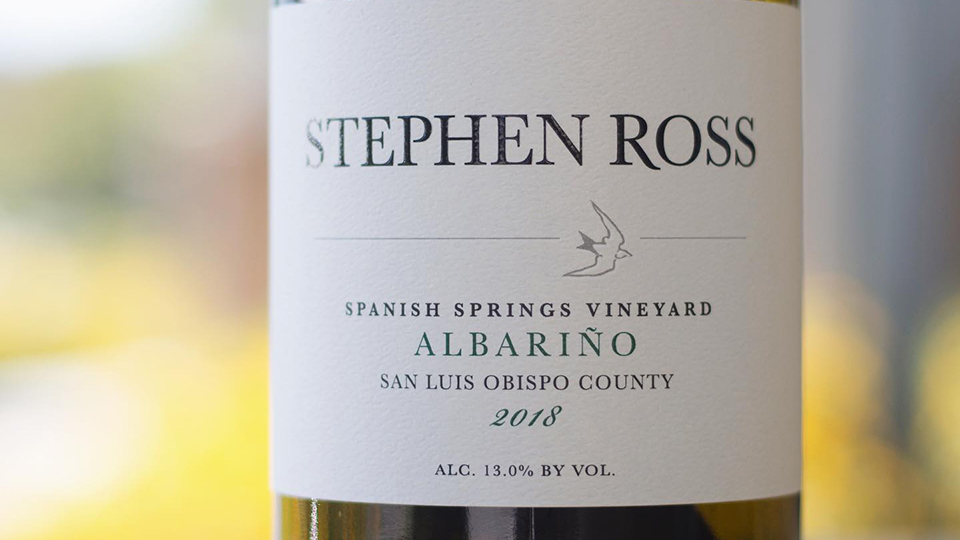 Added Stephen Dooley, winemaker and proprietor at Stephen Ross Wine Cellars, "The signature qualities in SLO Coast Albariños include racy acidity; very fine mid-palate tannins that give it an edginess; salinity and minerality from the Pacific air; and wonderful citrus zest and orange blossom notes."
According to the most recent California Grape Acreage Report, California was home to 289 bearing acres of Albariño. SLO Coast is home to more than 55 bearing acres of the grape, all of which reside less than 5.5 miles from the ocean, with some as close as 1.2 miles. SLO Coast is located on the seafront side of the coastal mountain range in San Luis Obispo County, and includes two contiguous AVAs—the Edna Valley and Arroyo Grande Valley.
The pronounced marine conditions of SLO Coast are ideal for coaxing essential qualities out of locally grown Albariño fruit, including notes of mineral, rose petal and brine with quenching citrus flavors, energetic acidity and hints of tropical fruit.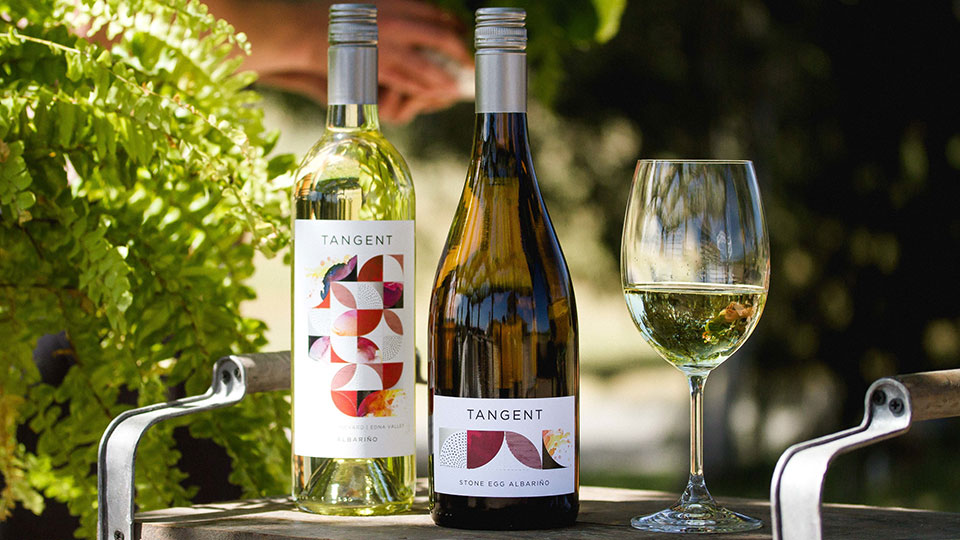 Leading the Albariño charge locally is Tangent Winery owned by Baileyana, which began betting big on the variety after conducting considerable trial and research, blind tastings and consultations with Spanish winemakers. Today, Paragon Vineyard is home to 45 acres of Albariño. The local Albariño movement was first initiated when Alan Kinne first planted the variety at Jack Ranch in 2001, a vineyard that Baileyana has leased for several years.
The winery's bet on Albariño has paid off. In fact, their Tangent Albariño earned one of only three gold medals awarded at the 2016 Bacchus International Wine Competition in Madrid Spain—and was the only wine produced outside of Rias Baixas and Vinho Verde to win this prestigious award.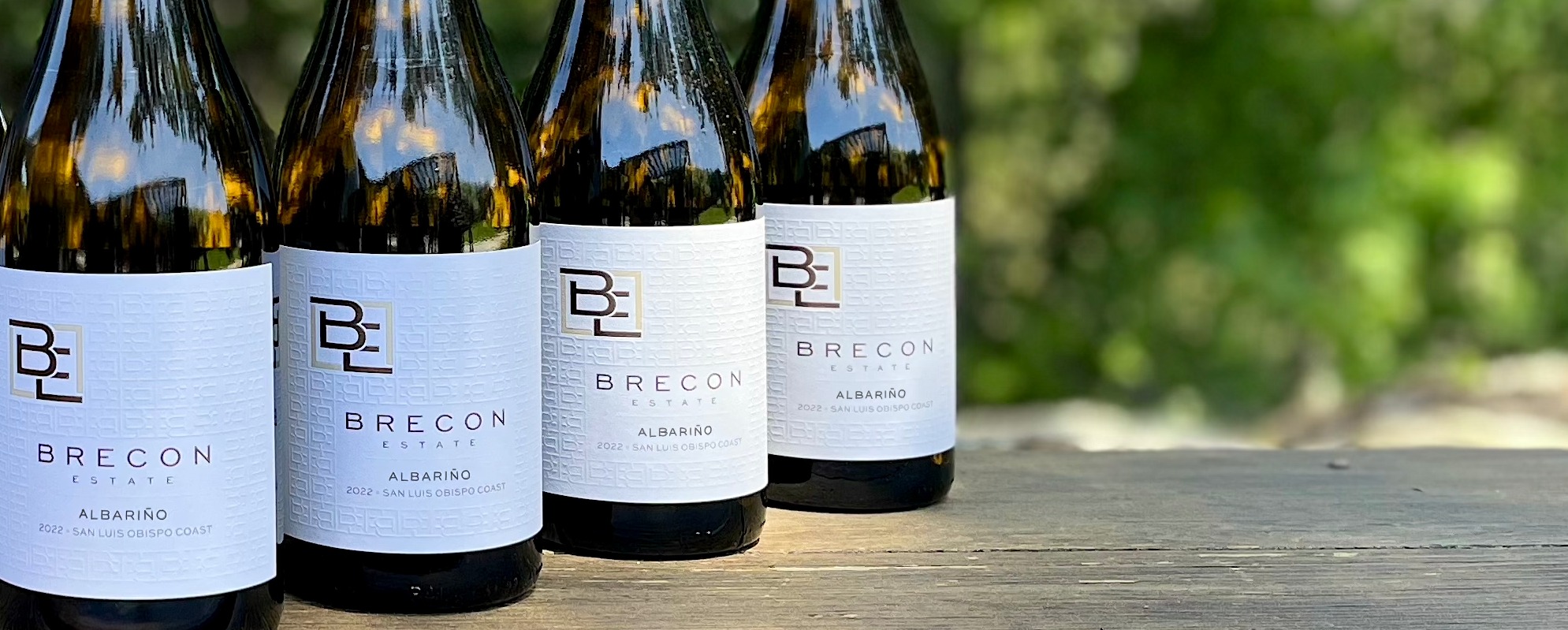 Brecon Winery, based in Paso Robles, has also won numerous awards for their SLO Coast Albariños. Their 3 Albariño bottlings are the Estate stainless steel-fermented and aged (Old World style), True Acacia Head aged in oak and acacia (New World style) and Last Sandwich (blended with Viogner). They showcase the variety of possibilities for this Spanish grape, and were awarded Golds and Best in Show in the 2023 Sunset International Wine Competition.
"This particular varietal has been hugely successful for us," says winemaker Damian Grindley. "It fits so well with alfresco summers in Paso Robles and so many Southern states, as well as the seafood culture of the [San Luis Obispo] Coast. It's helped put both Brecon Estate and Central Coast Albariño on the map."
Another vineyard planted with Albariño is Spanish Springs vineyard, which is the closest vineyard to the Pacific Ocean along the SLO Coast at about 1 to 1.5 miles inland. Croma Vera and Stephen Ross source fruit from this vineyard.
Mindy Oliver, owner at Croma Vera Wines, believes Spanish Springs vineyard, being so close to the ocean, gives wines a bit more acidity, salinity and minerality. Acidity help wine age in the cellar, so you can keep these wines longer, and see how they reveal their flavors of citrus and guava. Stephen Ross Wine Cellars also source albariño from Spanish Springs vineyard.
"Albariño is well-suited to maritime climates such as ours," said Jeremy Leffert, winemaker at Croma Vera Wines. "Our cool climate, with close proximity to the ocean, preserves the intense tropical aromatics that Albariño is best known for."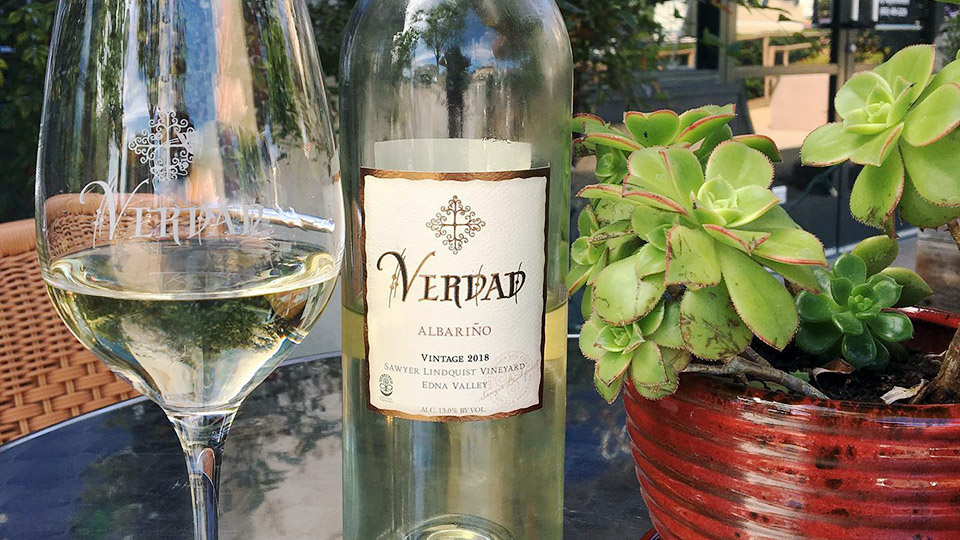 Added Louisa Lindquist, winemaker and proprietor at Verdad Wines, "SLO Coast, in my opinion, is the best region in California for Albariño. The direct marine influence produces grapes with great acidity and balance, creating crisp vibrant wines that rival those of Spain." Lindquist planted Albariño on California's Central Coast in the late 90's and has been making this minerally wine from various vineyards since she launched Verdad Wines in 2000.
SLO Coast wineries producing Albariño include:
Absolution Cellars, Autry Cellars, Baileyana/Tangent, Croma Vera Wines, Filipponi Ranch Cellars, Niner Wine Estates, Peloton Cellars, Ragtag Wine Co., Sinor-LaVallee Wine Company, Stephen Ross Wine Cellars, Timbre Winery and Verdad Wines.
Additional local vineyards planted to Albariño include Jesperson Ranch (Niner), Bassi Ranch (Sinor-LaVallee) and Sawyer-Lindquist (Verdad).
Technical Notes on Albariño
Albariño is historically grown within a few miles of an ocean or seashore.
In Spain, Val do Salnes and O Rosal are located a few miles from the Atlantic coast.
In SLO Coast, the vineyards are located five miles from the Pacific Ocean on average.
SLO Coast's Edna Valley features similar characteristics in terms of ocean proximity and climate as Galicia, Spain, as well as Maldonado, Uruguay—another epicenter of Albariño.
O Rosal and Edna Valley both have a ridge of mountains separating the seashore from the vineyards and similar annual temperatures throughout the growing season. However, rainfall is three to four times higher in O Rosal than in Edna Valley (irrigation is permitted in California but forbidden in Spain).
*Technical notes adapted from Niven Family Wine Estates/Baileyana Albariño report.