The range of wineries and scenery amongst the SLO Coast Wines tasting trails are vast, diverse, and nothing short of gorgeous. From the rolling hills of Edna Valley, to the coastal views above Avila Beach, and north to the striking coastal terrain from Morro Bay to Cambria; spending time exploring the area is a diverse experience with an array of memorable wines. The best way to enjoy the area is to hit the road, stop into some local foodie haunts for provisions, and enjoy your day. Here are two itineraries sure to be an incredible way to enjoy the SLO Coast Wines region. 
1. Take it SLO
For those staying around the San Luis Obispo area, start your day in the historic Edna Valley area at Autry Cellars. Steve Autry is a bass player in jazz and rock bands with past careers in aerospace research and technology, Steve combined his artistic talent with his scientific knowledge and became a full time artisan winemaker in 2001. Over the years his approach has confirmed what he long suspected – that the secret to great wines is rooted as much in science as it is in the traditional art of winemaking, both of which Steve approaches with tremendous dedication and passion. Autry produces a number of red blends, outstanding white varietals like Chardonnay, Sauvignon Blanc, and Albariño as well as a number of craft Brandy selections.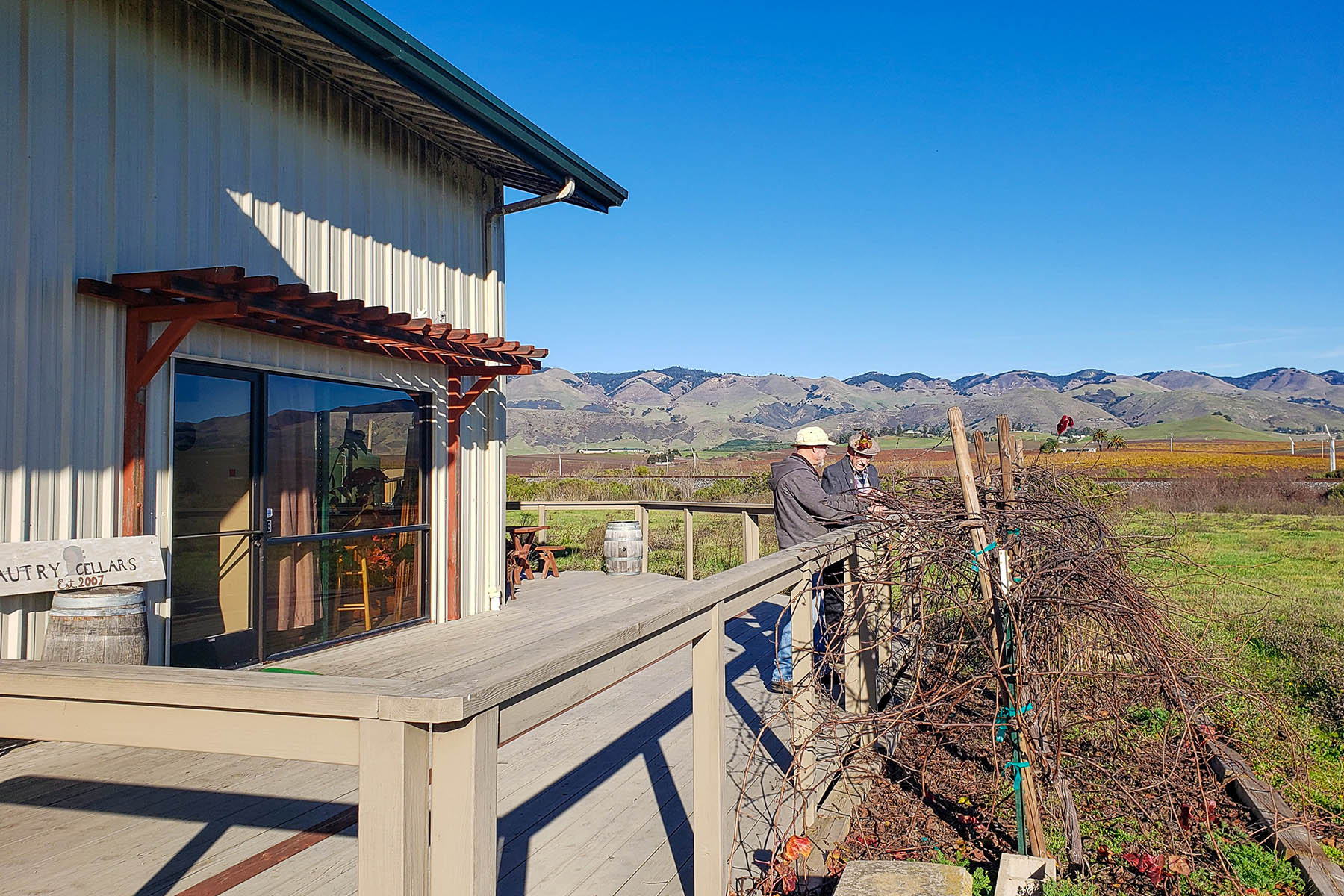 More often than not, you can find Steve pouring the wines at their rustic tasting room or as he describes the experience, "Unwind and appreciate life at Autry Cellars. It's easy to do! There is no glitzy tasting room, no expansive wrap-around wine bar made for hoards of shuttle bussed patrons. It's just us, paying attention to you, in a comfortable and unassuming tasting room, focused on the joys of wine appreciation. Located in the beautiful Edna Valley, our redwood deck overlooks the vineyards at the base of Islay Peak and our meadow is full of birds-of-prey, rabbits and other local residents. If you are lucky, you might get a visit from Muscat, our resident supervisor of rodent control."
After cruising out of the Edna Valley, head into the town of SLO and grab sandwiches from none other than the legendary High Street Deli. The California Turkey is a classic as is the Beef Dip Doobie Style. Get those sandwiches to go before heading South on Higuera road to your next destination. 
Just on the southern edge of SLO sits Filipponi Ranch Winery in an old ranch house that is a historic landmark for the Filipponi family whose relatives settled the land over one-hundred years ago. Owner Herb Filipponi lived in the historic home as a child in the 1930s and it was only fitting that the family remodel it for their tasting room. Herb's wife Diane describes the experience, "It's a personal and down to earth experience here. We tell the story of the land and have found through the years that people really enjoy hearing about the history." Diane makes sure to point out that the walls of the tasting room are lined with the family's history documents from Herb's father's passport from Ellis Island (he immigrated from Switzerland) to the chain of title dating back to the Spanish Land Grant.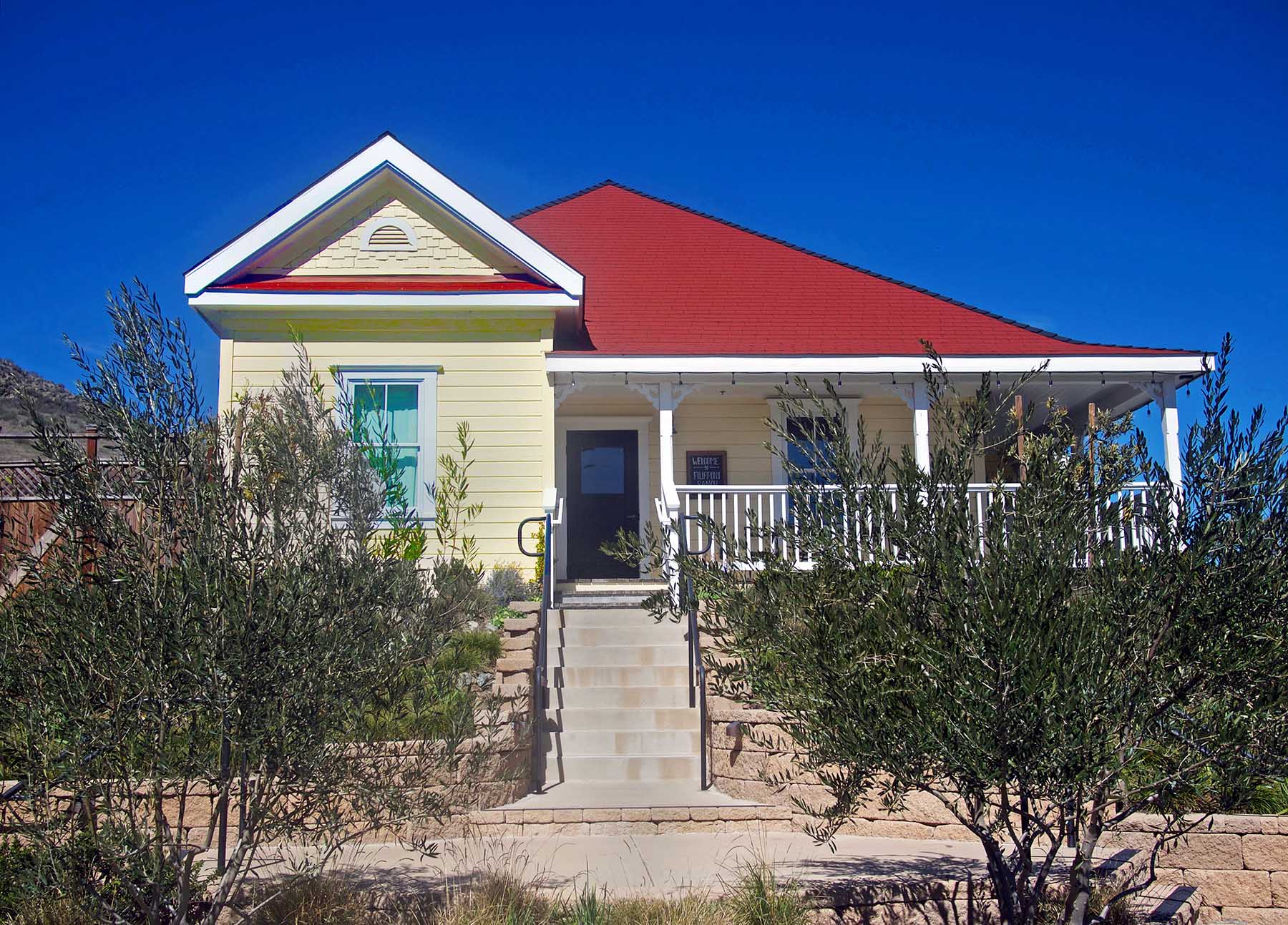 A totally family run winery, you'll have the pleasure of tasting with one of Herb and Diane's three daughters or perhaps meeting their grandson Jack who is the winemaker. The winery is pet, kid, and picnic friendly and has charcuterie available for sale. 
Head south to Avila Beach for your next stop, Peloton Cellars where owner Trish Kesselring describes the tasting room experience as, "a vacation-like feel with the beach just 100 yards away. On our patio you can experience a wine tasting flight or enjoy a nice glass of wine while you watch waves crash, feel coastal breezes and hear seagulls fly overhead." Kesselring encourages visitors to curate their own wine flight to their liking. With full bodied reds and aromatic white wines, there's something for everyone.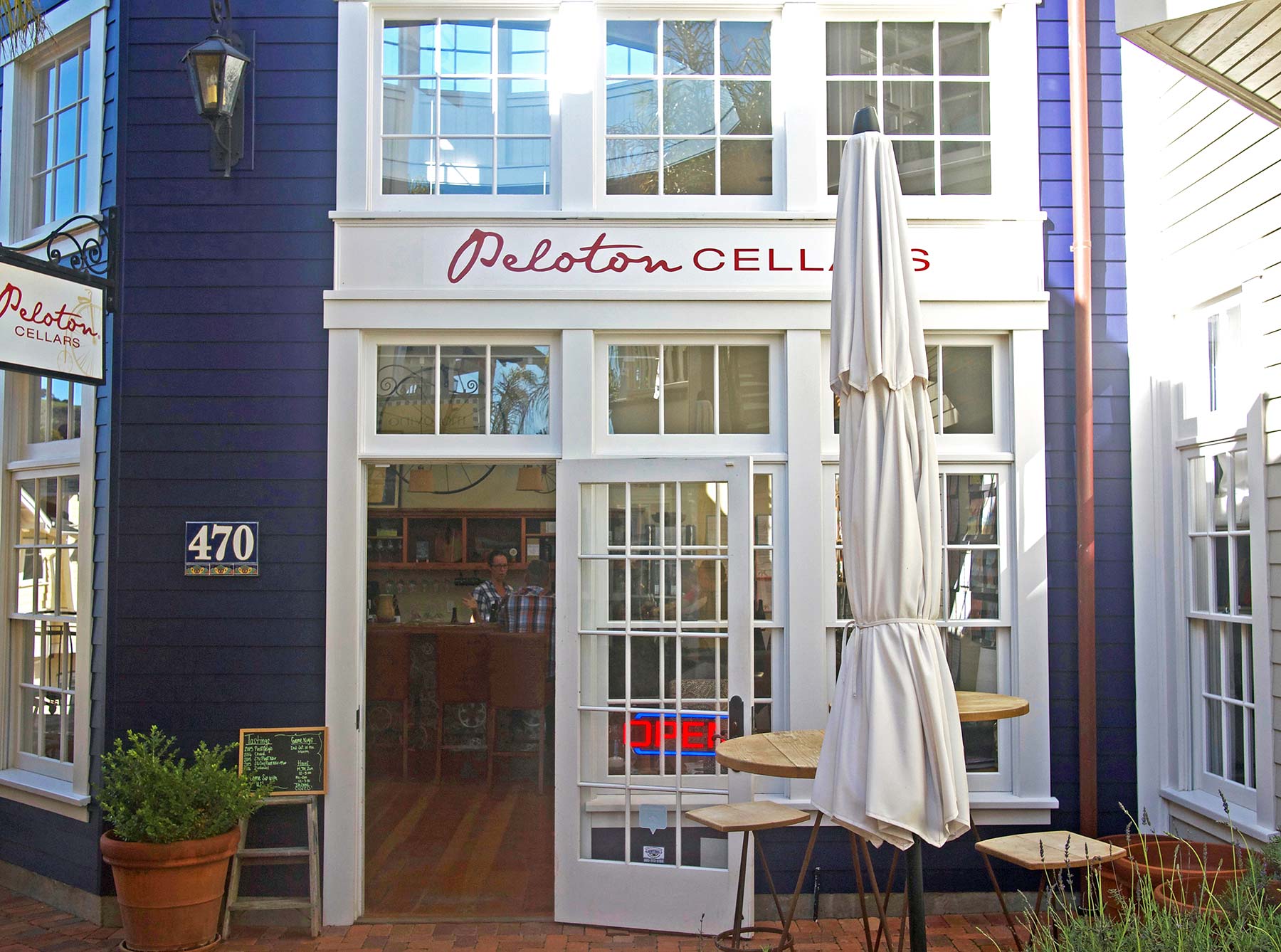 For Trish, her favorite aspect about hosting tasters is, "Watching how they interact with our wine. Seeing the joy on their face when they take their first sip never gets old. It often leads to enjoyable conversations about our winemaking style and why we love to make wine from this region." The Peloton experience is sure to be a wonderful place to land in the picturesque Avila Beach. 
After your tasting, take a walk on the beach, enjoy the views and work up an appetite for dinner. Head on over to the Gardens of Avila located at Sycamore Mineral Springs and Spa and enjoy their fresh food selections, delectable entrees, and local wine list. After dinner why not splurge and cap off your day in one of the resort's many mineral springs. You deserve it. 
2. Up the Coast
The stretch of Highway 1 from Morro Bay to Cambria is arguably one of the most beautiful spots in the state of California. The joy of this part of the SLO Coast Wines region is that it is relatively under-discovered with small craft wineries, coastal vineyards, and a bevvy of food options showcasing the bounty of the area. 
Best way to start your day is by kayaking in Morro Bay. Head over to the Kayak Shack for rentals and spend as much time as you need on the water looking for wildlife and enjoying the peaceful bay. If kayaking is not your thing, check out the views of the mighty Morro Rock from Black Hill. Experienced hikers can start at the base and hike up and for those who choose, you can also drive to the summit and take a quick walk to the peak. 
Wine fun begins on the Embarcadero at Absolution Cellars where your tasting is a sit-down experience with winemaker/owner Dirk Neumann. As Neumann puts it, "It's almost always perfect wine-drinking weather in Morro Bay, no matter what time of year. Our outdoor patio offers views of the bay and the sea lion dock, and our indoor tasting lounge is designed like a Great Room to make you feel at home, whether you choose to sit in the comfortable living area, the dining room table, the reading nook, or the bar."
Neumann creates an experience that aims to illuminate, "I enjoy sharing my passion with people, and love seeing those "light-bulb" moments – one of my favorites is when people who say they only like red wines end up enjoying my Albariño and "The Balance" (a Marsanne/Roussanne blend). I feel like I have opened up a whole new world of wines for them to try in their future tasting adventures."
It's time to pick up some sandwiches for your drive up the coast and Morro Bay Butcher is a welcome addition to the area. With daily specials and great to go items, there's something for everyone here. For those wanting to savor the seafood in Morro Bay, Giovanni's Fish Market is another option with seating right on the bay overlooking Morro Rock. 
As you head up the coast, take in the natural beauty and ocean views. Drive through the charming beach town of Cayucos and grab some Brown Butter Cookies as a souvenir. They don't disappoint.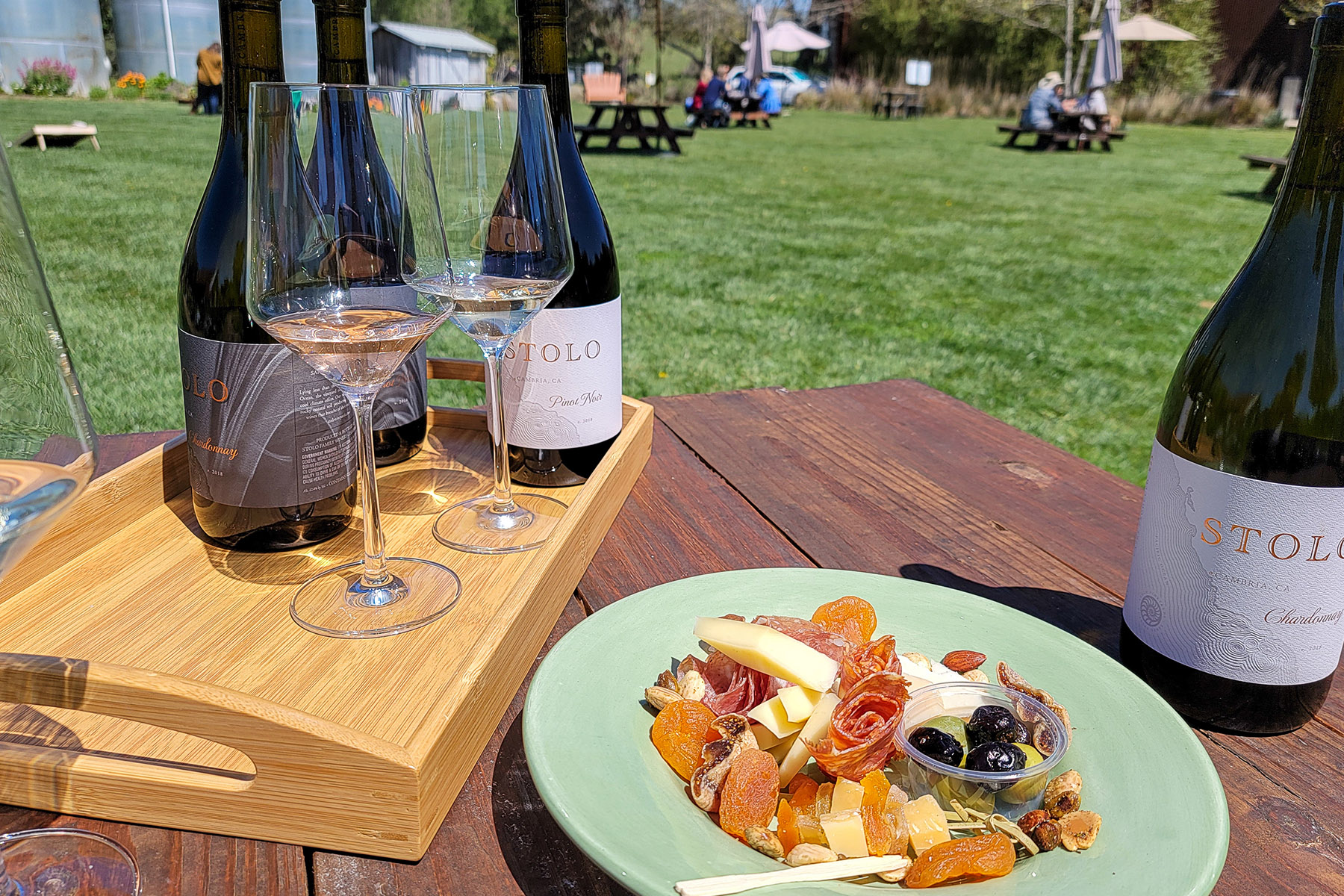 Just outside of the town of Cambria sits Stolo Family Vineyards which General Manager Scott Wills describes the ambiance perfectly, "Beyond making wines which are desirable to critics and wine enthusiasts alike, we've created an environment designed to encourage folks to relax, stay awhile, and get to know us. Sure, you can do a tasting at the bar, but when the weather is good, and it almost always is, you can enjoy a guided tasting while relaxing outside on our large grassy meadow space with views of the vineyards, rolling hills, and our 100 year old dairy farm. Typically, we'll taste guests through 5 to 6 estate grown wines, in a slow paced manner, sharing as much or as little as the guest seems interested in. We also do everything by reservation, which really helps to keep the winery from getting too busy, creating an intimate experience for our members and guests."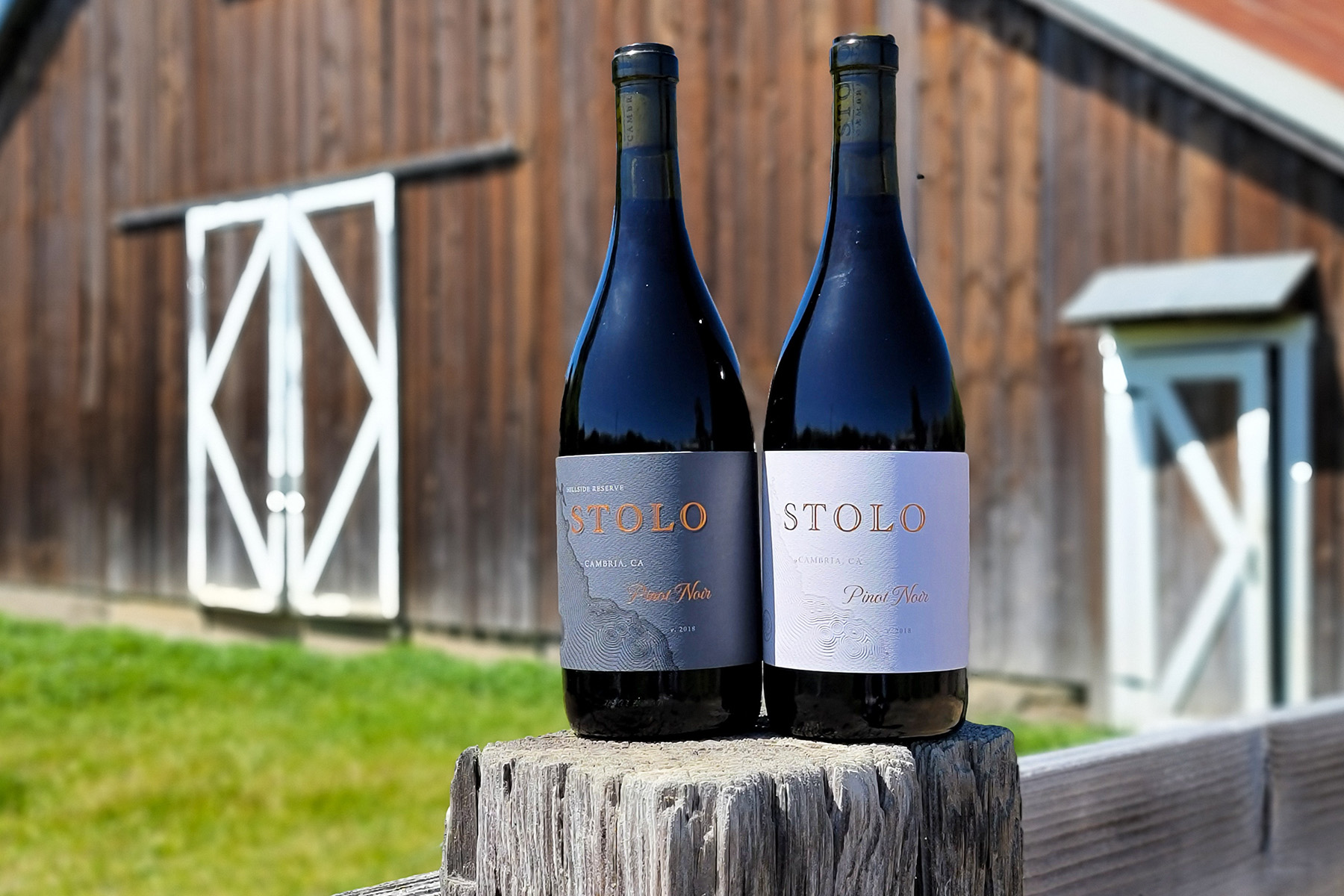 If you need a little nosh with your wines, Stolo offers delicious cheese platters and for those that need some entertainment, you can grab some bags and play a round of cornhole. The vibe and setting at Stolo is truly magical and not to be missed.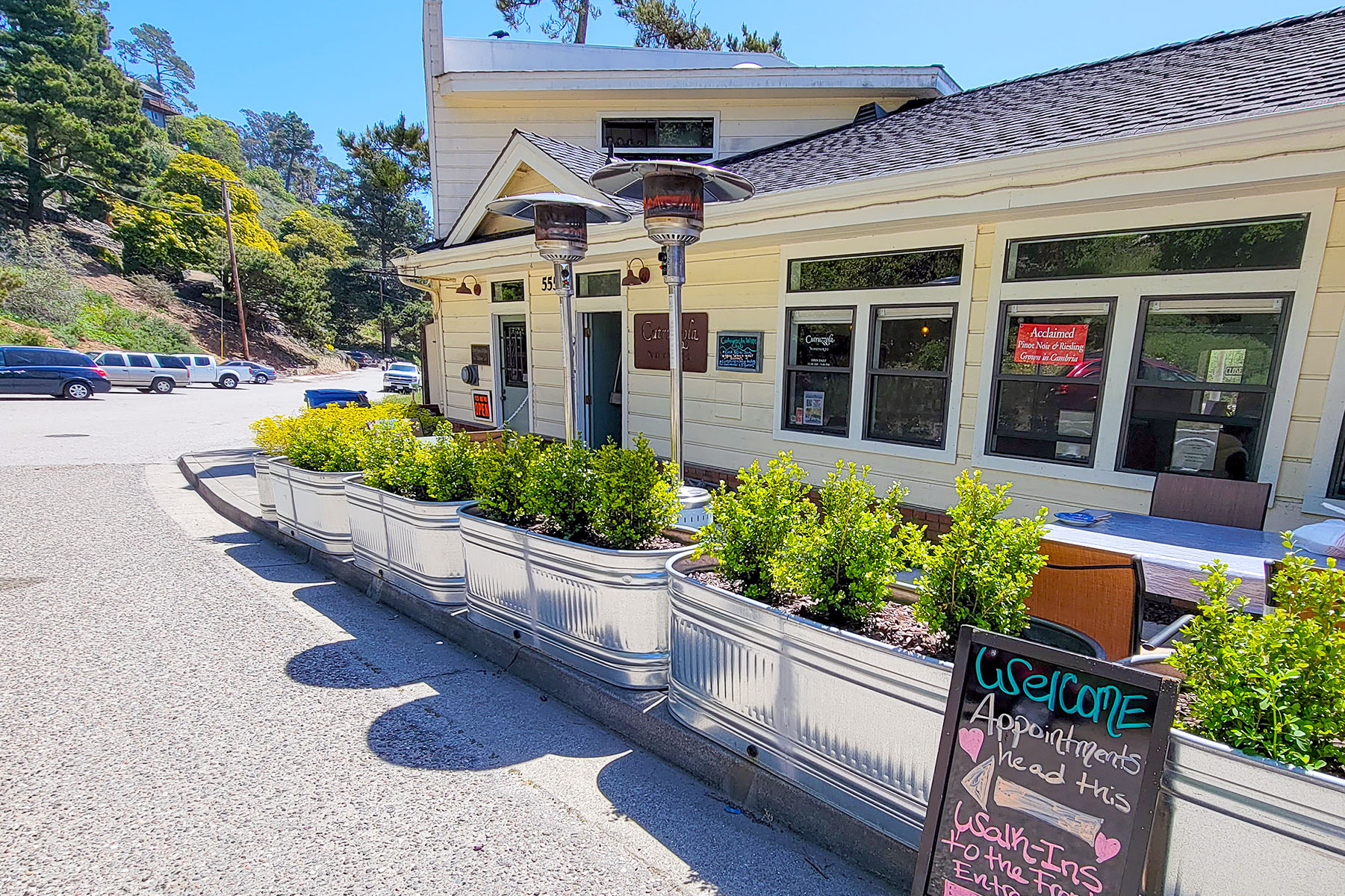 Located in the town of Cambria, Cutruzzola Vineyards showcases some of the area's cool climate grapes grown just down the road at their nearby vineyard. Lisa Miller, proprietor, describes the tastings at their downtown cambray location as, "Very personal and educational. We conduct seated by appointment tastings and really spend time with our guests talking about our winegrowing region and the types of wines we produce."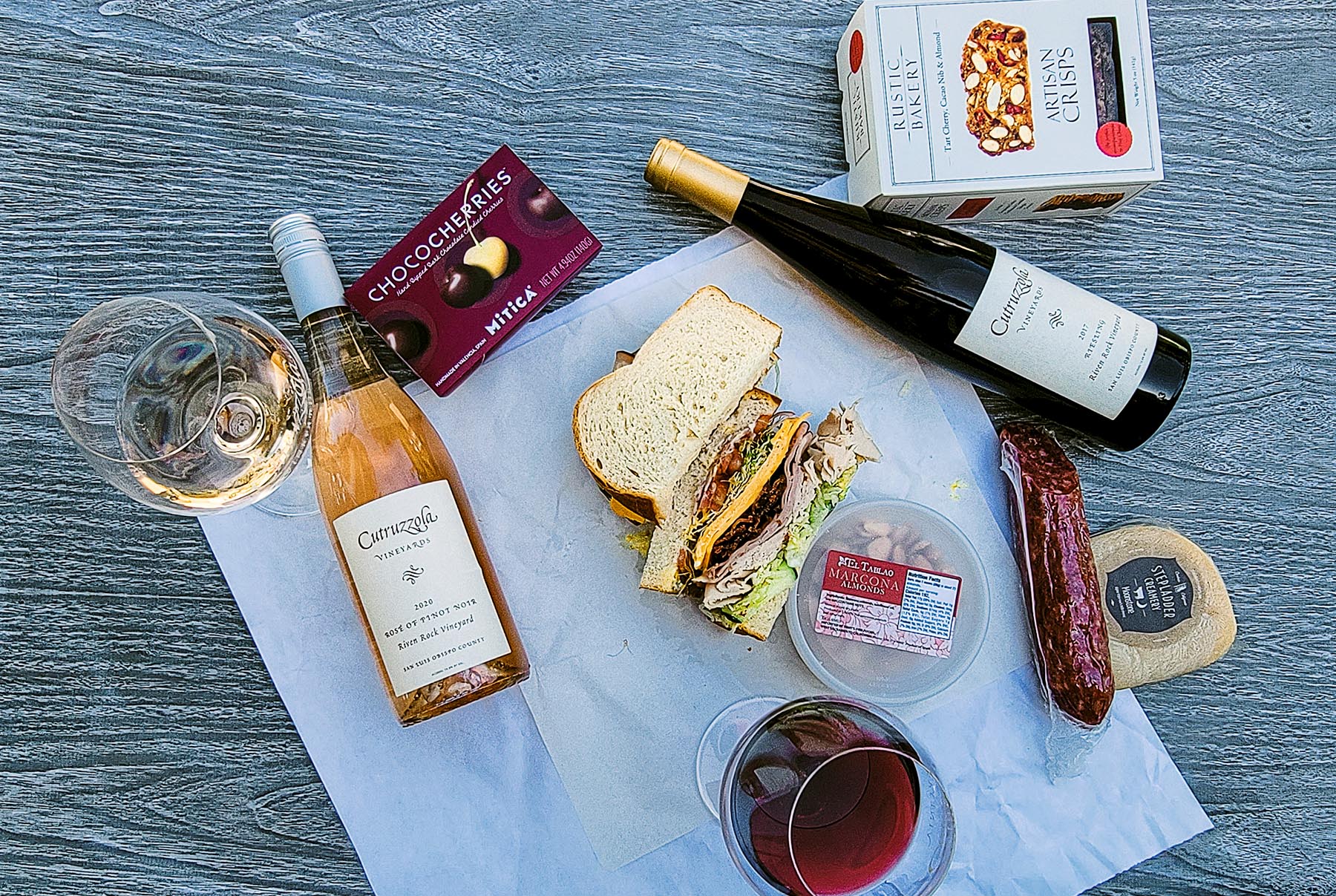 There is an option to pair the tasting flight with cheeses for an additional $8 and Miller adds her favorite part about hosting tasters, "Educating them about the wines we are producing. There are just a few of us that grow wine grapes in Cambria and have tasting rooms, so it's a really unique experience." Keep an eye out for Cutruzzola's vertical tastings of Rieslings and Pinot Noirs. They host those special events throughout the year. 
Of course, adding Hearst Castle to this itinerary is absolutely worth it and looking out for their special night and holiday tours is a must! Cambria is known for some of the better restaurants in the area with an array of options. Scott Wills of Stolo is a treasure trove of information when it comes to what to eat, "For fine dining Robin's, Madeline's and Indigo Moon are wonderful. For casual cuisine Moonstone Bar & Grill or Bridge Street Cafe are our choices. For the perfect picnic Soto's True Earth Market or our Friday Farmers Market are the best sources for locally grown organic treats." 
The real beauty of the SLO Coast Wines region is its diversity of scenery, food options, people, and of course wines. The possibilities for adventures are truly endless and while these two itineraries serve as a guide for your trip, there is always time for discovery and chance adventures while visiting the area. Enjoy!