On the San Luis Obispo coast, wine is just the beginning. With our year-round mild temperatures, a myriad of outdoor activities and ways to unwind is waiting, especially on the Avila Beach Wine Trail. With its own uniquely sunny and warm micro-climate, Avila Beach is a breath of fresh salt air, with amenity-laden hotels, charming oceanfront restaurants, magnificent local wines, and shopping and activities for all to enjoy. Head to the beach to relax, hike or kayak, bike the Bob Jones Trail, play a round of golf or relax in natural hot springs before tasting our coastal wines…all with the small-town charm of Avila Beach!
Hit the Beach
Sheltered in San Luis Obispo Bay, Avila Beach has calmer waters and warmer air than other towns on the Central Coast, which makes it one of the best places to hit the sand. About a half-mile long, the beach has soft sand, gentle waves and even some tidepools. Spend the day swimming, walking and enjoying the sun, or rent a kayak or paddleboard, on your own or with a tour.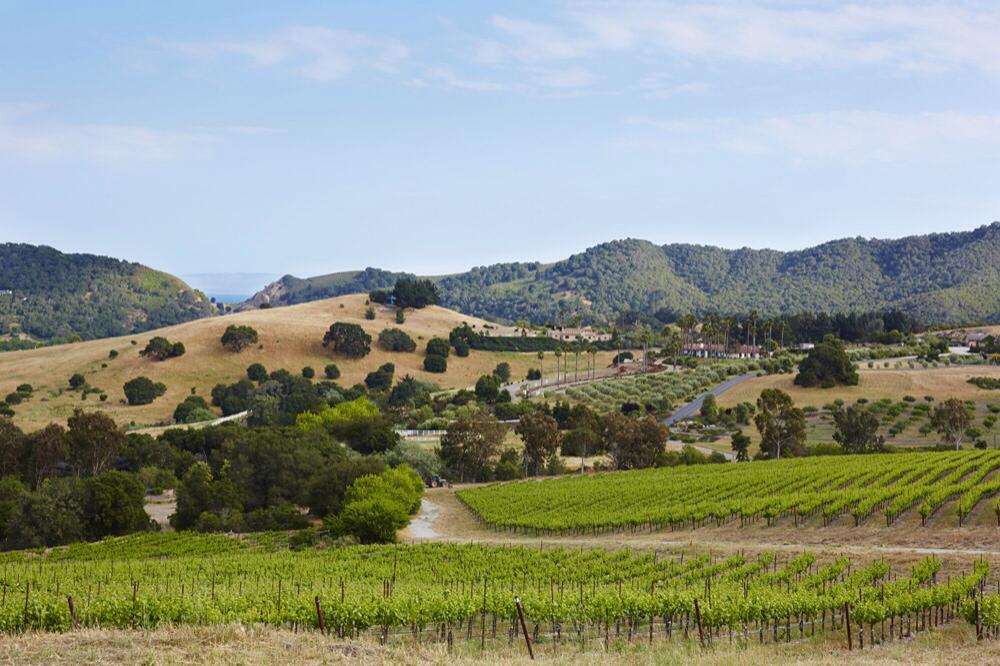 At Sinor-Lavallee, they specialize in wines grown 1.2 miles from the Pacific Ocean at their estate Bassi Vineyard near Avila Beach. The wines naturally reflect their pronounced coastal terroir, as well as the impassioned viticultural handwork that they bring to our vines and soils. The effect of these elements is highly local and personal—the hallmarks of Sinor-LaVallee.
Sinor-LaVallee was founded in 1997 by Mike Sinor and Cheri LaVallee-Sinor. After years of grinding away at winemaking and grape growing, Mike Sinor ultimately became one of the Central Coast's most decorated winemakers. Starting with the 2013 vintage, all wines are from the Estate vineyard in Avila Beach with an Ocean View. Planted there are 8 clones of Pinot Noir along with Syrah, Chardonnay, Pinot Gris and Albariño.
Get on a Bike
The Bob Jones Trail is a well-paved bike and walking trail starting just off Highway 101 on Ontario Road and ending in downtown Avila Beach (about 3 miles). The trail is great for all levels of hiking and biking. It makes for an enjoyable, smooth and (mostly) flat ride through valleys of shade trees, a flowing creek and rolling hills, with trail benches sprinkled throughout. Depending on the time of year, you might just catch the sounds of frogs and flowing water. The end of the trail goes next to the golf course and opens onto the downtown Avila with a view of the Pacific Ocean.
Peloton Cellars is the creation of four longtime friends with the mission of creating quality wines that are a pleasure to drink any night of the week and enjoy with any meal. Winemaker Bill Kesselring believes that a good wine is made from the ground up, so each varietal is meticulously crafted from bud break to the barrel.
The name Peloton (pronounced "pell-O-tawn") is a French word meaning "group," but more specifically refers to the dynamic, main pack of riders in a cycling race. At Peloton, they feel the wines embody the color and spirit of cycling. Whether it's a long road ride to the coast or a fun, beach cruiser stroll through town, their love for good wine rivals their passion for riding bikes.
Play & Relax with Golf or Spa
Nestled in the surrounding hills and on the bay, the Avila Beach Golf Resort includes a par 71, 6,500-yard championship course. The front nine is situated within oak-lined valleys, and the back nine transverses a tidal estuary. It's a beautiful, scenic course surrounded by nature and ocean air; golfers of all abilities will enjoy the challenge of this course.
The naturally heated mineral spring water at Sycamore Mineral Springs is sourced from over 100 acres of natural, underground resources. When you slip into one of their hot tubs or the remarkable Waterfall Lagoon, you immediately feel the water's soothing features. They have 23 open-air naturally heated mineral spring hot tubs on their peaceful tree-canopied hillside, private waterfall lagoon of jade green mineral water and a full-service spa and hotel with restaurant on-site.
The Avila Beach Wine Trail offers wine tasting along with many other fun, relaxing activities.