San Luis Obispo Coastal Wine Region Boasts 14 Sparkling Wine Producers
Did you know there are over 70 sparkling wine producers in San Luis Obispo County? And we have 14 right here on the SLO Coast Wine Trail!
An excerpt from Cali Coast Wine Country Sparkling Wine Maps (sparkling wine maps of all producers in Santa Barbara and SLO County):
"California Sparkling Wine can't be called Champagne—it's not from the Champagne region of France—but much of the SLO Coast Sparkling Wine is made in the same méthode traditionelle, or méthode champenoise, used in Champagne.
Another style many winemakers use is pétillant naturel, or natural bubbles, and is the oldest (and easiest) way to make sparkling wine—also called méthode ancestrale. Pét-nats differ from traditional Champagne production in that the wine is bottled before the fermentation is complete (so only 1 fermentation happens, partially in the bottle), no sugar or yeast is added for a second fermentation, and it's usually unfiltered, and can be made from a multitude of grape varieties. It also takes a much shorter time than the traditional method, meaning more winemakers can get in on the bubbly action. Pét-nat's bubbles typically don't last as long as traditional sparkling wine, and the flavors can be all over the map, instead of the classic style and flavor profile you get from the traditional method."
Check out these local sparkling wine producers in the SLO Coast Wine region, listed in order from north to south.
Niner Wine Estates in Paso Robles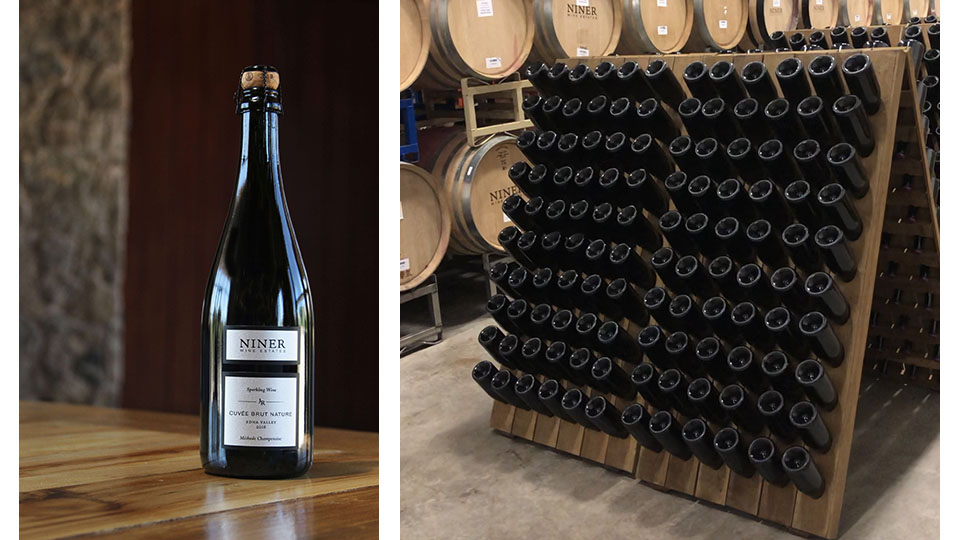 Niner's new 2018 Cuvée Brut Nature is 100% Chardonnay Methode Traditionnelle Sparkling Wine. It's super dry and crisp, and perfect for any occasion. It should be in stock year-round at the winery in Paso Robles.
From Niner: "Jes­persen Ranch's ocean prox­im­i­ty and cool cli­mate make it an ide­al site to farm sparkling wine grapes. This is our first Blanc de Blancs and we chose to source the Chardon­nay grapes exclu­sive­ly from a block plant­ed to Clone 17 — cho­sen because of its low­er acid­i­ty and good fla­vor at low­er sug­ar lev­els…The bot­tles then aged on their side for 35 months before being hand-rid­dled and dis­gorged in May of 2022. The extend­ed tirage aging and dosage ulti­mate­ly soft­ened the high nat­ur­al acid­i­ty in the base wine and lead to per­fect bal­ance. This is a fresh and clean sparkling wine with cit­rus, white flow­ers, hon­ey a hint of brioche."
Cutruzzola Vineyards in Cambria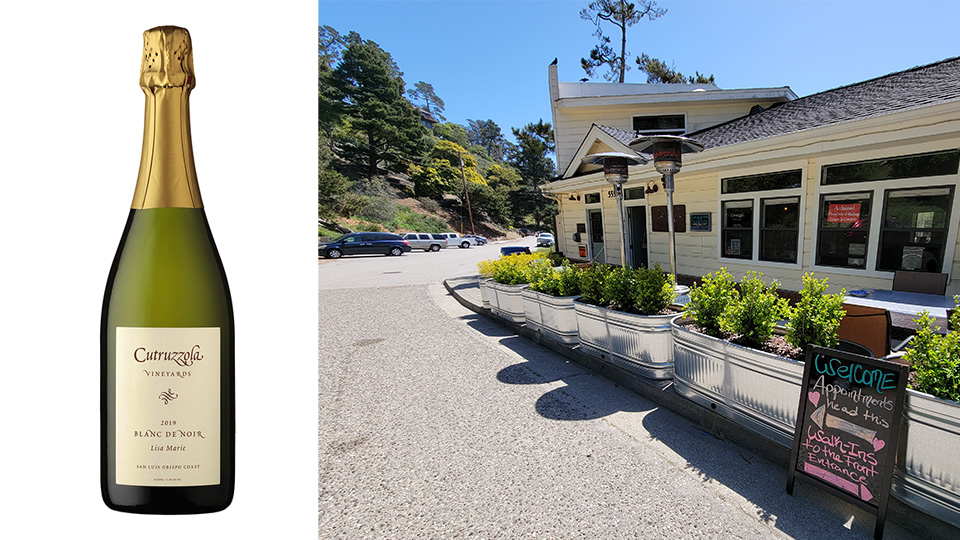 Cutruzzola makes several sparkling wines—in such small-batch quantities that they don't have them year-round. Right now, get their 2019 classic Blanc de Noir. It's made from Pinot Noir sourced from our Riven Rock Vineyard in Cambria and Stone Corral Vineyard in Edna Valley. Fine bubbles elevate aromas of red-fruited Pinot Noir. On the palate, interesting tropical fruits emerge and are paired with lively acidity.
(When their Sparkling pét-nat Riesling is available, it is for wine club only.)
Stephen Ross Wine Cellars in San Luis Obispo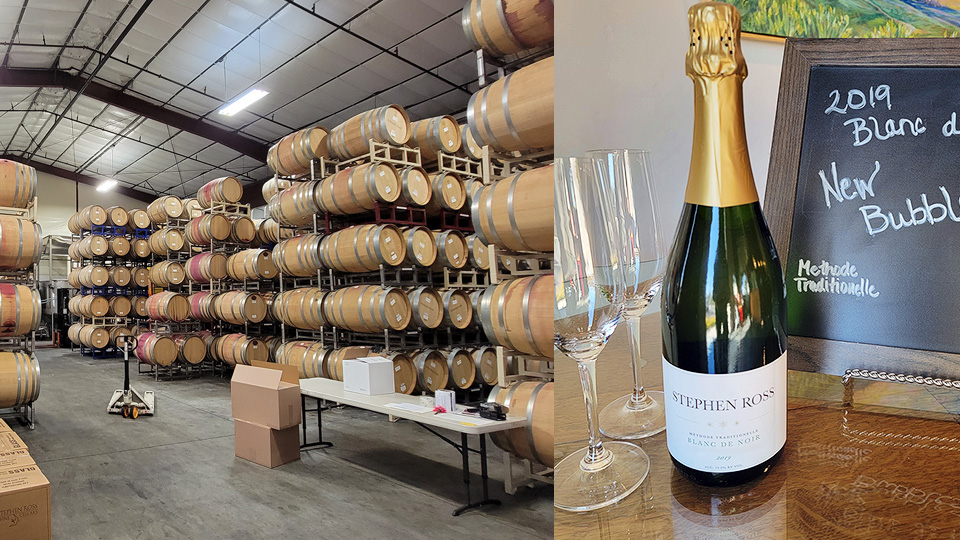 This 2019 Blanc De Noir is Steve's first venture into sparkling wine, and in classic style he went Méthode Traditionelle and the wine is lean and clean. It was disgorged in August and is perfect for the holidays! Buy it at the Stephen Ross Wine Cellars tasting room in San Luis Obispo.
Baileyana in Edna Valley

Baileyana Wines has a sparkler out for the holidays: Brut Rose 100% Pinot Noir. The 2018 Baileyana Brut Rose is fresh and fruity and with hints of red berries and candy fruit. Balanced structure, richness, and elegance.
Wolff Vineyards in Edna Valley

The newest addition to our Sparkling Trail is this 2018 cuvée, produced in the traditional Methode Champenoise sparkling wine. Wolff Vineyards pressed Chardonnay grapes with early ripeness from their estate vineyard's 45 year-old vines. This is rare in California!
Also, being released on December 17, Wolff 2020 Brut Rosé Sparkling wine. This bubbly is made in the méthode champenoise from their estate-grown Pinot Noir block. It has wonderful, fruity strawberry notes with abundant tiny bubbles.
Biddle Ranch Vineyard in Edna Valley
Biddle Ranch also has traditional-style non-vintage sparkling wine, made entirely from Chardonnay grown in Edna Valley, year-round.
From Cali Coast Wine Country: "This wine could easily be called a Blanc de Blancs: the classic Champagne style made only from white wine grapes in the Champagne region of France. This wine should satisfy any Champagne lover with its yeasty notes, flavors of tart green apple, fine bubbles, and crisp, elegant finish. It's clean, with just a hint of almond, and absolutely delicious."—Liz Dodder
Claiborne & Churchill in Edna Valley
Claiborne & Churchill has made a méthode champenoise sparkler in the past, and now the winery has released its first pét-nat, made from Riesling. They only made 60 cases, and it's available online or in the tasting room.
Piedra Creek in Edna Valley
This Sparkling Lagrein Rosé pét-nat can be purchased at Piedra Creek's estate vineyard tasting area or online.
Tasting Notes from the winery: Abundant aromas of strawberry, guava and exotic fruits. Hints of red berry supported by bright, well-balanced acidity comprise the body, followed by a clean crisp finish. This is made in such small quantities, it's not available right now. Watch for some next year!
Center of Effort in Edna Valley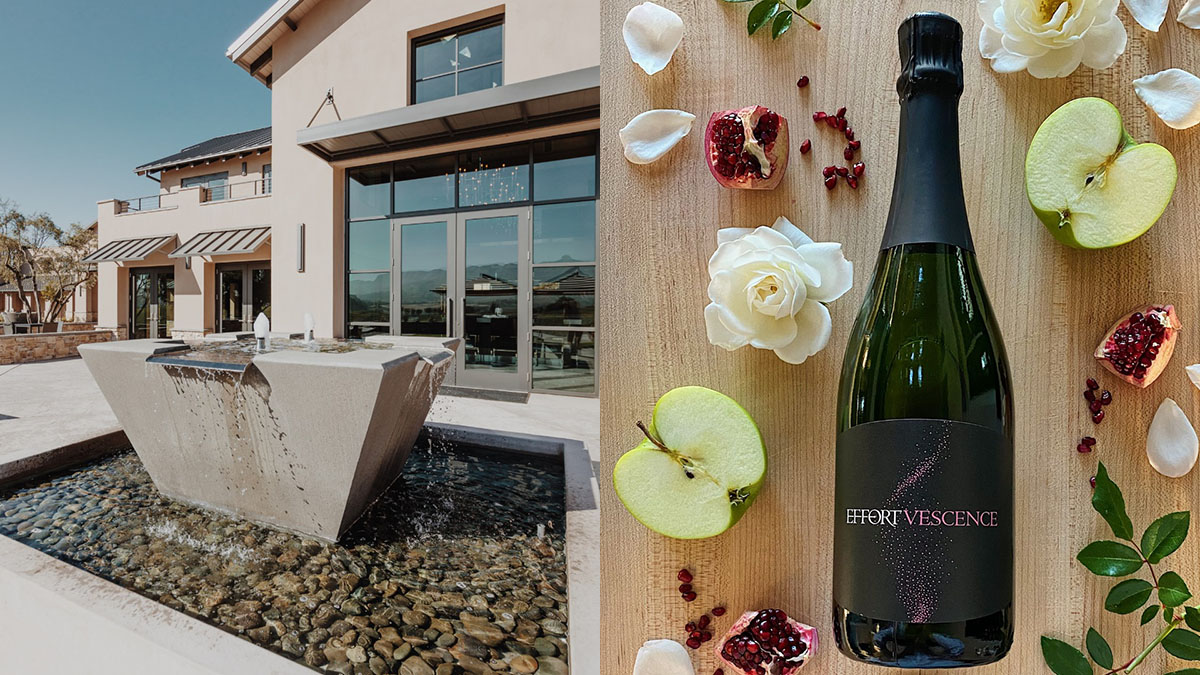 Center of Effort has just released a Sparkling Rosé from Chardonnay and Pinot Noir called EFFORTVESENCE – the first Méthode Traditionelle sparkling wine from Center of Effort. This exceptional wine, over two years in the making, perfectly highlights our estate Pinot Noir and Chardonnay grapes and continues our commitment to quality wines and sustainable farming here in the Edna Valley.
From the winery: "Pale pink in color with small persistent bubbles, EFFORTvesence is clean and modern in style, showing freshness and energy. Green apple, pomegranate and floral notes finishing lively and fresh on the palate."
Sinor-Lavallee in Avila Beach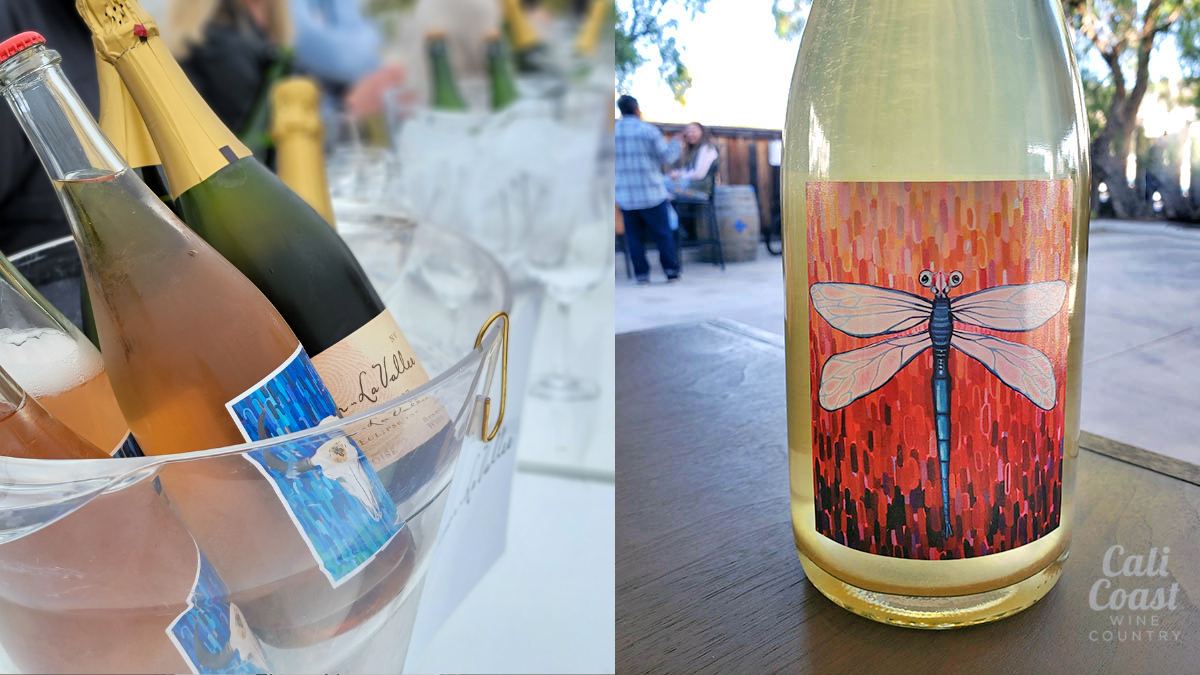 At Sinor-Lavallee, Mike Sinor has been making sparkling wine in the pét-nat method since 2016, when he released his first Ancestrale, named after this age-old method of making bubblies. Each year, you can find something different and fun as Mike experiments with all natural frizzante sparklers.
The original Ancestral Pét-Nat Sparkling Pinot Noir is sometimes available, and the latest sparkler is 2022 Pét-Nat Sparkling Pinot Noir – a Rosé sparkling wine this time! This is available only in the tasting room.
Before that, the 2020 Soirée Du Gris was made from Pinot Gris in the spirit of vinho verde (this means it was picked early, when the grapes are almost still green) and delivers crispness to the palate, with flavors of green apple, pear and jasmine. He also makes a classic Champagne-style sparkler, called the Non Vintage Eclipse 137.
Talley Vineyards in Arroyo Grande
Talley Vineyards released a pét-nat earlier this fall. This naturally sparkling wine, hand-crafted using the ancestral method, completes fermentation in bottle, producing a bubbly and rustic expression of our sense of place. The 2021 vintage is made from Grüner Veltliner grapes grown in sandy soils of the Edna Valley, just miles from the ocean.
Laetitia Vineyards & Winery in Arroyo Grande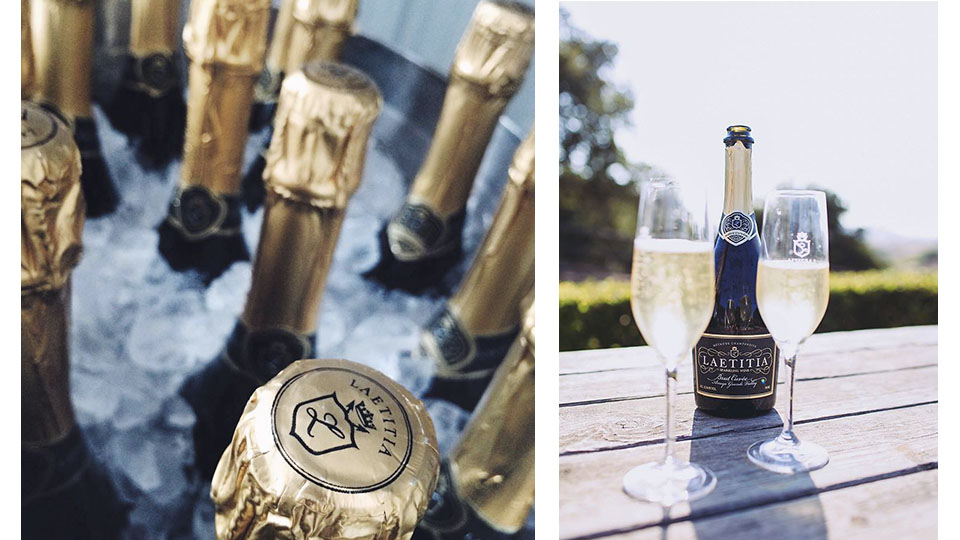 Originally known for Méthode Champenoise sparkling wines, Laetitia continues to produce seven unique Sparkling Wines. The vineyard site was specifically chosen by the French 30+ years ago to grow Chardonnay grapes that remained acidic, delicate and fresh with green apple and citrus characters – everything you want for making sparkling wine. And that philosophy continues today with these current releases:
Non-Vintage Laetitia Brut Cuvée
2018 & 2019 Laetitia Cuvée M
2019 Laetitia Brut Rosé
2019 Laetitia Brut de Noirs
Non-Vintage Laetitia XD Sparkling
Laetitia Vineyards & Winery is the only winery in the SLO Coast Wine Region that always offers a bubbly flight, as well as a Sparkling Only Wine Club.
Club-Only Bubbles…
Saucelito Canyon
Saucelito Canyon has released a Sparkling Blanc de Blancs from Chardonnay, only for club members.
Chamisal Vineyards
Chamisal Vineyards makes a traditional sparkling wine, produced in a lightly oxidative style. It features notes of honey, apples, citrus zest and white flowers on the nose. On the palate, the wine is fresh, zippy, and bright with layers of pear and biscuit notes and a slick of minerality on the finish that serves as a reminder of the calcareous soils found in our estate that are not too dissimilar to the limestone and chalk soils found in Champagne.