San Luis Obispo Coastal Wine Region Boasts Ten Sparkling Wine Producers
Did you know there are over 100 sparkling wine producers on the Central Coast? And we have 10 of them right here on the SLO Coast Wine Trail! Read this excerpt below, from Cali Coast Wine Country Sparkling Wine Maps:
"California Sparkling Wine can't be called Champagne—it's not from the Champagne region of France—but much of the SLO Coast Sparkling Wine is made in the same méthode traditionelle, or méthod champenoise, used in Champagne.
Another style many winemakers use is pétillant naturel, or natural bubbles, and is the oldest (and easiest) way to make sparkling wine—also called méthode ancestrale. Pét-nats differ from traditional Champagne production in that the wine is bottled before the fermentation is complete (so only 1 fermentation happens, partially in the bottle), no sugar or yeast is added for a second fermentation, and it's usually unfiltered, and can be made from a multitude of grape varieties. It also takes a much shorter time than the traditional method, meaning more winemakers can get in on the bubbly action. Pét-nat's bubbles typically don't last as long as traditional sparkling wine, and the flavors can be all over the map, instead of the classic style and flavor profile you get from the traditional method."
Check out these local sparkling wine producers in the SLO Coast Wine region, listed in order from points north to south.
Niner Wine Estates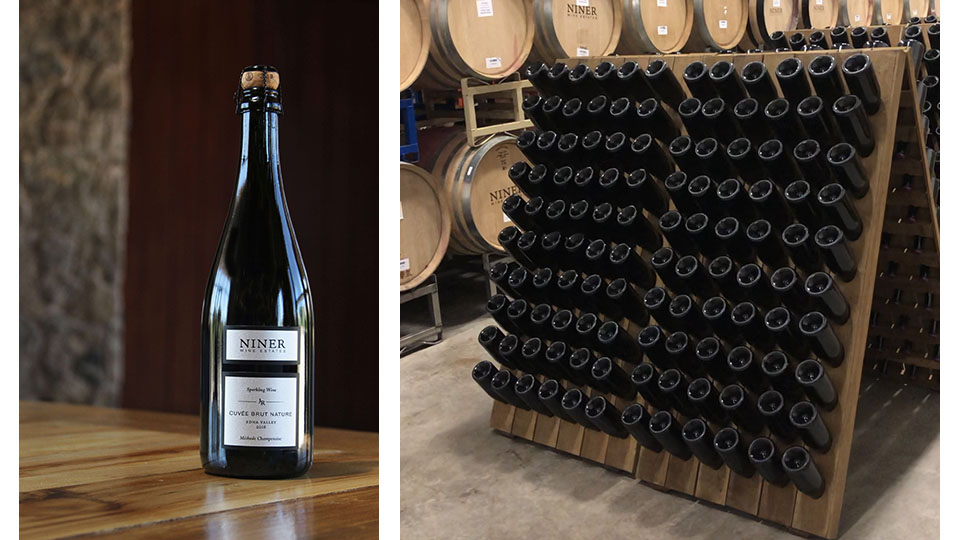 Only a few more days until Niner's new 2016 Cuvée Brut Nature—anyone will be able to buy it on December 21, just in time for the holidays!
From Niner: "With the foggy mornings and coastal influence at our Jespersen Ranch vineyard, both Pinot Noir and Chardonnay develop exceptionally beautiful flavor profiles perfect for making complex sparkling wine. In 2016, we picked a combination of Pinot Noir and Chardonnay for this Cuvée. It was tirage aged for two years before being disgorged and bottled on May 21st, 2019. "Brut Nature" refers to the fact that we added zero sugar with the dosage – we believe that keeping the expression pure was the best was to create a lively and complex iteration of our coastal vineyard site."
Sinor-Lavallee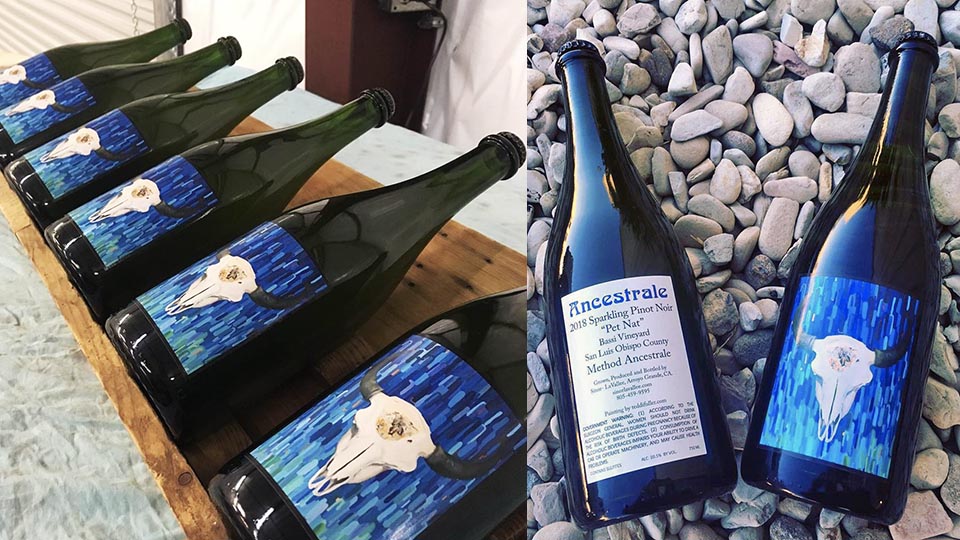 Sinor-Lavallee's 2018 Ancestral Pét-Nat Sparkling Pinot Noir is available now. Mike Sinor has been making sparkling wine in the Pét-nat method since 2016, when he released his first Ancestrale, named after this age-old method of making bubblies.
From Wine Enthusiast: "Mike Sinor continues to hone his pétillant naturel talents, and this is his best bubbly bottling yet. The cloudy wine gives off sharp aromas of frozen pluot, lime blossom and grapefruit juice before delivering a similar palate of grapefruit rind and fresh citrus. It puckers the mouth, but pleasantly."—Matt Kettman
Biddle Ranch Vineyard
Biddle Ranch also has traditional-style non-vintage sparkling wine, made entirely from Chardonnay grown in Edna Valley, year-round.
From Cali Coast Wine Country: "This wine could easily be called a Blanc de Blancs: the classic Champagne style made only from white wine grapes in the Champagne region of France. This wine should satisfy any Champagne lover with its yeasty notes, flavors of tart green apple, fine bubbles, and crisp, elegant finish. It's clean, with just a hint of almond, and absolutely delicious."—Liz Dodder
Claiborne & Churchill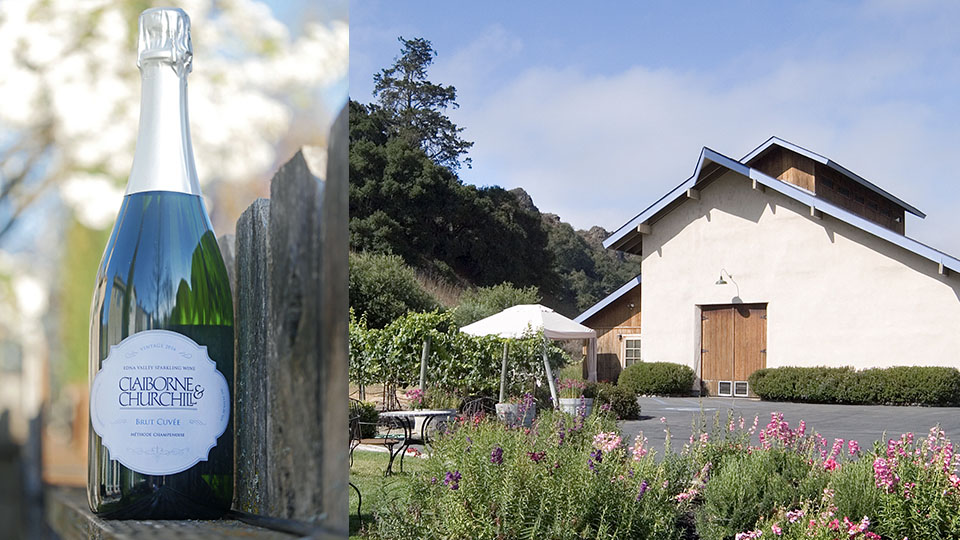 Claiborne & Churchill has experimented with different grapes and different styles of sparklers, and their current release is a traditional Champagne-style bubbly celebrating the winery's 35th anniversary, 35th Sparkling Brut Cuvée.
From the winery: "Enjoy this delicious and celebratory Sparkling Brut Cuvée. This cuvée represents a blend of Chardonnay and Pinot Noir from the Edna Valley made in the traditional Méthode Champenoise method."
Laetitia Vineyards & Winery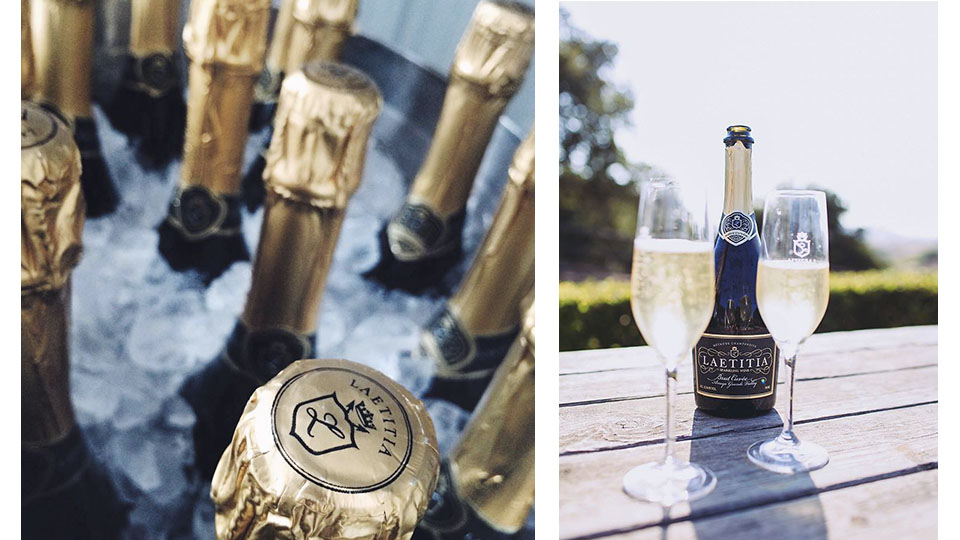 Originally known for Méthode Champenoise sparkling wines, Laetitia continues to produce seven unique Sparkling Wines. The vineyard site was specifically chosen by the French 30+ years ago to grow Chardonnay grapes that remained acidic, delicate and fresh with green apple and citrus characters – everything you want for making sparkling wine. And that philosophy continues today with these current releases:
Non-Vintage Laetitia Brut Cuvée
2016 Laetitia Brut Rosé
Non-Vintage Laetitia XD
2016 Laetitia Cuvée M
2016 Laetitia Brut Coquard
2016 Laetitia Brut de Blancs
2016 Laetitia Brut de Noirs
Laetitia Vineyards & Winery is the only winery in the SLO Coast Wine Region that always offers a bubbly flight, as well as a Sparkling Only Wine Club.
Coming Soon…
Cutruzzola Vineyards
Cutruzzola makes several sparkling wines—in such small-batch quantities that they don't have them year-round. The Sparkling Pét-Nat Riesling will be available in the fall (for wine club only). They are also currently working on a classic Blanc de Noir, which will be released in a few years.
Baileyana, Tangent & True Myth
Niven Family Wines have 2 sparklers coming in spring 2020: Tangent Sparkling Albariño and Baileyana Blanc de Blancs.
Saucelito Canyon
Saucelito Canyon is releasing a Sparkling Blanc de Blancs from Chardonnay in the spring, only for club members.
Center of Effort
Center of Effort is releasing a Sparkling Rosé from Chardonnay and Pinot Noir in early 2020. It will be available for members and visitors to the tasting room.