SLO Coast Wineries with Sustainable Wines
Thanks to Sip Certified for writing about sustainable wineries on the SLO Coast.
Not all wine is created equal, nor are all grapes grown equally in the vineyard. Many wineries throughout the San Luis Obispo Coast farm their vineyards and make their wines "sustainably," meaning they choose to save water, encourage biodiversity, take care of their workers and give tasters wines that do no harm to Mother Earth.
That sounds great, but are sustainable wines any good? The answer is yes and you need to taste them for yourself to truly appreciate how and why they are grown this way! The oldest and most important organization for wine industry sustainability is SIP Certified (Sustainability in Practice). The SIP Certified logo guarantees a winegrower's commitment to the local community and the preservation of the environment.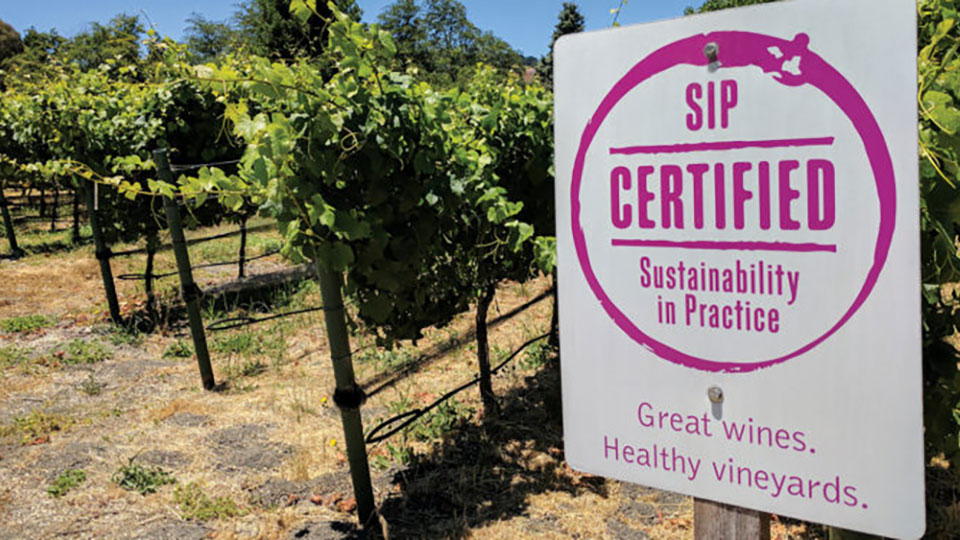 Here on the SLO Coast, we have 11 Sip Certified wineries, with great wines and great tasting rooms that use SIP Certified methods, as well as two appointment-only wineries. Spend a day tasting some of SLO's finest sustainably produced wines and you'll discover that wine can be good for you, and good for the planet. Check out the 11 wineries below, and see our Wine Trails here for more info. (And explore our appointment-only wineries here).
Baileyana Winery (Niven Family Wine Estates)
Back in 1909 local farm workers in Edna Valley constructed the Independence Schoolhouse in what was then empty farmland. Today that land is rich with wine grapes stretching as far as the eye can see. Baileyana wines can be sampled in that same schoolhouse; a bright, airy place with idyllic views of vineyards. This family-owned winery grows over 10 different grape varieties in their SIP Certified Paragon Vineyard. "Consumers are gravitating towards smaller wineries that have family stories," says John Niven, Vice President of Sales and Marketing. "We're dedicated to San Luis Obispo and a legacy of farming that ensures that future generations can do it," John says. "The SIP Certified seal indicates the commitment on behalf of our team to preserving and protecting the natural environment, treating our employees and community with care, and sound business practices with a long-term outlook." At the Schoolhouse you'll find over 25 SIP Certified sustainable wines, including Chardonnay, Pinot Noir, Syrah and Sauvignon Blanc.
Visit Bailenaya online.
Biddle Ranch Vineyard
Handcrafted in the heart of the Edna Valley, Biddle Ranch is a celebration of belonging to land where doing what fills the soul and lifts the spirit comes naturally. Not that long ago, friends with deep roots in California's Central Coast planted the seeds to start making wine. What you see now is the labor of love that took these families on a journey into winemaking. Biddle Ranch has been SIP-certified since 2015.
Known for one of the longest ripening seasons in California, winemaker Ryan Deovlet fell in love with the land that holds Biddle Ranch for possessing all the essential conditions for creating balanced, old world style wines. Tending Biddle Ranch's estate 17 acres of Chardonnay, and sourcing from Santa Ynez, to the Edna and Arroyo Grande Valleys, and up to Paso Robles, he personally hand selects fruit from only the best soil and growing climate for each of their limited-production wines, including their sustainable wine.
Visit Biddle Ranch online.
Chamisal Vineyards
Chamisal Vineyards is the second California winery to be recognized through the Sip Certified third-party sustainability program. SIP Certified began certifying vineyards since 2008, and expanded its independent, third-party verification scope to include wineries in 2015.
To achieve SIP Certified for a winery, the company must undergo an in-depth assessment of their entire facility operations. This includes a rigorous evaluation of a variety of items including (but not limited to) facility establishment and management, energy uses, water efficiency, purchasing, recycling and waste reduction, marketing materials, event needs, and landscape decisions. All elements of social equity and financial sustainability are also taken into account, as with the current vineyard certification program.
"Deciding to go for the SIP Certified winery achievement, was a natural progression since we are an estate-based vineyard and winery already practicing sustainability in many areas," notes Fintan Du Fresne, General Manager and Winemaker for Chamisal Vineyards. "This level allowed us to dive into our inner workings and look at our whole business from a holistic approach. Including on-site events to waste management and our solar project to waste water systems."
"By putting our sustainability beliefs into practice (for Chamsial Vineyards' sustainable wine), we have the ability to help educate the consumer on why sustainability should be a decision maker in their purchases. notes du Fresne. "SIP Certified makes it easy for us to share this message as they are not only a trusted and credible program, they offer a variety of valuable resources for both the consumers and businesses alike."
Visit Chamisal online.
Center of Effort Wines
Center of Effort represents a unique location that has touched many lives. "Our respect for the vineyard and its unique environment is reflected with emphasis on sustainable viticulture, natural fermentation and other non-invasive, progressive winemaking practices," says winemaker Nathan Carlson. "To craft the finest wines possible, we ensure that the highest standards are set at every step in the winemaking process. We believe the resulting Chardonnay, Pinot Noir and estate wines are without parallel. They represent the intersection of care-taking, skill and commitment," he says. Center of Effort produces Pinot Noir, Chardonnay and a Rosé of Pinot Noir. They offer a regular tasting and an Estate Tour and Cellar Tasting, which includes a more in-depth look at their facilities along with light foods to accompany the sustainable wines.
Visit Center of Effort online.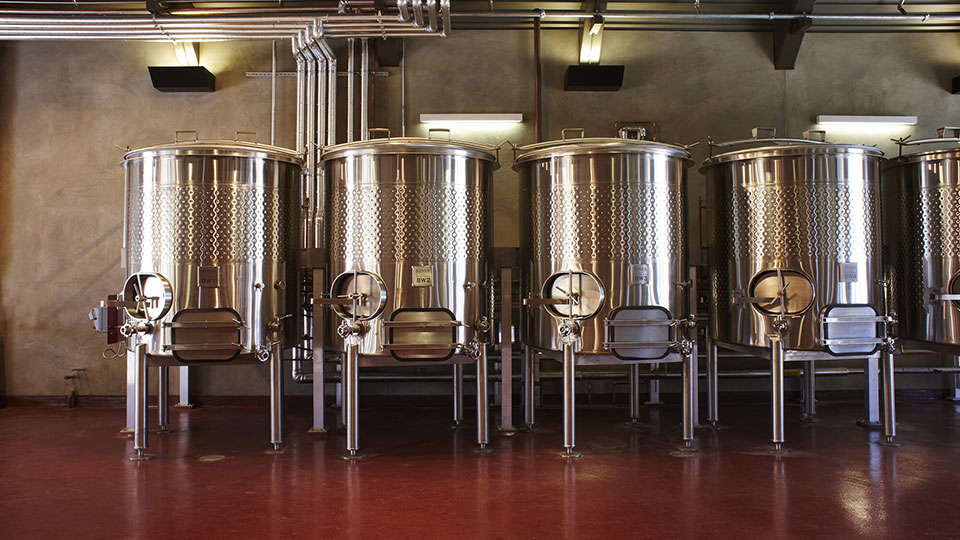 Claiborne & Churchill Winery
Claiborne & Churchill is a small, premium family-owned winery in the Edna Valley of San Luis Obispo, founded in 1983 by Claiborne (Clay) Thompson and Fredericka Churchill Thompson. Former teachers at the University of Michigan, the couple left the "Groves of Academe" for the vineyards of California in 1981 in order to begin a new life in the wine industry.
With its first crush Claiborne & Churchill announced its special focus, producing 565 cases of Dry Riesling and Dry Gewürztraminer, inspired by the fruity but dry dinner wines of the French province of Alsace. Today Claiborne & Churchill produces about 8,000 cases of wine each year, sourcing grapes from vineyards in the cool maritime valleys of California's Central Coast and its own small estate vineyards.
Claiborne & Churchill's two-acre Estate Riesling Vineyard planted in the spring of 2005 is officially SIP (Sustainability in Practice) Certified. In keeping with this philosophy, Claiborne & Churchill is committed to making sustainable wine, conserving and protecting the environment, treating employees, neighbors and community with care while maintaining sound business practices.
Visit Claiborne & Churchill online.
Laetitia Vineyard & Winery
The Laetitia Estate Vineyards were first planted to grapes in 1982 when French viticulturists found ideal growing conditions in the Arroyo Grande Valley for producing wines of similar character to those of their homeland in Epernay, France. Nineteen years later, the property would be acquired by Selim Zilkha, founder of a successful wind power development company and champion of environmental sustainability. Between his qualifications in renewable energy solutions and his passion for the pleasures of the harvest, Selim has developed Laetitia into the home of some of California's highest quality, sustainable wines.
Visit Laetitia online.
Niner Wine Estates
Blueberries and Ghosts – Andy Niner, Owner
The outline for Andy Niner's unwritten biography goes something like this: Connecticut Childhood; College in Maine; Boston Finance; SLO Shades; Berkeley MBA; San Francisco Levis; and Makin' Wine in California. This last section started in 2013 when Andy took over his family's winery in Paso Robles. Armed with the conviction that quality mattered, the team at Niner Wine Estates has systematically replaced and upgraded vineyards, expanded the winery's sustainable farming and winemaking programs, and created a reserve line of wines (including sustainable wine) to showcase incredible fruit from their three estate vineyards. In 2014, Niner opened a restaurant at the winery followed by a Chef's Garden, an estate olive oil brand, a barrel-aged coffee program and a chicken coop for farm-fresh eggs. In 2016, Niner became the first winery to receive the SIP Certified Sustainable Winery designation. Beyond work, Andy enjoys hiking, climbing, skiing, backpacking, cooking and hitting the farmers market with daughter Cora.
"My daughter Cora has a sixth sense for wine. She says our Malbec smells like blueberries and ghosts."
Visit Niner online.
Talley Vineyards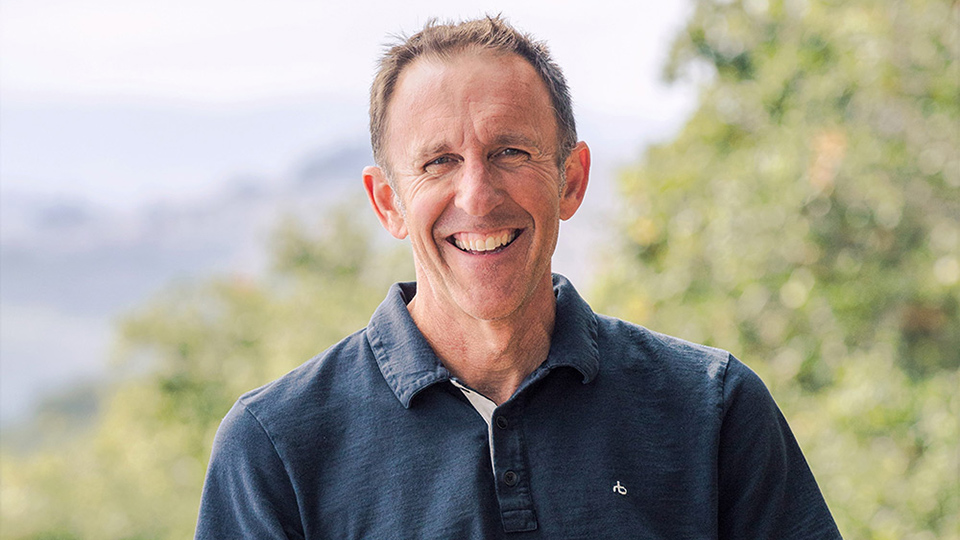 We Got Your Fruits and Vegetables – Brian Talley, Grapegrower
The Talley Family has been growing vegetables in the Arroyo Grande Valley since 1948. In 1982 they planted a test plot of grapes on the west hillside of what is now their Rincon Vineyard. A successful first vintage convinced them to plant additional acreage in both the Arroyo Grande Valley and Edna Valley. The Talleys now farm more than 150 acres of SIP Certified vineyards along the cool, hilly coastline of San Luis Obispo County. Today the winery is owned and operated by Brian Talley and his wife Johnine. Their hard work has helped establish the San Luis Obispo Coast region as one of the leading places in California for Chardonnay and Pinot Noir, including sustainable wine.
"More than 30 years ago we began a tradition of delivering produce from our farm to our best winery customers. I love the look on people's faces when I show up with a box of peppers and avocados instead of a case of Chardonnay or Pinot Noir."
Visit Talley online.
TIMBRE Winery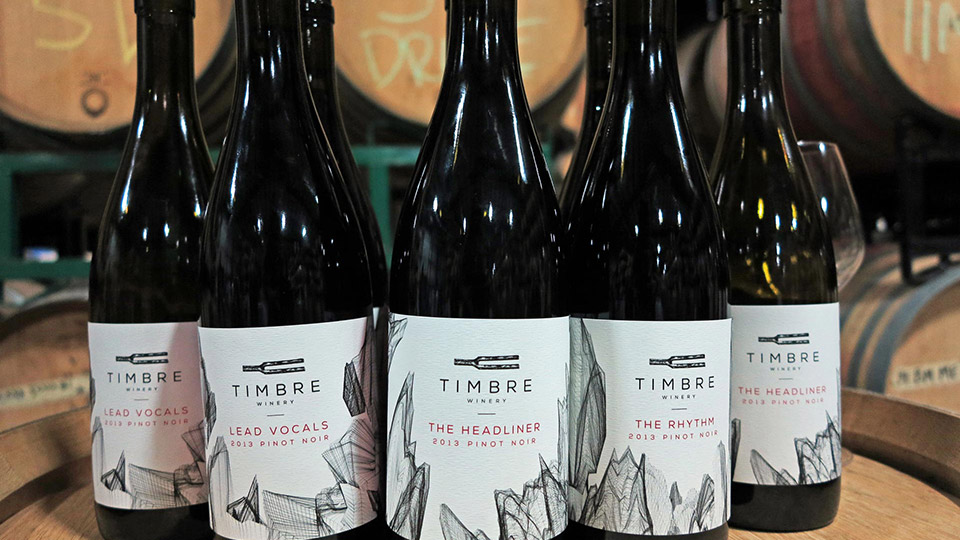 Timbre means the "color" of music. It's what makes two voices sound different, even when singing the same song. It's why two winemakers, working with the same vineyards, make unique wine. "The goal of our winemaking is to express a snapshot of a place (the vineyard) and time (the vintage) that will never occur again," says winemaker Josh Klapper. "As a terroir-driven winery, we make wines expressive of the places and times from which they came." His goal is achieved through enhancing and showcasing the integrity of the land and vineyards. "We strive to produce wines of balance, which serve to convey not any one element – aroma, sweetness, acidity, alcohol, minerality, earth, complexity – but all of the elements in the wine in perfect harmony." To that end, the fruit is handled gently in the winery using minimally invasive techniques and sustainable practices. You'll find Rosé, Sauvignon Blanc, Riesling, Chardonnay, Pinot Noir, and even a hard cider. TIMBRE also offers special events throughout the year to taste their limited production and sustainable wines.
Visit TIMBRE online.
Tolosa Winery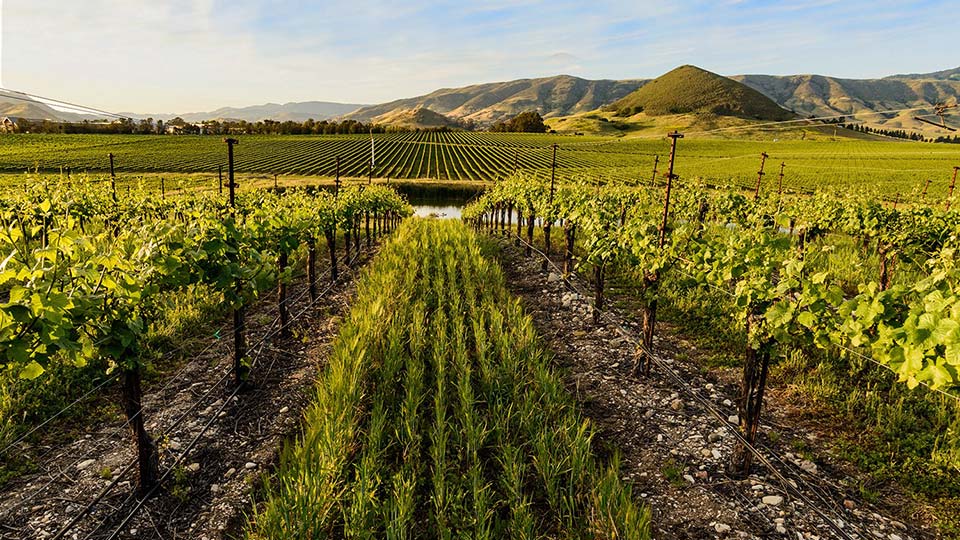 Imagine James Bond created a tasting room and you get an idea of what the interior of Tolosa Winery is like. The tasting room and its adjacent patio combine design elements of the winery including cork floors, stainless steel ceilings, a glass bar, wood panels and back lighting. Tolosa Winery takes its name from the nearby Mission San Luis Obispo de Tolosa, which established the first vineyard in the Edna Valley and produced wine during the mission period. Today, Tolosa enjoys a sustainably-farmed estate and their vineyards are not too far from the Pacific Ocean. This proximity to the sea provides cool morning fog, warm days, and an exceptionally long growing season. Tolosa is the expression of vintner Robin Baggett's commitment to spare no effort in his pursuit of distinguished, nuanced and balanced Pinot Noir and Chardonnay (sustainable wines) that can rival the world's best.
Visit Tolosa online.
Wolff Vineyards
Wolff Vineyards was established 44 years ago by one of the first wine grape-growing pioneers in the Edna Valley. The winery's focus is on Riesling, Chardonnay, Pinot Noir, Syrah, Petite Sirah and a rare Italian red variety called Teroldego. The wine tasting facilities include a tasting room, including sustainable wines, and outdoor flower garden suitable for picnics. The tasting room is situated on top of a hill providing unique panoramic views of the Edna Valley. Some of Wolff's first viticultural experiments involved moving away from conventional farming to more ecologically sustainable practices. The vineyards were one of the test sites for the SIP Certified program. Today, Wolff regularly engage in trials and research projects with Cal Poly and various agricultural and environmental groups. "In how many appellations can you go to the beach, get sand between your toes, then within 15 minutes go wine tasting in a vineyard? You're going to have a hard time finding that anywhere else," says owner Jean-Pierre Wolff.
Visit Wolff online.