Climate has a huge impact on wine grapes: how the vines grow, how the grapes ripen and how they will taste when made into wine. Here on the San Luis Obispo Coast, we have one of the coolest growing regions in America and also lots of sunlight. This, coupled with other aspects of terroir, like soils, wind, and geographic features, makes winemaking in this region quite a balancing act. These unique growing characteristics have led to our recent designation as the newest American Viticulture Area (AVA).
Along the SLO Coast, billowing morning fog gives way to warm afternoon sunlight. Come evening, a salty breeze rustles through the vines. Our vines count on this reliable cooling and warming cycle to maintain our long growing season–one of the longest in the world. The result is a harmonious ripening of sugar, acids, and tannins, producing wines with a unique exuberance and energetic acidity.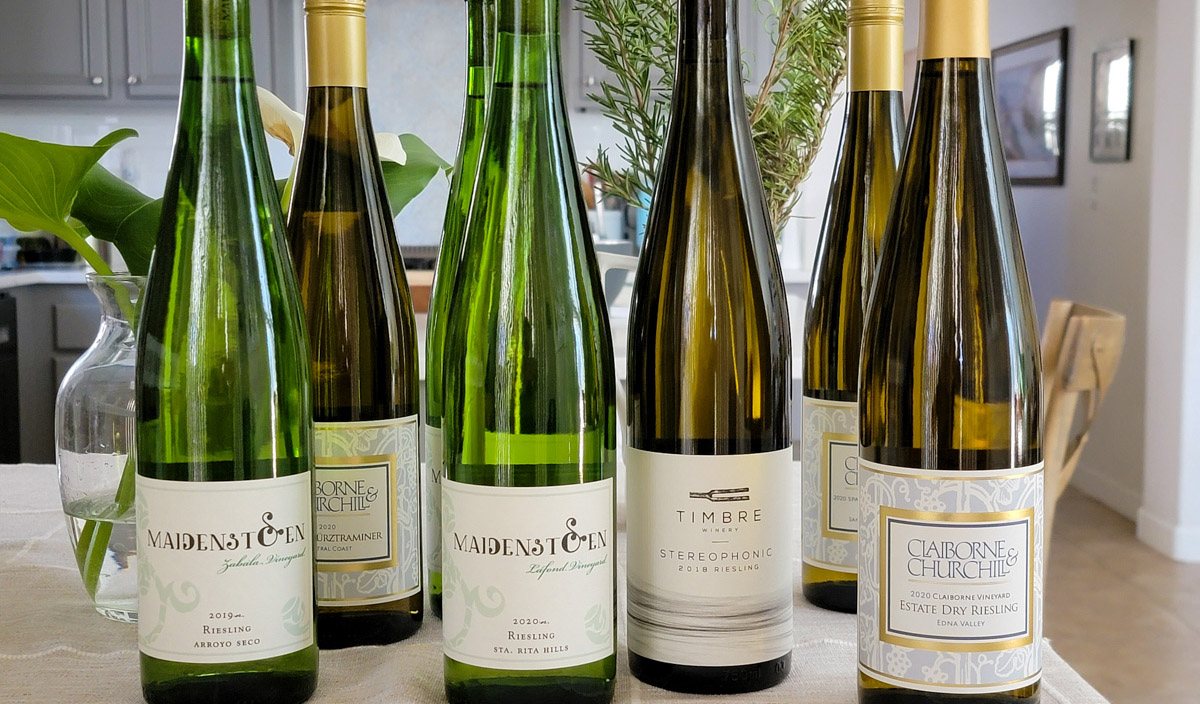 The majority of the SLO Coast is classified as "Region 1," indicating we are one of the coolest winegrowing areas in the world, and one of the the coolest within California. Our pronounced marine conditions and moderate temperatures allow the fruit to achieve rich, full flavors while maintaining their natural acidity, structure, and balance. Grapes that lend themselves well to these kinds of wines are  typically Pinot Noir and Chardonnay, and pair very well with food.
But there are other, aromatic white grapes varieties that are suited to the cold, like Albariño, Riesling, Pinot Gris, Grüner Veltliner, Gewürztraminer, and Viognier. (The SLO Coast has already emerged as a driving force on the domestic Albariño front, accounting for almost 20% of California's total acreage of the grape.) Grown successfully in cool climates (like their homelands of Alsace, Austria and Germany), these cool white wines are elegant and refreshing, light-bodied and subtle, with aromatic fresh flavors, lower alcohol and higher natural acidity.
Riesling, Grüner Veltliner & Gewürztraminer
Riesling is another cool white that's gaining popularity here on the SLO Coast. Maidenstoen produces 3 different Rieslings (there are 4 currently to taste) from various vineyards on the Central Coast. One was planted in 1964, the 2nd oldest Riesling in California. Mike Callahan's versions of these racy whites are elegant, citrusy, and clean, with lovely, rounded acidity. There is a hint of the signature petrol on the nose, but these expressions also show floral, citrus or saline notes that really shine. Callahan pays attention to the overall terroir, health/age and farming of the grapes, as well as total acidity when picking, to achieve site-specific Rieslings with unique personalities.
Find Maidenstoen wines at your favorite retail shops and restaurants (or ask for them). You can also buy online (and join an allocation program). Maidenstoen also has a Grüner Veltliner from Edna Valley coming out in June. Think lime, crisp peach and citrus.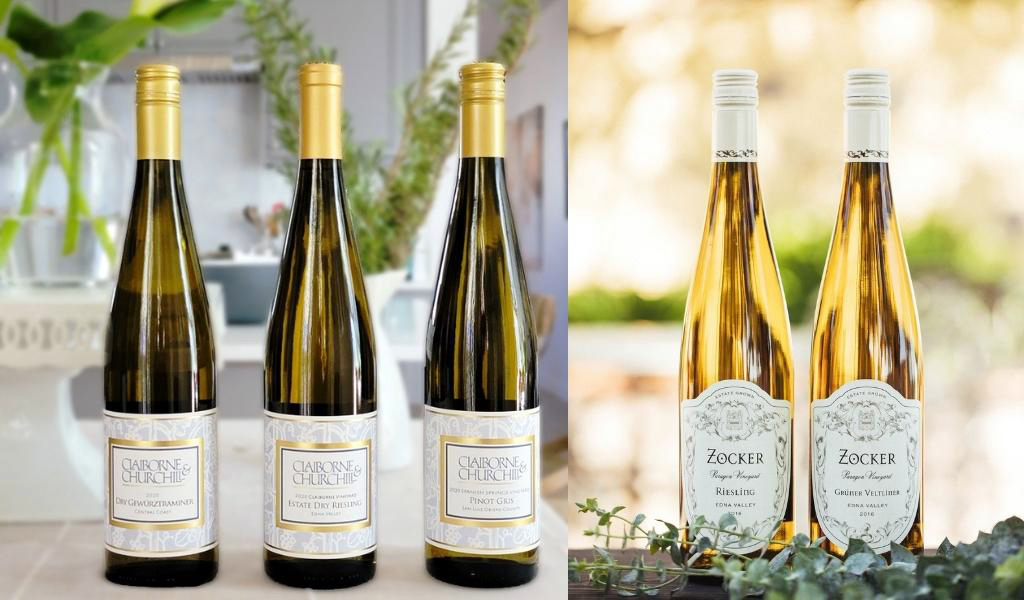 Another SLO Coast winery featuring Cool Whites is Claiborne & Churchill. Since their first harvest in 1983, they have always focused upon producing fruity but dry wines reminiscent of those from the French province of Alsace. Their two signature wines in this style are the Dry Riesling and Dry Gewürztraminer, inspired by the fruity but dry dinner wines of the French province of Alsace. (Also, they create blends of these grapes to create cool white blends, a Pinot Gris, and a Pinot Noir Blanc, see below).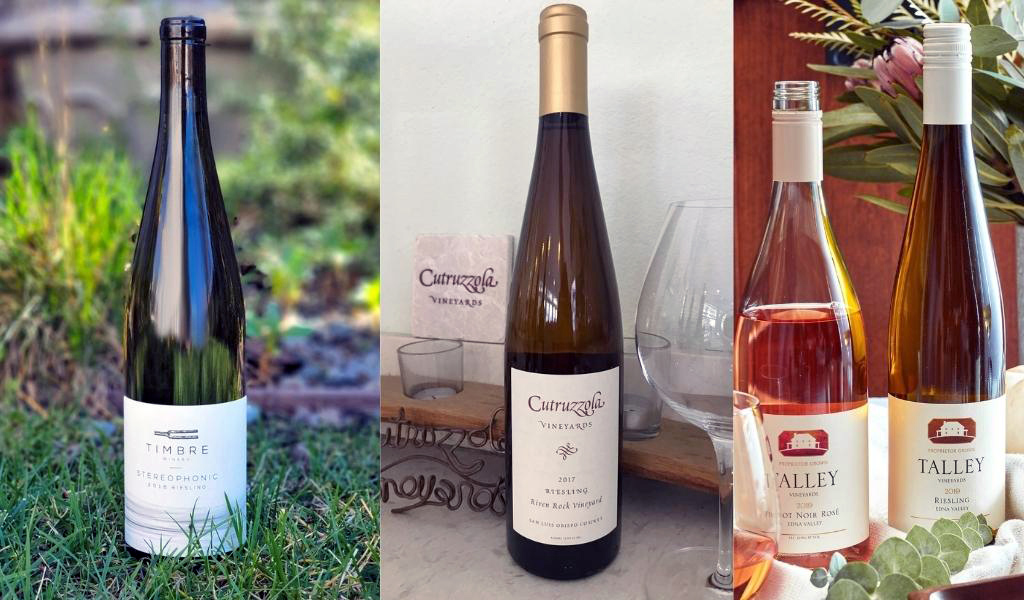 Cutruzzola also produces Riesling from their estate estate vineyard, Riven Rock Vineyard, located just outside of Cambria, only a few miles from the waters edge. And Oliver Talley, the first generation of Talley farmers, wasn't completely on board with the addition of grape vines to his fertile farmland until Riesling (his favorite variety) was planted in the vineyard named after him (they also produce Grüner Veltliner). Timbre, also in Arroyo Grande, produces a Riesling, and Zocker (Baileyana) offers both Riesling and Grüner Veltliner. Cambria's Stolo also makes Gewürztraminer.
Viognier
Viognier is a grape that can yield a wide range of flavors and aromatics, depending on climate. Here on the SLO Coast, you can try cool-climate versions with vibrancy, clarity and minerality from Aequorea (Pinot Gris, too), Saucelito Canyon, Tolosa and Lindquist Family Wines.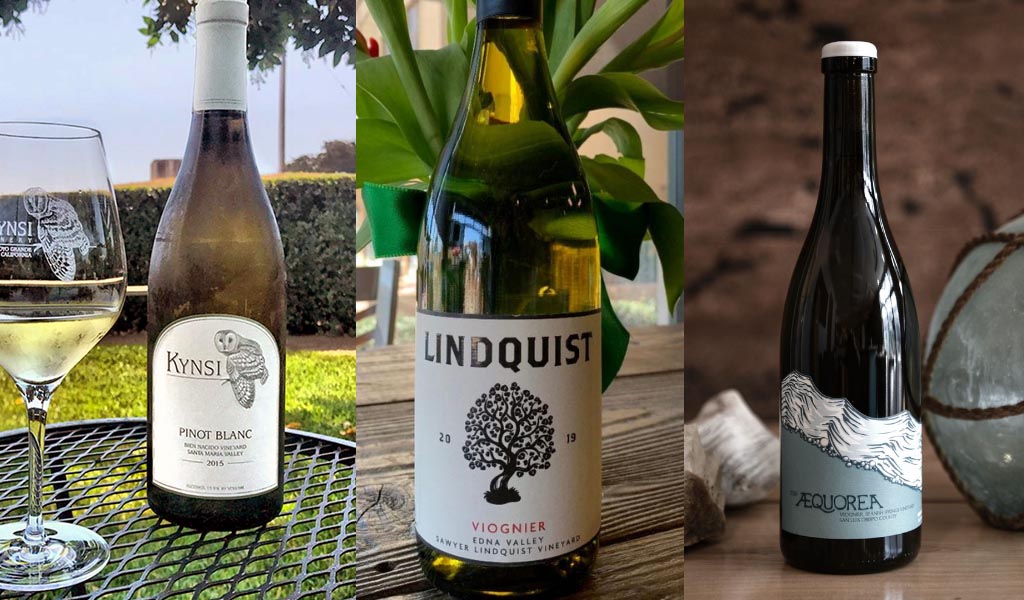 Pinot Gris, Pinot Blanc & Pinot Noir Blanc
Pinot Gris is a lighter, fresher expression of Pinot Grigio, and on the SLO Coast we can taste examples from Aequorea, Biddle Ranch, Claiborne & Churchill, Derby Wine Estates, and Tangent.
Kynsi makes a crisp Pinot Blanc;  Lindquist Family Wines also makes one.
Pinot Noir Blanc is a newer, unique variation, creating a dry white wine from Pinot Noir. This wine has more body floral aromatics than its white wines of close relation: Pinot Gris/Grigio and Pinot Blanc. The original Pinot Noir Blanc here on the SLO Coast is from El Lugar (which specializes in Pinot Noir), as well as Piedra Creek and Claiborne & Churchill.
Other Cool Whites
Other cool whites to try: Lindquist Family Wines produces a fresh (and age-able) Marsanne and a Clairette.