To visit our northernmost wineries, start in the scenic beach town of Morro Bay, then go north to charming Cambria. Then head over the hills to Templeton to taste a variety of estate wines from Northern SLO County.
Explore estate Chardonnay, Pinot Noir, and aromatic white wines grown on the SLO Coast as well as warmer climate Bordeaux and Rhône wines. Expect to spend about 55 minutes driving on picturesque back country roads between Morroy Bay, Cambria and Templeton on this wine trail.
The stretch of Highway 1 from Morro Bay to Cambria is arguably one of the most beautiful spots in the state of California. The joy of this part of the SLO Coast Wine region is that it is relatively under-discovered with small craft wineries, coastal vineyards, and a bevvy of food options showcasing the bounty of the area. 
Absolution Cellars in Morro Bay
Wine fun begins on the Embarcadero at Absolution Cellars where your tasting is a sit-down experience with winemaker/owner Dirk Neumann. As Neumann puts it, "It's almost always perfect wine-drinking weather in Morro Bay, no matter what time of year. Our outdoor patio offers views of the bay and the sea lion dock, and our indoor tasting lounge is designed like a Great Room to make you feel at home, whether you choose to sit in the comfortable living area, the dining room table, the reading nook, or the bar."
Neumann creates an experience that aims to illuminate, "I enjoy sharing my passion with people, and love seeing those "light-bulb" moments – one of my favorites is when people who say they only like red wines end up enjoying my Albariño and "The Balance" (a Marsanne/Roussanne blend). I feel like I have opened up a whole new world of wines for them to try in their future tasting adventures."
It's time to pick up some sandwiches for your drive up the coast and Morro Bay Butcher is a welcome addition to the area. With daily specials and great to go items, there's something for everyone here. For those wanting to savor the seafood in Morro Bay, Giovanni's Fish Market is another option with seating right on the bay overlooking Morro Rock. 
As you head up the coast, take in the natural beauty and ocean views. Drive through the charming beach town of Cayucos and grab some Brown Butter Cookies as a souvenir. They don't disappoint. 
Cutruzzola Winery in Cambria
Located in the historic town of Cambria, Cutruzzola Vineyards showcases some of the area's cool climate grapes grown just down the road at their nearby vineyard. Lisa Miller, proprietor, describes the tastings at their downtown cambray location as, "Very personal and educational. We conduct seated by appointment tastings and really spend time with our guests talking about our winegrowing region and the types of wines we produce." 
There is an option to pair the tasting flight with cheeses for an additional $8 and Miller adds her favorite part about hosting tasters, "Educating them about the wines we are producing. There are just a few of us that grow wine grapes in Cambria and have tasting rooms, so it's a really unique experience." Keep an eye out for Cutruzzola's vertical tastings of Rieslings and Pinot Noirs. They host those special events throughout the year. 
Stolo Vineyards in Cambria
Just outside of the town of Cambria sits Stolo Family Vineyards which General Manager Scott Wills describes the ambiance perfectly, "Beyond making wines which are desirable to critics and wine enthusiasts alike, we've created an environment designed to encourage folks to relax, stay awhile, and get to know us. Sure, you can do a tasting at the bar, but when the weather is good, and it almost always is, you can enjoy a guided tasting while relaxing outside on our large grassy meadow space with views of the vineyards, rolling hills, and our 100 year old dairy farm. Typically, we'll taste guests through 5 to 6 estate grown wines, in a slow paced manner, sharing as much or as little as the guest seems interested in. We also do everything by reservation, which really helps to keep the winery from getting too busy, creating an intimate experience for our members and guests."
If you need a little nosh with your wines, Stolo offers delicious cheese/snack platters and for those that need some entertainment, you can grab some bags and play a round of cornhole. The vibe and setting at Stolo is truly magical and not to be missed. 
Niner Wine Estates in Paso Robles
This family-owned estate winery is location just west of Paso Robles. At Niner Wine Estates, they farm dis­tinct and extra­or­di­nary vine­yard sites across the Cen­tral Coast of Cal­i­for­nia, and 40% of its wines are made from grapes grown at Jesperson Ranch in the SLO Coast wine region. The goal is to pro­duce deli­cious, inten­tion­al­ly craft­ed wines, with each bot­tle rep­re­senting the site and vin­tage.
They offer seat­ed tast­ing flights that explore their port­fo­lio of estate grown wines, as well as a sea­son­al lunch menu full of fresh, cre­ative dish­es designed to com­ple­ment the wines. Wine flights and lunch menus are also tailored to the sea­sons.
Derby Wine Estates in downtown Paso Robles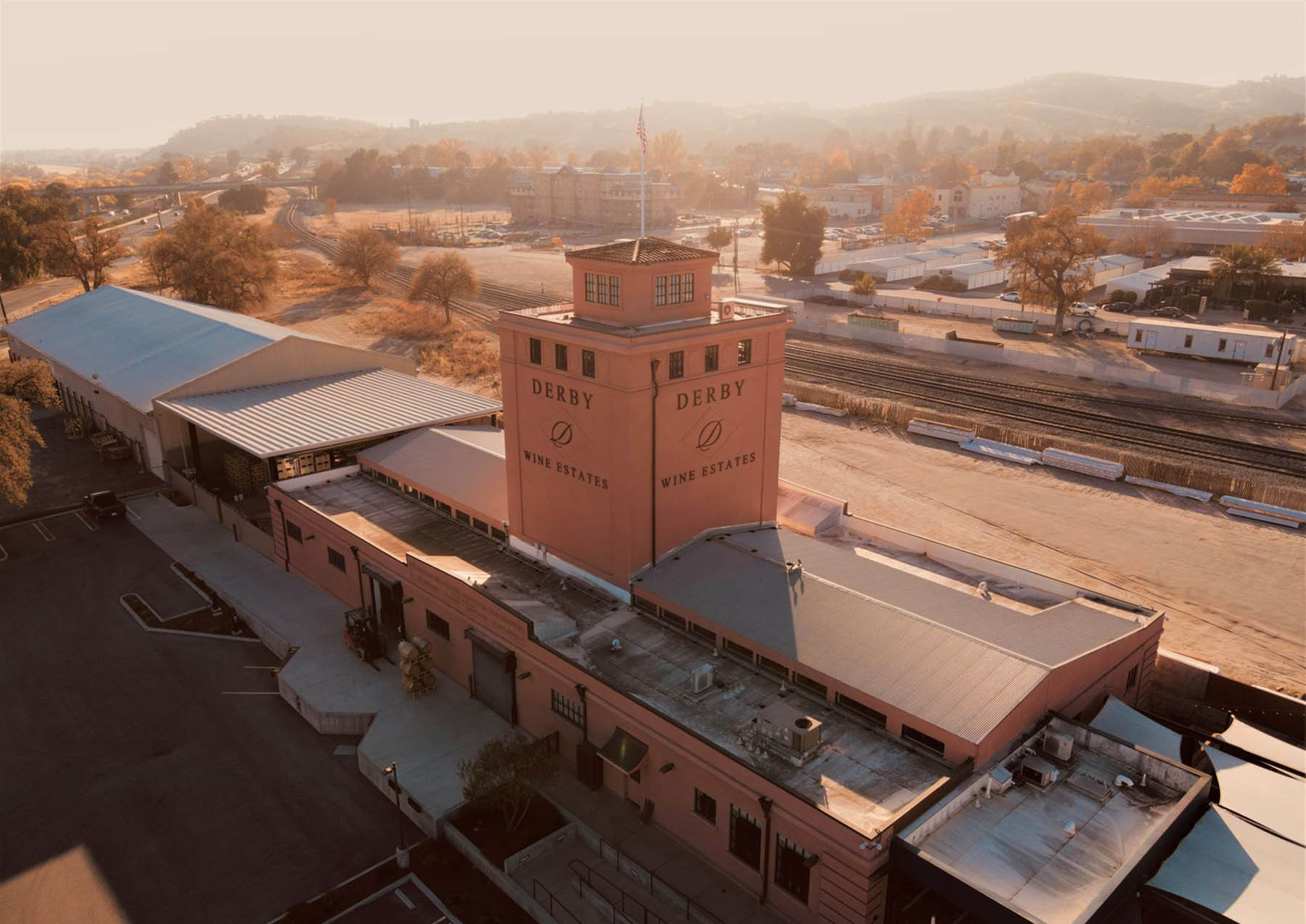 Derby Wine Estates is a boutique, family-owned winery with three Estate vineyards across the Central Coast and a Tasting Room & production facility on the outskirts of downtown Paso Robles. They have a passion for good wine and good company, and strive to share both with everyone who walks through the door.
As vintners specializing in the custom farming of grapes for numerous California wineries, Ray and Pam Derby are acutely aware that the quality of any wine starts in the vineyard. Their three vineyards, totaling over 440 acres under cultivation, are located in three unique viticultural areas within San Luis Obispo County. Each of the 28 different varieties of wine grapes they grow are ideally suited to the climate and soil conditions of the vineyard in which they are grown. Thanks to the hard work of vineyard manager, Steve Vierra, and his team, Derby Wine Estates produces some of the finest Bordeaux, Rhone, Burgundy and Spanish varieties grown on California's Central Coast.
They make cool-climate Pinot Noir, crisp Sparkling Wine, Chardonnay, cool-climate Syrah and cool-climate whites like Pinot Gris from the coastal Derbyshire Vineyard.
Aequorea Wine in Paso's Tin City
Latin for "Of The Sea," Aequorea began in 2011 as a search for vineyards that ventured deep into the coastal no man's land where winemaker Aaron Jackson was raised. Here, on this foggy, windswept coast west of the Santa Lucia Mountains, he works with a group of dedicated growers who possess a shared passion for farming closer to the ocean than most anywhere else in California.
From these special sites, they focus on single-vineyard Pinot Noirs and aromatic white wines that are transparent of their terroir and the extremity of where they lie. All of the vineyards are no more than 6 miles from the ocean, blanketed by a thick marine layer in the summer which recedes each afternoon as cool breezes arrive off the Pacific.
Located in Paso's Tin City, there are several food options in the area, and you can grab a bite at McPhee's Canteen or food trucks near BarrelHouse Brewing Co., or get artisan ice cream at Negranti Creamery. If you plan ahead, score reservations for dinner at Six Test Kitchen, our first Michelin-starred restaurant in San Luis Obispo County.